Adopt-A-Spot – These Sites Need Love!
Do You Have Some Love To Spare? These Hot Spots Need Some!
The sites below are ready for adoption! If you are group of volunteers, a family or an individual, you can take care of any of the spots in need listed below. Make sure to let us know that you took care of it, so that we can remove it from the list.
Please dispose of the trash that you collect responsively, you can contact us so that if you don't want to take the trash back to your home, we can arrange a trash drop off at a specific location.
Please note that none of our site captains have been to the locations that are on the map (with a red pin) but not listed below.
Adopt-A-Spot Map:
Town: Pacifica
Adobe
Crespi Drive
Fairway Drive and around the Golf Course
Fassler
Hwy 1 from Moose to Vallemar
Hickey Blvd
Linda Mar Blvd
Linda Mar State Beach and parking lot (Beach parkin is closed)
Manor Blvd (lower end)
Milagra Ridge (paths behind Oceana High School)
Moose Lodge area
Oddstadt
Palmetto (by the recycling yard)
Peralta
Reina Del Mar
Rosita
Terra Nova Blvd
Waterford Street (the one by the Car Wash off of Monterey)
Town: Half Moon Bay
Surfer's Beach (Beach parking is closed)
Around OPL and near the creek
South Jetty rocks
Stone Pine Center (parking lot)
New Leaf (parking lot)
Safeway (parking lot)
Town: Montara
Montara State Beach (Beach parking is closed)
La Costanera (parking lot)
Montara trail head
More Places on the Coast
Davenport Beach (Santa Cruz county)
Panther aka Hole in the Wall Beach (Santa Cruz county)
Grey Whale Cove
Know a Spot like this?
Report it and/or adopt it today!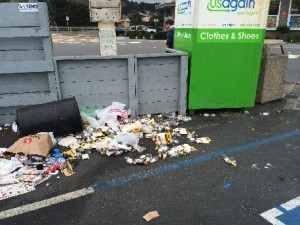 We will guide you through your project and provide the needed supplies.

Sign up the online waiver
Grab your supplies (we can provide buckets, gloves and sticks if you needed them!)
Go cleanup