Board of Directors and Team Members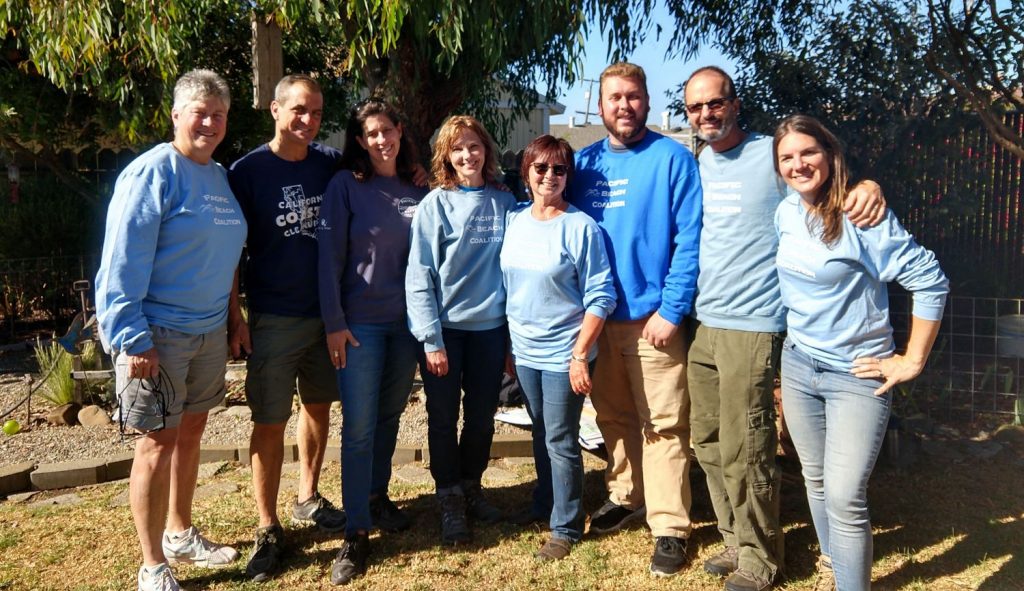 Pacific Beach Coalition (PBC) is led by our President and a volunteer Board of Directors comprised of corporate and community leaders who donate their time and talent to running PBC's current education and field programs in the most impactful and rewarding way.
Board of Directors
Lynn Adams (President), since becoming President of PBC in 2007, has fulfilled multiple volunteer efforts that have engaged a diverse community of coastal stewards in learning and taking action through our field and education programs. From coordinating our Adopt a Beach Program, expanding Earth Day & EcoFest's presence and impact in the Bay Area, establishing our School Assembly, Give Back and Local Business Programs, to her hands-on involvement in restoring native habitat, guiding beach and community cleanups, and fostering media relations, Lynn has championed our mission of protecting the ocean, coastal habitat and wildlife. 
Jim Fithian (Chair) has been an active volunteer member since 1997. He established our first beach cleanup and has led monthly cleanups since September 1998 for our first Adopt-A-Beach site at Linda Mar as its site co-captain along with wife Ana. His focus on direct 'eco-action' began while dogwalking (and picking up litter) along Pacifica's shoreline which evolved into leading by example to inspire Pacifica to be an environmentally responsible city. He participates in education, advocacy and other hands-on activities to guide current and future generations, including school and civic groups, to be engaged as lifelong stewards.
Ana Garcia (Vice Chair & Secretary) has been an active volunteer member of our Earth Hero team since 1997. She established our first beach cleanup and has led monthly cleanups since September 1998 for our first Adopt-A-Beach site at Linda Mar as site co-captain alongside husband Jim. Dedicated to being part of the solution, she has been a vital part of setting the foundation for the coalition since her involvement began while dogwalking (and picking up litter) along Pacifica's shoreline, and has evolved into a wide variety of important roles steadily guiding our team and volunteers.
Celine Gerakin joined volunteer cleanups in Pacifica and Daly City then signed on to become our site captain leading cleanups at our newest Adopt-A-Beach site at Pillar Point Harbor in 2014. In addition to beach cleanups, Celine is involved in fishing line recycling and water quality programs. She was recognized by the San Mateo County Harbor Commission as recipient of their 2014 Environmental Leader Award in Half Moon Bay. By profession, Celine is an online marketing director, she earned a masters in business and marketing in her hometown of Paris and she lives on a sail boat at Pillar Point.
Kathie Muhler (Treasurer) Kathie has been helping bay area families and small businesses for three decades reduce their income taxes and invest wisely toward their future goals. In addition to an accounting degree and MBA in finance, she held a FINRA Registered Broker and Investment Advisor designation for over 24 years. After selling her tax and investment entities, she began retirement in 2020. Her involvement with PBC began with the 2020 beach movie at the Mildred Owen Concert Hall. After that wonderful event, Kathie became a volunteer beach cleaner at LindaMar beach. Kathie became the Treasurer in 2021. As a resident of Pacifica for almost 20 years, she loves the people, the small-town friendly atmosphere, and especially the beach.
Antony Luxton (Board Member) Antony joined PBC as an active and supporting member in 2020. He recently joined the Board in May 2022. Antony has over 20 years of corporate experience in executive leadership spanning sales, operations, strategy, business development, organizational growth, analytical solutions, and digital transformation. He is an outdoor enthusiast and brings a passion for educating others on the value of our natural ecosystems.
Executive Director:
Currently Hiring.
Naturalists Team:
Julie Walters. Since 2007 Julie has been a Naturalist at the Fitzgerald Marine Reserve in San Mateo County. There, she conducts tours with organized school groups and visitors. She also rove along the reef and engage with visitors answering questions, identifying animals and making sure that visitors follow proper tidepool etiquette.
Marie Kazan-Komarek has been volunteering with harbor seals for 30 years and has been a part of the Beach Watch program for 23 years. Her love of the ocean has led to a lifetime of helping the animals that live within it's depths and striving to help others understand why it's important to protect the unique environment that is a integral part of the Bay Area. When her oldest daughter was 2, she began volunteering at the Marine Mammal Center in Sausalito. Today, 30 years later, she is still part of the Tuesday night crew taking care of harbor seals.
Danila Mehta
Jeremy Watts
Greg Finkelstein
Nancy Enge
More Amazing Team Members:
Julie Lockhart (Co-site Captain, Marketing and Volunteer Outreach) is one of our dedicated team members wearing many hats. Aside from participating in the Street-to-Beach cleanups during the pandemic, in 2021 she has helped co-site captain at the Linda Mar Beach Cleanups, Habitat Restoration, volunteer outreach, and is a secret weapon to the marketing team leveraging her background in design.
Kimmy Tran (Graphic Design) Her volunteer work with PBC only began with participating in beach cleanups, but when she started school at UC Davis, she reached out to offer her services as a graphic design intern. Now, you can see some of the graphic work she has done on display in some of our social media posts and her signage by the trails at Linda Mar State Beach. Her plant identification signs and habitat restoration signs have received lots of positive feedback from frequent visitors to the beach!
Chloe van Loon (Social Media) is our awesome Social Media marketing manager leveraging her creativity to bring out the best in our online presence. Chloe found PBC at the end of 2020 when she needed to collaborate with an organization for the California Naturalist Certification program. Having discovered such a wonderful group of dedicated environmentalists Chloe gladly stayed on to help with social media strategy and content.