Board of Directors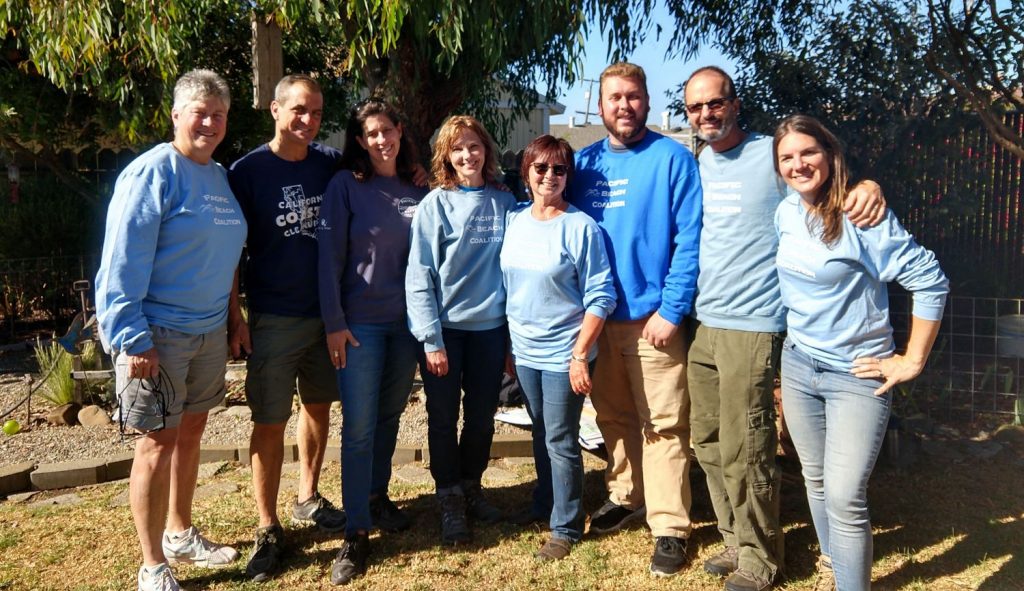 Pacific Beach Coalition (PBC) is led by a volunteer President and a volunteer Board of Directors comprised of corporate and community leaders who donate their time and talent to running PBC's current education and field programs in the most impactful and rewarding way.
Lynn Adams (President) has led our growing team of Earth Heroes since assuming her role in 2005, fulfilling multiple volunteer capacities that have engaged a diverse community of coastal stewards in learning and taking action through our field and education programs. From coordinating our Adopt a Beach Program, expanding Earth Day & EcoFest's presence and impact in the Bay Area, establishing our School Assembly, Give Back and Local Business Programs, to her hands-on involvement in restoring native habitat, guiding beach and community cleanups, and fostering media relations, Lynn has championed our mission of protecting the ocean, coastal habitat and wildlife.
Jim Fithian (Chair) has been an active volunteer member since 1997. He established our first beach cleanup and has led monthly cleanups since September 1998 for our first Adopt-A-Beach site at Linda Mar as its site co-captain along with wife Ana. His focus on direct 'eco-action' began while dogwalking (and picking up litter) along Pacifica's shoreline which evolved into leading by example to inspire Pacifica to be an environmentally responsible city. He participates in education, advocacy and other hands-on activities to guide current and future generations, including school and civic groups, to be engaged as lifelong stewards.
Ana Garcia (Vice Chair) has been an active volunteer member of our Earth Hero team since 1997. She established our first beach cleanup and has led monthly cleanups since September 1998 for our first Adopt-A-Beach site at Linda Mar as site co-captain alongside husband Jim. Dedicated to being part of the solution, she has been a vital part of setting the foundation for the coalition since her involvement began while dogwalking (and picking up litter) along Pacifica's shoreline, and has evolved into a wide variety of important roles steadily guiding our team and volunteers.
Karen Gorman has been involved with the Pacific Beach Coalition since the 2013 MLK Day of Service. As a member of our Special Events team, she is deeply involved with our annual Earth Day of Action's, EcoFest and Coastal Cleanup Day celebrations. She supports the coordination of our Corporate Give Back outings and assists with our myriad day-to-day tasks. Karen's interests include home design, cooking, travel, and dogs.
Celine Gerakin joined volunteer cleanups in Pacifica and Daly City then signed on to become our site captain leading cleanups at our newest Adopt-A-Beach site at Pillar Point Harbor in 2014. In addition to beach cleanups, Celine is involved in fishing line recycling and water quality programs. She was recognized by the San Mateo County Harbor Commission as recipient of their 2014 Environmental Leader Award in Half Moon Bay. By profession, Celine is an online marketing director, she earned a masters in business and marketing in her hometown of Paris and she lives on a sail boat at Pillar Point.
Ian Butler attended the first PBC meeting in 1997, but didn't become an active member until 10 years later when he discovered trash at the secret waterfall and began regular cleanups. Along the way he also discovered Pacifica's only known mammoth fossils while collecting trash! He has been the entertainment director of EcoFest since 2008, where he occasionally performs his environmental based songs. He has produced and hosted more than 110 TV shows on Pacifica and environmentalism. An arborist by trade, he believes in using a combination of heart and science to rationally address the problems our lifestyles are wreaking upon the natural systems upon which we rely.
Mark Hubbell spent thirty-five years of his career in the Tech industry in the corporate communications and experiential marketing department. There, he managed teams and was responsible for developing and producing many large scale, award winning projects world-wide. Mark is an outdoor enthusiast and has been an environmental activist since 1972.
Gail Benjamin (Treasurer) has lived her entire life within easy reach of the Pacific Ocean, so it is not surprising she is an advocate for clean beaches. Gail is also passionate about our California environment. She uses every opportunity to educate friends, family and anyone within hearing about what they can do to mitigate climate change and make our coast a healthier place to live.
Margo Meiman (Secretary) has been volunteering with the PBC in a variety of roles since 2006. In addition to her current position as Secretary, she serves as a substitute site captain and is the point person for the PBC's annual participation in Pacifica's Fogfest. Margo is proud to be a part of PBC's efforts to educate and inspire people of all ages to take care of our coast and our environment.
Frank Delgado