739 Volunteers Picked Up 14,793 Filters on Coastal Cleanup Day
We just wanted to say how much we appreciated spending the California Coastal Cleanup Day with ALL of YOU. All of us at PBC were so thankful to have you join our a cleanup site. Seeing you all in action means a lot to us so thank you again for your dedication and commitment.
2023 Coastal Cleanup Day Results
Some stats from our 21 sites (3 more than last year!) show 739 volunteers participated and removed 2,057 pounds of landfill trash, 322 pounds of recyclables, and 14,793 cigarette butts. And we're still compiling our local Clean Swell data, which will be added to the totals.
We also received accolades from our US Congresswoman Anna Eshoo, State Senator Josh Becker and State Assemblyman Marc Berman. The SMC Board of Supervisors also provide us with a Resolution award. Thank you!
If you missed it, PCTV recorded it for your enjoyment:
http://pacificcoast.tv/profiles/blogs/coastalcleanup2023shortversion
Some Testimonials and Highlights
Foster City Baywinds
Multiple mats/rugs were found and so were 3 surf boards and a half-ish bucket of golf balls!
Odd finds – Top of a porta potty?
Checkout the video of this innovative kid hauling the surfboard on his bicycle
Post wrap up, Greg spotted a mattress dumped close to the entrance. Thanks to his determination, we hauled it (atop the car trunk) and placed it with the rest of the trash.
Huge thanks to our Greg, Alex, Amanda and Katie (volunteer turned uber-helper!) for all their help in managing the group and all the haul!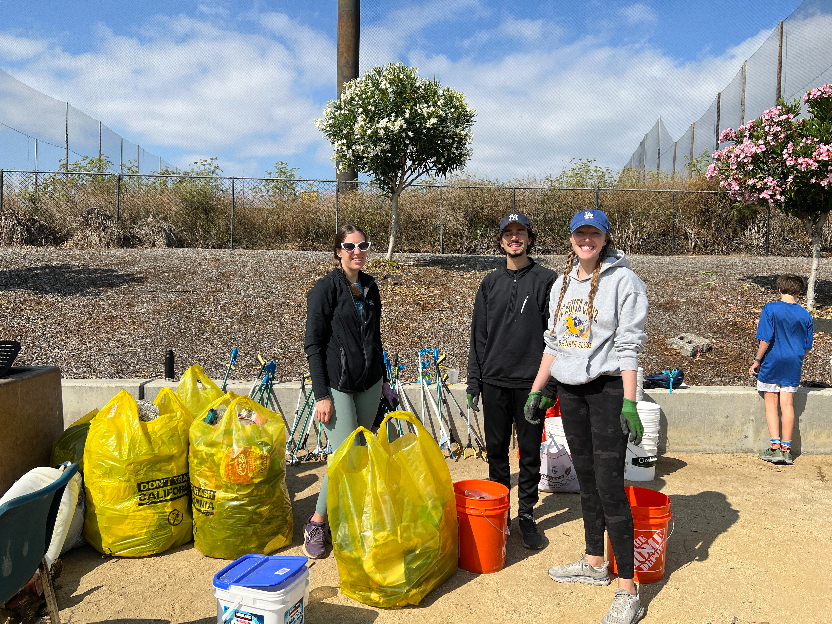 Foster City Bridgeview Park
A special thank you to North Shoreview Montessori School, Boy Scout Troop 342, various schools, and to the 72 volunteers who helped clean-up the Bridgeview Park Site 1 on Coastal Cleanup Day and for collecting 104 lbs of trash, 15 lbs of recyclables, 1,150 cigarette filters We really appreciated your time and effort you give to Pacific Beach Coalition. It's because of your efforts we can fulfill our mission and serve our communities. Thanks again for a job well done!
Interesting finds: 19 lbs of construction materials, 1 large brick, 13 lbs of automobile parts, and 1 car tire.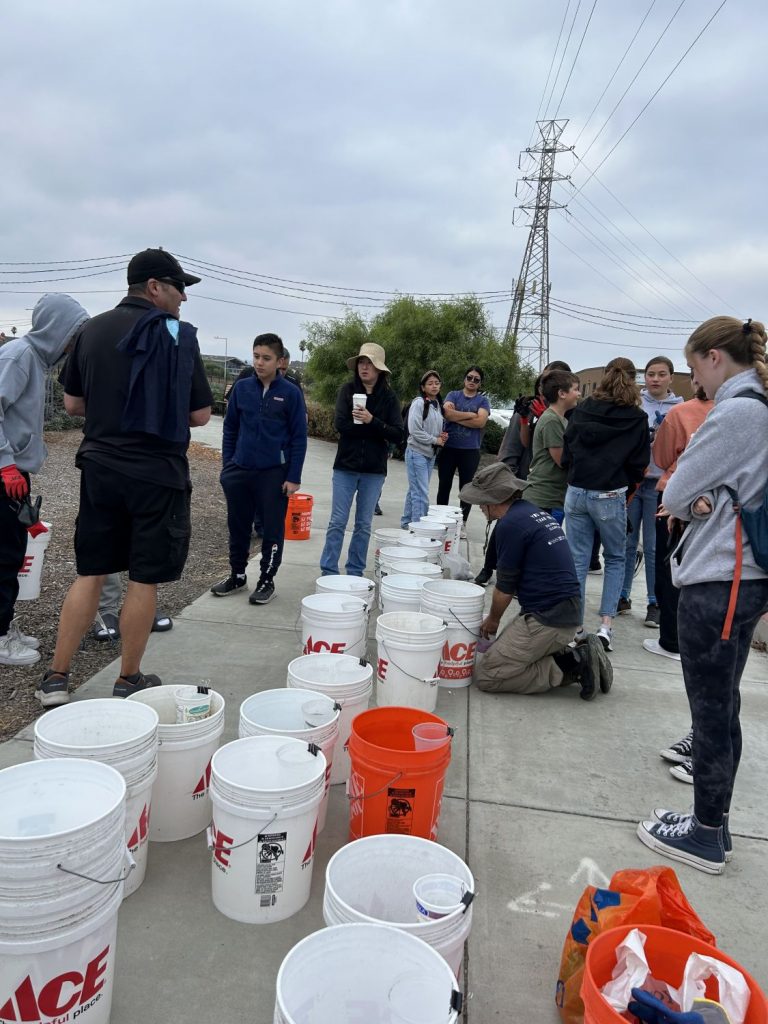 Linda Mar Habitat Restoration
Thank you so much for hosting us again, year after year. Our members had a great time removing the invasive plants. It was our pleasure to do something for the environment. Look forward to volunteering with you guys again soon!

– Stan, from the Bhuddist Light International Association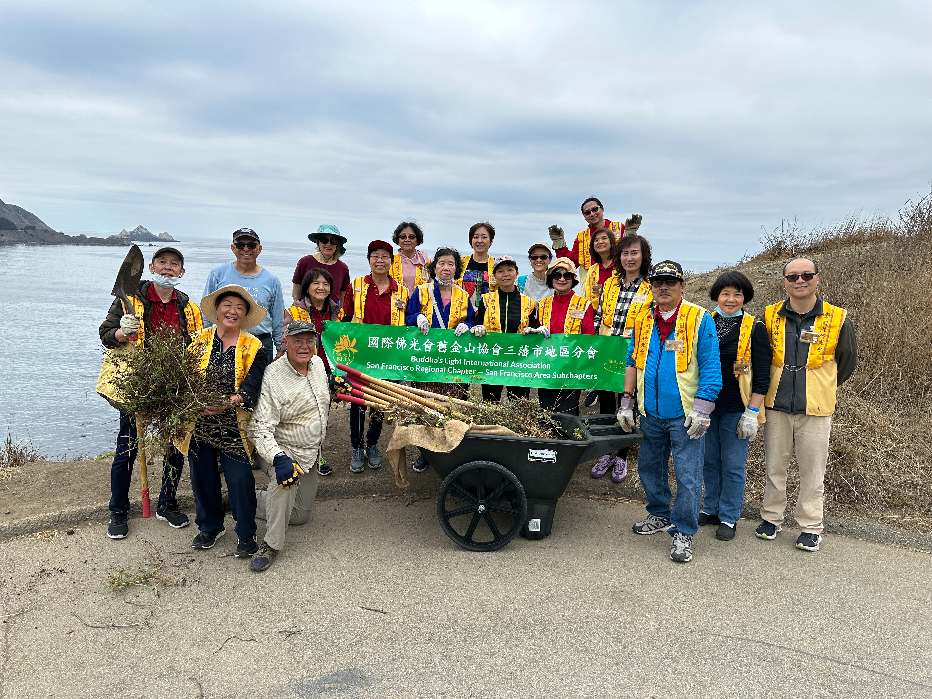 Secret Waterfall, Pacifica
Boy Scout Troop 29 cleaned the Secret Waterfall for Coastal Cleanup Day. Check out the photos of their work to bring everything up the 900 foot cliff!
If you don't know about the Secret Waterfall, it is a very special place on the north end of Pacifica. It is hard to access and after every rain it is filled with litter that drains through the storm drain from the streets above. Ian Butler brought this to our attention and has stewarded it since about 2007.
They had a lot of fun and collected 149 lbs of garbage including a large sewage or concrete truck pipe.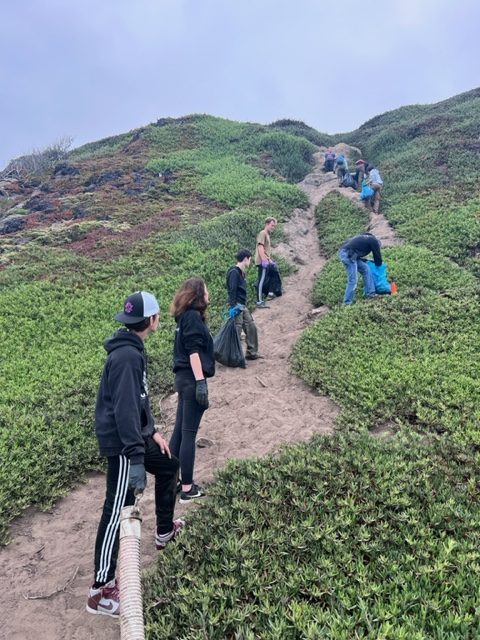 San Pedro Creek, Pacifica
At Coastal Clean-up Day at San Pedro Creek, 22 volunteers worked diligently on clearing out a full-size trampoline and large wood pieces, leading to 400 lbs of trash collected! Volunteers fixed up a discarded wheelbarrow to help transport the heavy discarded items from the far end of the trail to another. Tiny pieces of plastic/paper were the most common items of trash found amongst 8 lbs of recyclables. Smiles came from the high school volunteers who discovered a motorcycle part from the side of the highway. Over 500 cigarette butts were collected!
The beautiful weather and light breeze on the trail provided the perfect backdrop for helping our local ecosystems by picking up litter! You can see the springs for the trampoline and all the wood that was found too 🙂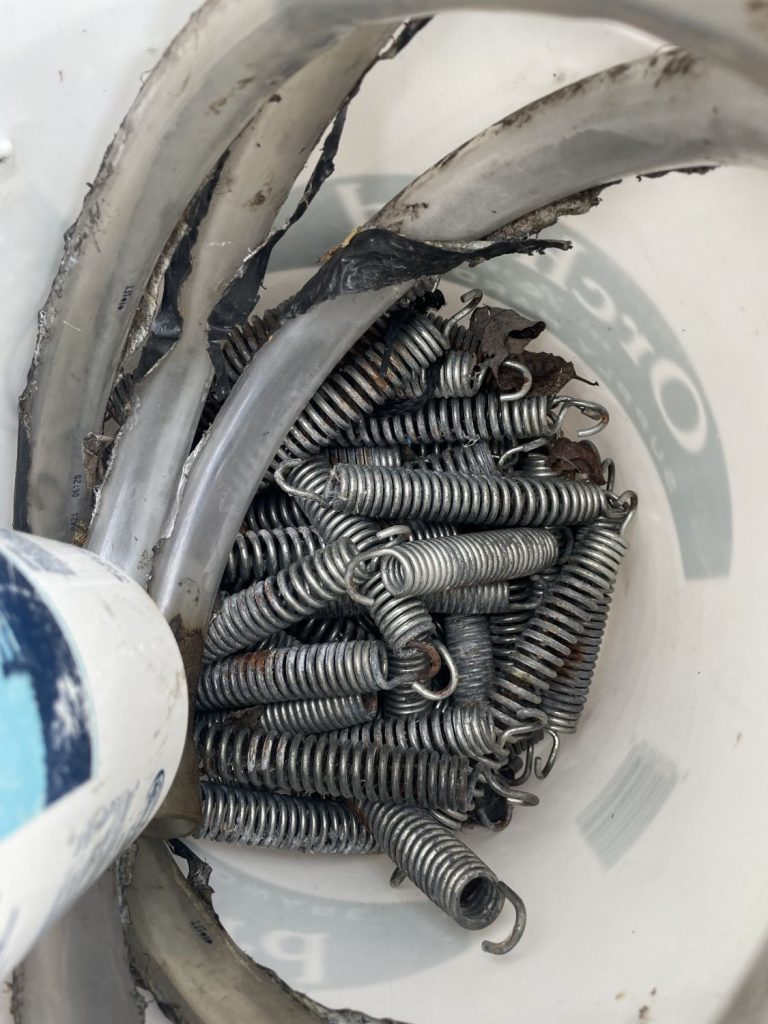 Other Great Memories for Divers Locations