The Results for Earth Month 2021 Are Here
Wow! What an incredible Earth Month we had! From the groups that safely met at different locations to either pick up litter or restore native habitat to the list of actions you all pledged to take and the many of you who visited our Albatross Exhibit.We hope you will enjoy browsing through everything we've done in April, it was hard to summarize all the actions! And if you didn't have the chance to participate, don't be sad, the next School Q/A with an Expert is schedule for May 14th, our interactive exhibit is still live until May 22nd and you can still join our Street to Beach Cleanups program.
And a BIG THANK YOU to our sponsors for supporting us for Earth Month 2021. We would like to thank Recology of the Coast – our Premier Blue Whale sponsor – who also provided trash collection and disposal during our Earth Month cleanups and highlight Pacific Manor Hardware – our Sea Star sponsor – who provided the location for the Earth Month dumpster hosting it in their parking lot.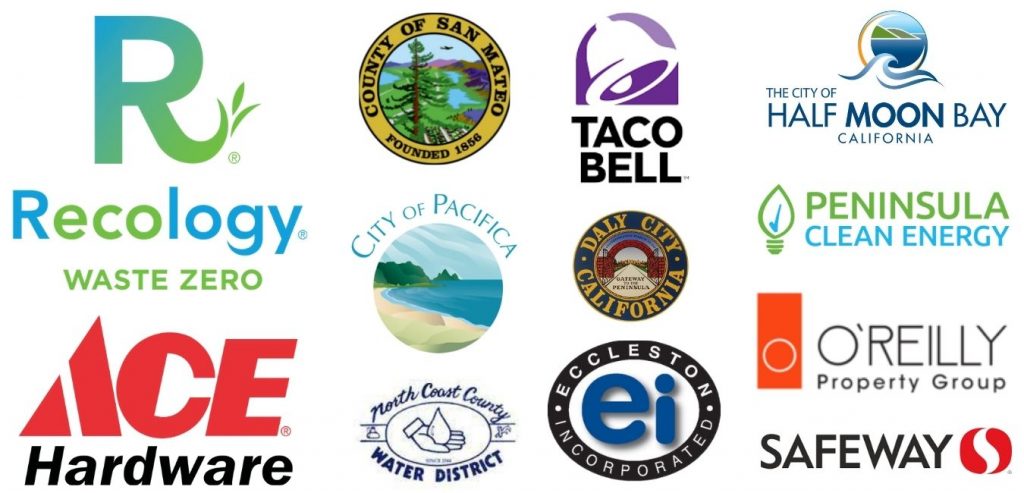 288 Cleanups Happened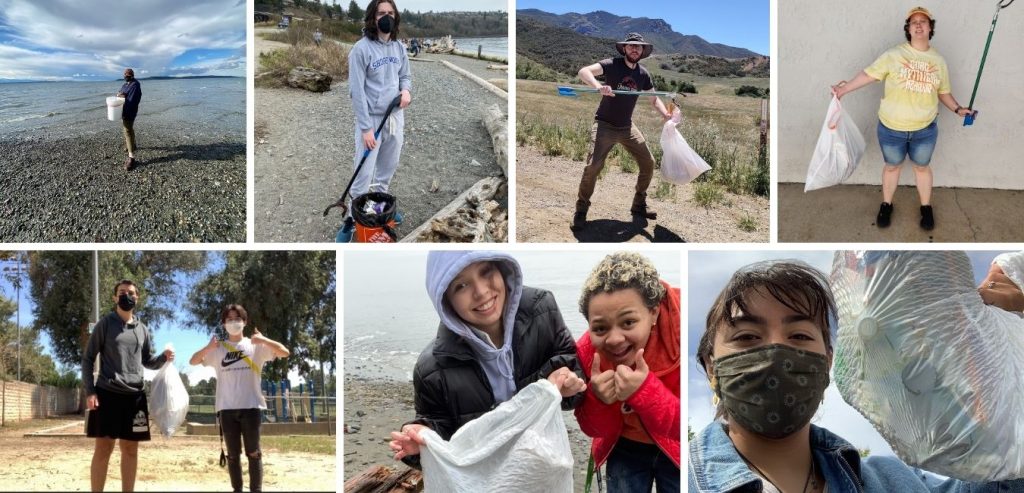 Thank you all so much for doing all these cleanups during Earth Month! Thanks to the Clean Swell app we were able to record cleanups from Kitsap and King Counties in Washington State to San Diego, California, all along the coast and throughout the Bay Area. And here are the results:
288 Cleanups
868 Volunteers
1,828 Students
5,051 lbs of Trash
454 lbs of Recycle
20,440 Cigarette Filters
1,491 lbs of Green Waste
Many Groups Cared for Their Communities

Thank you for the groups who cleaned up and/or restored the habitats near their homes and in their communities. We are so thankful for your actions and all the love you gave to your schools, streets and parks. Some of the places that got some love:
Linda Mar Beach, Pacifica
Pedro Point Firehouse, Pacifica
Mussel Rock, Daly City
Manor Shopping Center, Pacifica
Gray Whale Cove, Hwy1
Esplanade
Oceana Blvd
Lakeside Way
Sea Crest School, Half Moon Bay
Vallemar, Pacifica
Janesville, Wisconsin
We received reports from 14 groups. Did we miss your project? Send us your story and we will share it as well. Enjoy this compilation report and photos! Read more about activities that 14 groups did during Earth Month.
1,828 Students Learnt About the Albatross

Our dear Albatross enthusiast and artist Caren Loebel-Fried, has been leading online School Assemblies and Q&As with multiple schools all around the states for the past few weeks.Through her art and love for the Albatross, the students and teachers got a chance to learn about these incredible birds. And thanks to her video and this year's Albatross Activity book we were able to communicate the dangers of plastic and climate change and explain why they need our help.
If you want to learn about the Albatross, you can still find all the activities in our teacher toolkit.
Earth Heroes are Taking Actions
We are so glad to see and hear about all the actions you are taking this month and since the beginning of the year. Here are some that we thought were very inspiring:
Continue to clean beaches & trails. -Ellen
Personally, I plan to continue to phase all single use plastics out of my life. Educationally, I will continue to teach students about our impacts on the environment and what we can do to help. -Mrs Watanabe
Beach clean up with our daughter and also plant some native plants in our garden. -Danila
Save energy, buy more sustainable produce, no plastic. -Josie
Clean up our playgrounds and shared spaces! -Dylan
Still Time to Take Action
Beach Cleanups
Our Street to Beach Cleanups program has been so successful since last year that it is here to stay. As a matter of fact, we are celebrating its 1 year anniversary!To join the Street to Beach Cleanups program, just sign up the waiver, download the Clean Swell App, add Pacific Beach Coalition as your group and start picking up litter. You will find more information about this program and the Clean Swell app here.
Habitat Restoration
Join us Sunday, May 23rd for our Habitat Restoration outing at Linda Mar State Beach. Meet at 10am at the Community Center. We will work until noon.