Log Your Trash with Clean Swell App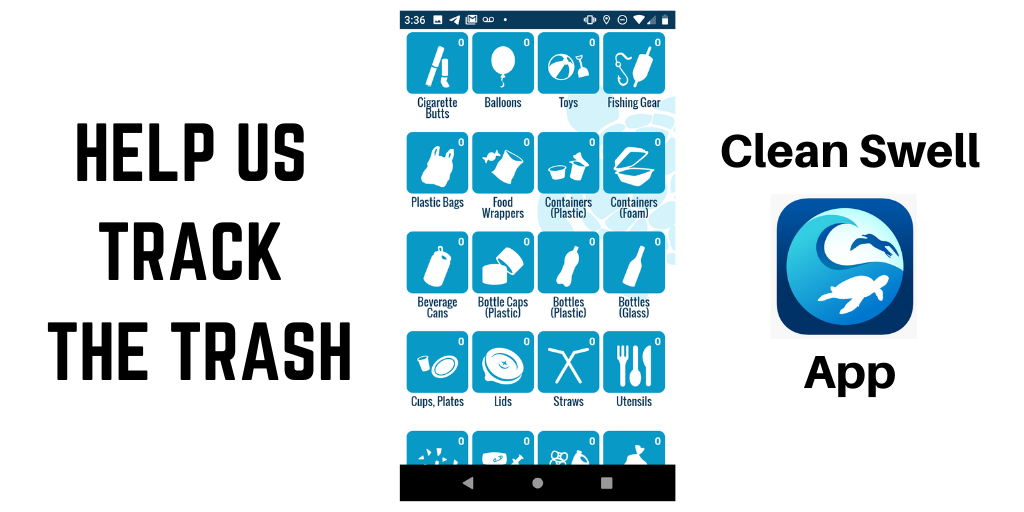 We are happy to partner with the Ocean Conservancy to offer you an easy way to log in the trash you pick up as part of the Street to Beach Cleanups.
If you have done a California Coastal cleanup in the past, this method will look familiar to you. But instead of recording everything on paper cards, you can use your phone. With this app you can record all the trash you find by tapping icons. It is very easy!
Why Track The Trash?
Tracking how much trash gets picked up is a great way to directly measure the impact of bans and new legislation. In California for instance, the Ocean Conservancy and California Coastal Commission were able to see the positive impact the plastic ban had, because less and less plastic bags have been reported.
Tracking the trash also helps raise awareness about items that are found the most in specific areas and will hopefully raise concerns and help pass new bans.
Why Get The App?
The app allows you to easily track how much trash you collected as well as:
Get an estimate of pounds of trash picked up
Know how big of an area you covered
Track how much time you spent cleaning up
Enter "Pacific Beach Coalition" as a group name so that we can add your results to our annual data
Keep track of how much trash you collected over time
And If You Can't Use The App
No problem, there are 2 other options for you to report how much trash you collected: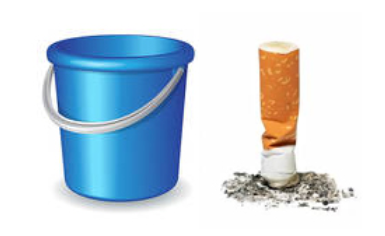 A – Go directly on the Ocean Conservancy website to report your trash (the process is very similar than the app)
B – Go to our Blue Bucket and fill out the short form. You can find it at any time on our website, just look for a blue bucket.
How To Use The App
1. Get the app from your app store
The app exists for iPhones and Androids.

2. Open the app and create an account
3. When you start a cleanup
Update the number of people who are with you
Make sure to enter "Pacific Beach Coalition" as a group. You can do "Pacific Beach Coalition – Troop 111" or "Pacific Beach Coalition – YMSL Alpine" for instance to have our group name + yours
Having a group name will help us keep track of all of all the trash we collected, which is very precious to us!
4. Click on "Start Collecting" to begin your cleanup
5. Tap the icons every time you find an item in that category
Our volunteers found different ways to record their trash while picking it up:
You can hold the bucket and your phone in one hand and pick up trash with the other
You can have one person pick up while the other taps the icons on the phone
You can record what you found at the end of the cleanup when you are emptying your bucket
If you find a small area filled with trash, you can count the trash first and then pick it up
6. Once done, make sure the group name is entered and tap "Done Collecting"
7. Depending on how much trash you collect, the app will show you different fun facts.
And for the collectors, you can start a badge collection based on your progress!
The Official Video
If You Forgot To Add The Group
We know that at the beginning this can be a lot to remember! So if you forgot to add "Pacific Beach Coalition" as a group, you can also send us a screenshot of your results or forward us the email the Clean Swell sends you at the end of every cleanup you log. info [at] pacificbeachcoalition.org.
If You Take A Break
If you stop for too long, you might loose your data. So, if you are taking a break, mark your cleanup as done and start a new one when you are back at it!
Thank You, Be Safe & Have Fun!