748 Volunteers at Coastal Cleanup Day 2021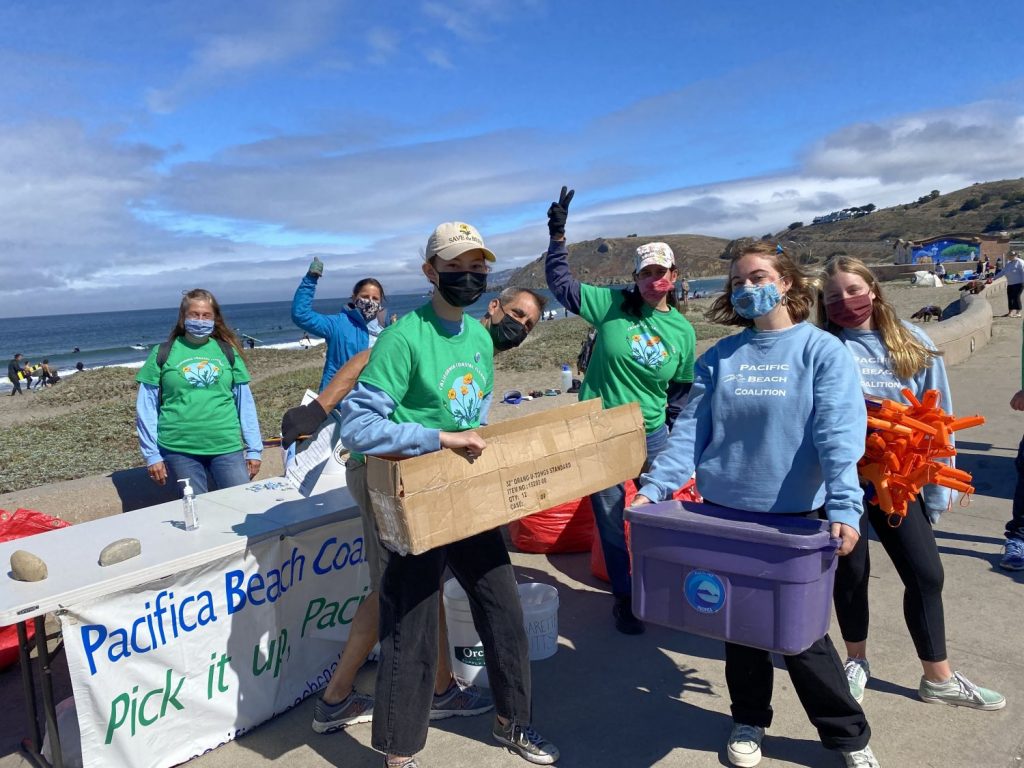 Thank you for rolling up your sleeves and coming out to clean our coastline for Coastal Cleanup Day! We are overjoyed to see the amazing results you produced and to know the winter rains will have less to carry into the ocean because of your work. Thanks to all your efforts, we are one step closer to a cleaner, healthier ocean.
Please join us in using less plastic, using our voices to manifest solid sustainable changes and to continuing to pick up litter whenever/wherever we see it!
Early Trash Results
748 volunteers
20 official sites
1,571 lbs of trash
499 lbs of recycles
16,035 cigarette filters
60+ miles covered
Here are some preliminary stats from PBC volunteers (Clean Swell App & Data Cards).
We are still counting results from the cards so come back often to see if these numbers increase!

2,772 Single Use Plastic items
2,552 Small Plastic Pieces
1,157 Beverage container (479 plastic bottles)
337 Masks & Gloves
156 Strapping Bands (ouch)
31 Balloons
21 E-Cigarettes
And: huge speakers, 2 cell phones,a pillow, wheelchair wheels, and a propane tank!
Beach Cleanup Sites Highlights
Secret Waterfall, Pacifica: Boy Scout Troop 29 pulled 67 pounds of trash/recycles from the Secret Waterfall near Mussel Rock. Among the collections were 150 plastic bags, 100 plastic bottles, 48 cans, and 201 food wrappers.
Sharp Park Beach, Pacifica: 70 volunteers cleaned the Sharp Park site including the beach, pier, walkways, and streets. IBL students and staff targeted the West Sharp Park streets. Nearly 70 pounds of trash/recycles and 1110 cigarette filters were kept from the ocean!
Pillar Point, Half Moon Bay: The Pillar Point Harbor site captains had a little fun here celebrating 81 volunteers who removed 168 pounds of trash and 92 pounds of recycling and a found watermelon while cleaning up the Harbor, the two beaches, and the entire area around Princeton.
Esplanade Beach, Pacifica: Volunteers from Skyline College took time out to celebrate after helping with the Esplanade Beach, bluff and neighborhood cleanup. Over 50 volunteers pitched in to remove nearly 100 pounds of debris and 1500 cigarette filters.
Linda Mar State Beach, Pacifica: Linda Mar State Beach was a hot spot for volunteers! 106 people pitched in to clean up all the way from Pedro Point Shopping Center to Linda Mar Shopping Center to the Community Center – tallying 330 pounds of debris! A great time was had by all.
Mussel Rock, Daly City: The Mussel Rockstars and their 92 volunteers cleaned up 2 miles of coastline and removed 85 pounds of trash/recycles! Things have improved there and they only removed 750 cigarette butts this time.
Manor, Pacifica: Drum Roll please! The Manor District cleanup collected the most cigarette filters (4500) and over 50 pounds of trash too. Led by Jim Poket, the Coastside Masonic Lodge, Bay Area Mentors and Covenant of Winged Toads members have been cleaning this district for over 10 years.
Roberts Road, Pacifica: 16 volunteers joined DigIt Dave to clean Roberts Road and pull debris from down the hill and set the PBC record of 469 pounds of trash/recycles! Their view from above is unequaled.
An Unforgettable Celebration at Linda Mar
We had wonderful speakers and here are some highlights:
Annie Phillips and Lauren Wu talk about their Splash of Color Mural and how they designed, created & completed it with an award from Dragon Kim Foundation and volunteer help.
Katrina Rill delivers an award from Congresswoman Jackie Speier to Annie Phillips and Lauren Wu (right) for their Splash of Color Mural near Eureka Square. Other honors were bestowed on the pair from Assemblyman Mullin, Supervisor Horsley, City of Pacifica, and Pacific Beach Coalition's coveted Star of the Sea Award.
Mayor Sue Beckmeyer shares information about the new Pacifica ordinance to reduce trash in our commercial spaces.
Our YOUTH are celebrated for their passions and contributions as Junior Albatross team members and Junior Site Captains. They truly are making a difference!
Alejandra Warren, Plastic Free Future, talks about how to and the need to reduce our plastic use.
Eben Schwartz from the CA Coastal Commission kicks off the Celebration thanking volunteers and PBC for organizing 20 cleanup sites.