Education

Our Educational Library
Every year, the volunteers of the Pacific Beach Coalition elect an animal or a plant in danger and every year the slogans are voted by the community over Fog Fest weekend. We use the Earth Hero Honoree as an educational theme to educate adults and children about these wonderful creatures and how WE can help them by changing some of our habits.
Earth Honoree of the Year
Here is a list of all our Honorees since 2011:
2023 Nudibranch – "Ocean hugs for Sea Slugs"
2022 Mission Blue – "Mission Blue Needs You"
2020-21 Albatross – "Be a Boss – Help the Albatross"
2019 Kelp – "We all need a little Kelp"
2018 Sea Stars – "Sea Stars, Sea Change"
2017 Dolphins & Porpoises – "Make a Splash by Ending Trash!"
2016 Sea Otters – "Healthy Waters, Healthy Otters"
2015 Native and Coastal Bee – "Bee the Change, Bee an Earth Hero!"
2014 Snowy Plovers – "Little Things Matter"
2013 Sharks – "Take a bit out of litter!"
2012 Sea Turtles – "Be Turtley Cool"
2011 California Gray Whale – "Make a Whale of a Difference"
We generally post or link to educational resources that align or apply primarily to our field and education programs with the focus on wildlife, pollution prevention as well as local, regional and statewide environmental issues affecting our coastal ecosystem in San Mateo County, the Bay Area, California and West Coast.
However, like the migration of whales or seabirds we often see along our shores, or the flow of runoff to our ocean from our creeks or streets, we understand global issues such as the Pacific Gyre "Garbage Patch" or marine debris traveling on ocean currents knows no boundaries. Pollution in our environment- regardless where we live – impacts us all on Planet Earth.
School Assemblies
From toddlers to pre-schoolers to high school and college students, our youth education program brings coastal stewardship right into the classroom. Each year during Earth Week from Pacifica to Half Moon Bay and Montara, our young Earth Heroes take the pledge to protect and are inspired to value and appreciate their environment. After a week filled with school assemblies presented by experts and aligned with science standards, our coastline becomes their classroom where students are joined by their families to "take action". All ages connect to not only experiential learning in the field, but also to an entire community of Earth Heroes. Over the years, our youth education program has also included after-school programs.
In 2019, we lead 18 school assemblies from Pacifica to Half Moon Bay allowing 6000 to 7500 kids to come back home with a better understanding of the marine ecosystem and the dangers of marine debris.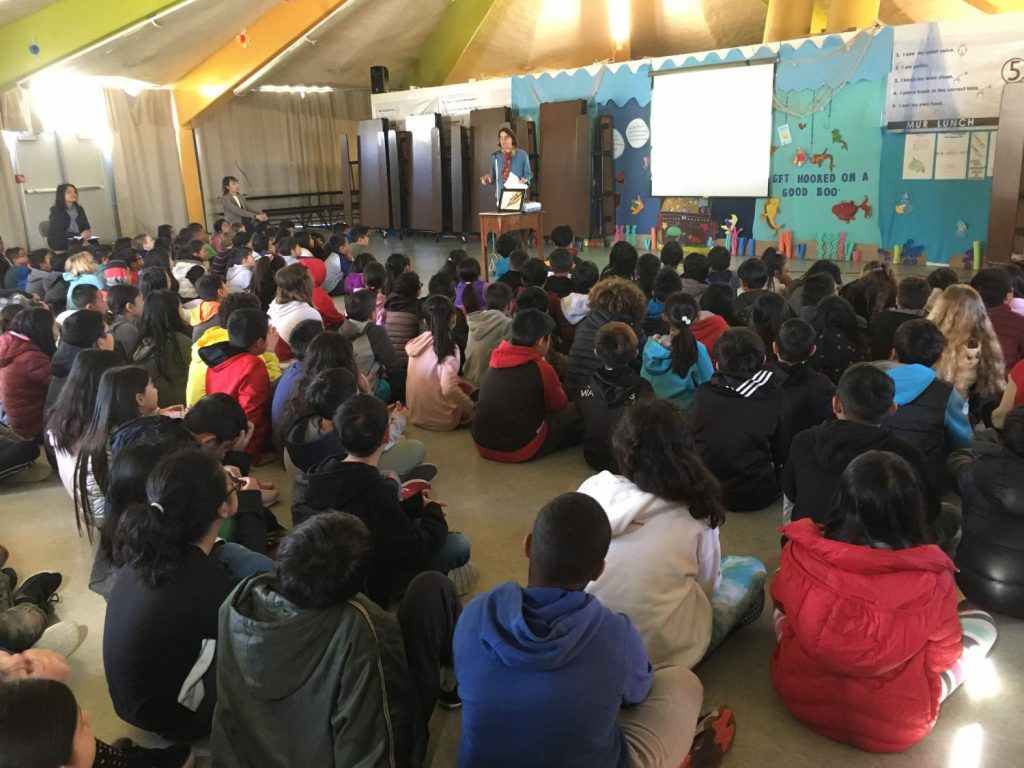 If you're a student, find out ways to become an Earth Hero.
If you're a teacher, learn how to include our program into your classroom and partner with us to nurture coastal stewardship.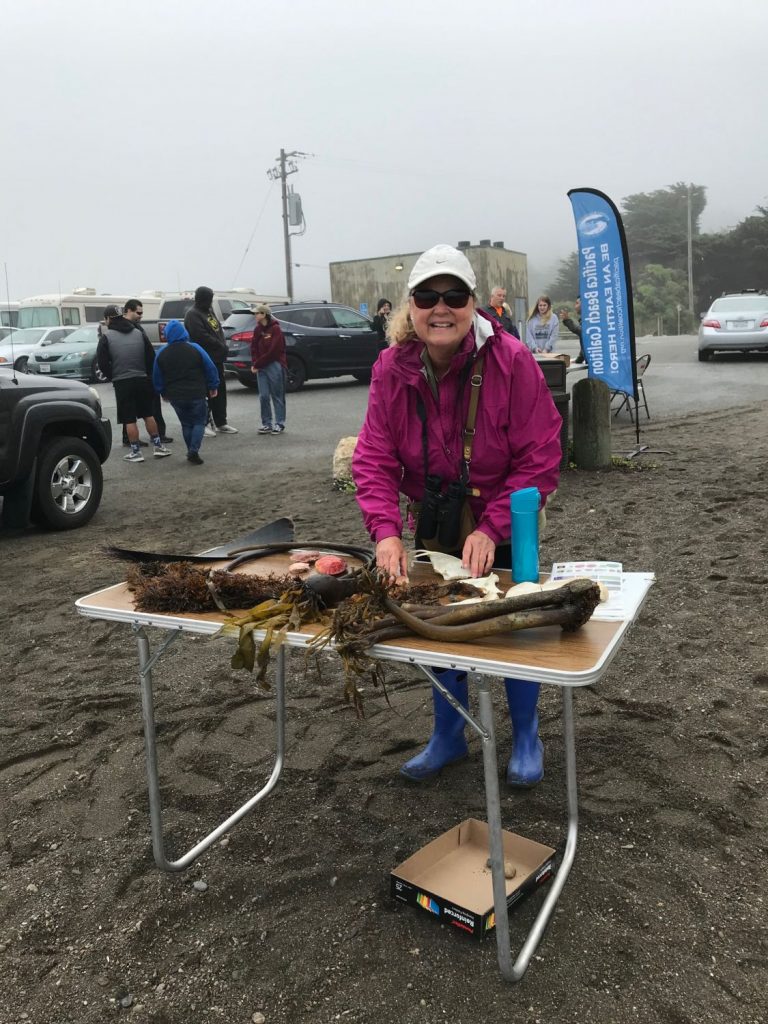 Naturalist Program
In mid 2019, we started the Naturalist program which consists in bringing naturalists to our monthly beach cleanups. These well trained professionals have been educating thousands of volunteers about the trash found on the beach, the local environment and the marine eco-system. This has so far been a very well received program love by adults and children.
Consider sponsoring our education programs by making a tax deductible contribution or in-kind donation at any time of the year.
For Teachers or Parents Doing Home Schooling
1. Ready to Print Activities from the Teacher Toolkits
The information available in our resource library highlights and supports our annual educational theme to inspire and teach environmental stewardship. Here is a list of the teacher toolkits we put together for teachers and parents doing homeschooling:
Nudibranch – Teacher Toolkit and Activities
Mission Blue – Teacher Toolkit and Activities
Albatross – Teacher Toolkit, Fun Facts
Kelp – Teacher Toolkit, Fun Facts
Sea Stars – Teacher Toolkit, Fun Facts
Dolphins & Porpoises – Teacher Toolkit
Sea Otters – Teacher Toolkit, Fun Facts
Native and Coastal Bees – Teacher Toolkit
2. Activity Sheet for Extra Credits
We were very excited to put together an activity sheet that teachers can print and give to their students to earn extra credits. It includes a table to fill, a graph bar to create and a short paragraph to write.
This piece was first created by 2 teachers from a school in San Carlos but we made it more generic to give every teachers a chance to use it.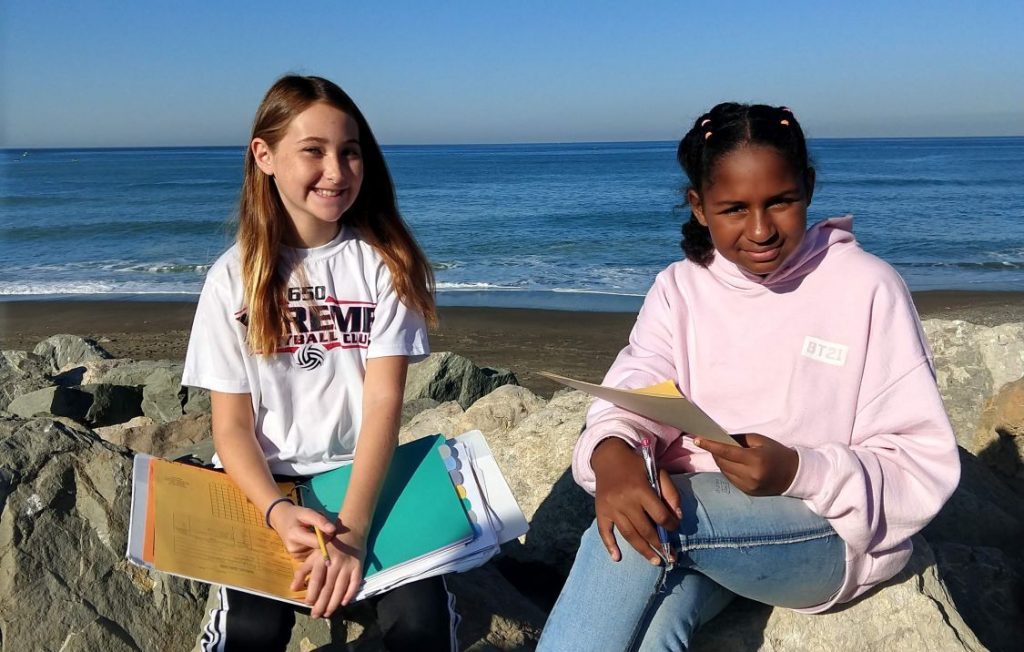 For Students or Home School Children
1. Community Service Hours
If you are a student and need a form to fill out your Community Service Hours, feel free to use the one we created for you. You can fill out all the information your school needs. Remember to bring it to each beach cleanup or habitat restoration events you attend in order for our site captains to confirm and sign your hours!
2. Track Your Plastic Footprint
This is an easy way to know how much plastic you consume at home. We might not notice it but everything that is put in a garbage bag ends up in the local landfill and a large amount will actually end up in the Ocean! To make a difference, we invite you do to this exercise at home with your parents.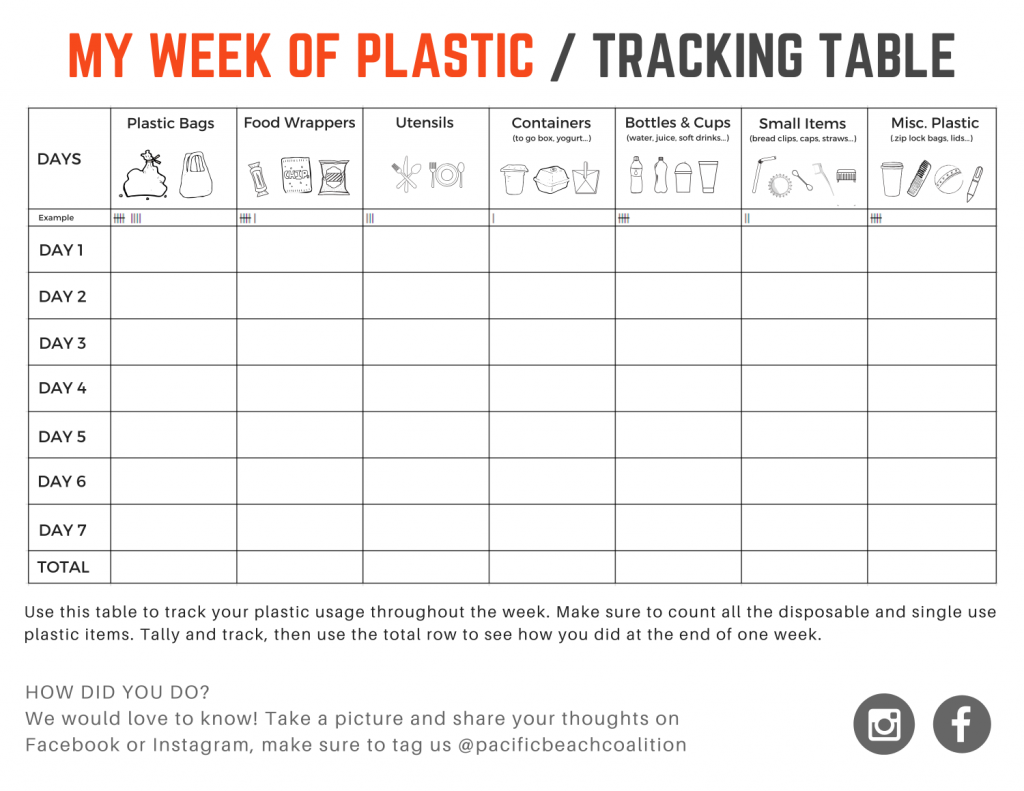 We invite you to learn more on how you can be an Earth Hero – every day!
Please contact us if you'd like to us to consider an educational resource or relevant information that meets our guidelines.