Earth Day of Action & EcoFest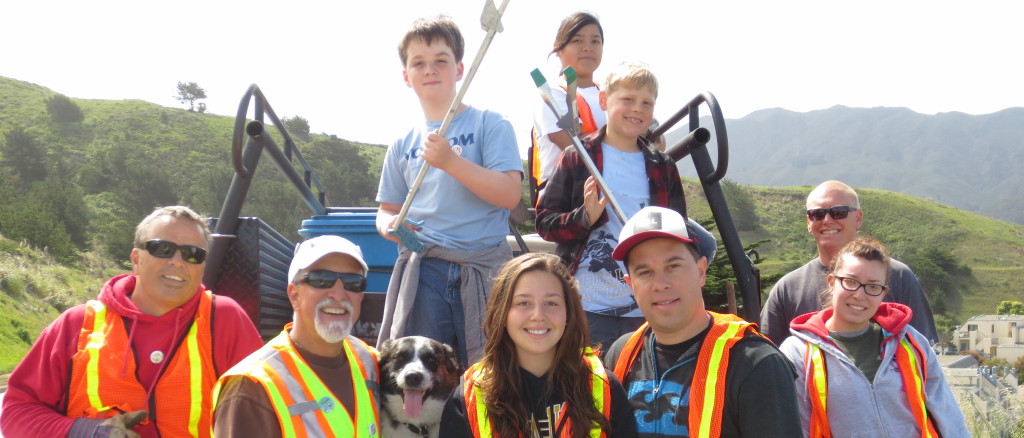 Are you ready for Earth Day of Action 2024?
Each year in honor of Earth Day recognized worldwide on April 22nd, the Pacific Beach Coalition mobilizes thousands of volunteers. We host this citywide day of action and education highlighting our coastal environment in partnership with the City of Pacifica.
Who can participate?
Adults, kids, families, seniors, teachers, students, groups, teams, businesses, volunteers, anyone!
If you would like to register your group, please contact Jim at jim [at] pacificbeachcoalition.org. And if you are an individual or a family you can join our Street to Beach Cleanups program.
Where will cleanups take place?
Sites include our monthly beach cleanup sites as well as streets, creeks, bluffs, parks, shopping centers, and any needy spots along the coastline that we can find volunteers to cover.
And if you do not live near a location listed above or would like to clean your own area, make your cleanup count by joining our Street to Beach Cleanups program and record your results with the Clean Swell app.
Here are some locations that might have some litter:
---
Sign up (on the right hand side) to receive our eNews or peruse our website and Facebook to get all the details about cleanups and activities.
More About Earth Day of Action & EcoFest:
Earth Day is Action! The annual 'citywide day of action' is part of our field education programs, and has grown to become popular, family-friendly, and only one of a few in the Bay Area dedicated to inspiring, uniting, educating and building community to remove litter and restore native landscape along the San Mateo County coast. Thousands of volunteers of all ages gear up with gloves and buckets to join the hands-on action at organized sites from Daly City to Half Moon Bay, on beaches and along highways and streets from Highway 35 to the coastline.
Earth Day is Education! Earth Day of Action also brings environmental education to module for teachers, and to the public at Linda Mar Beach during EcoFest as part of our school and public education programs. Each year, we promote an educational theme focused on wildlife protection to promote, inspire and learn about important ways to protect our ecosystem.
Everyday is Earth Day! Our passion to create sustainable stewardship around protecting and preserving our ocean, beaches, and coastline's natural beauty is why we organize Earth Day of Action & EcoFest. Our goal is to inspire, educate, engage and sustain a community of Earth Heroes so they continue to be stewards of the environment not only during Earth Day, but everyday through daily actions.
You can contribute to our Earth Heroes and the difference they make during Earth Day of Action by making a tax deductible contribution or in-kind donation at any time of the year.