Become a Supporting Member
Whether you are an active member and/or a volunteer, you are the heart and soul of the PBC.
We believe in a cleaner and healthier Pacific Ocean and coastline. We work relentlessly to provide and organize programs and give everyone a chance to help us with this mission. If you also believe that preserving our ocean is a great cause worth fighting for, you can join us by becoming a supporting member of the Pacific Beach Coalition.
Become a Supporting Member
or Renew Your Membership Today!
Choose the yearly membership level that fits your wallet the best and once you complete the transaction, you will be a proud member of the Pacific Beach Coalition.
Payments are securely made through Paypal.
If your company offers matching funds please ask them to match your donation!
You can also mail a check made payable to Pacific Beach Coalition and make sure to mention your membership level.
Pacific Beach Coalition
Attn: Membership
PO Box 932, Pacifica, CA 94044
The PBC membership can be renewed every year after January 1st of the following year.
As a supporting member, you will get a special recognition and get updates of our progress. As we want to make sure that every dollar we receive are used to finance our education and field programs, we will not be sending you plastic membership cards or any other items that might generate waste. Instead we encourage you to share the pride of being a PBC member with your voice and online. Thank you very much for your understanding.
As a reminder, Pacific Beach Coalition is a registered 501(c)(3) non profit organization and your membership value is tax deductible.
Thank You to Our Members!
And thank you to all of our members for also believing in a cleaner and healthier Pacific Ocean.


Your passion, your dedication and your energy is the driving force of our growth.
We have been around since 1997 and since then we have grown a lot. PBC has always been an all-volunteer based organization leading beach cleanups, habitat restorations, free lecture series, Earth Day and EcoFest events and organizing school assemblies for the schools and the coastal community. Over the years, we have been educating more and more volunteers and we have been getting more requests from schools, organizations and companies to help educate their groups. Unfortunately, this is not something that can be accomplished with only our dedicated volunteers. While our volunteers are amazing and give us all their free time, to keep educating at this scale and to keep expanding our outreach, we need to build a team of educators and contractors, and maybe have an office. We have so many ideas for new projects and programs expanding from Daly City thru Half Moon Bay and beyond, projects that will help us preserve our ocean — and we need your support to make that happen.
Your Membership Dollars at Work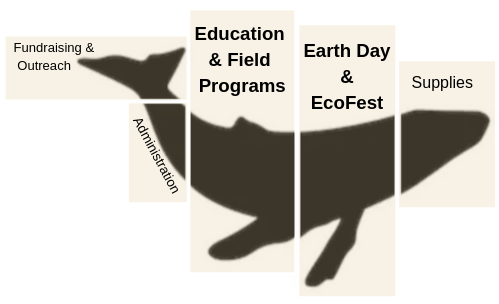 The larger portion of our expenses are made to fund our education and fields programs needed to give our volunteers a great and rewarding experience. Earth Day of Action and the EcoFest in addition to the activities that we organize leading to PBC's biggest annual events also take a portion of our budget, this includes, school assemblies, speakers, stage etc… Gloves, buckets, native plants and tools are part of our supply budget. To make sure that we have enough volunteers to help us with our beach cleanups, habitat restoration or come to our free educational communities lectures, we do have to spend some of our dollars on fundraising, marketing and outreach. Finally, insurance, Quickbooks and other related expenses are part of our administration costs.
Last Year's Accomplishments
Counted over 13,672 volunteers – All 2019 accomplishments here
Coastal Cleanup Day: 8168 volunteers came and picked up 3,624 pounds of trash – Full report here
EcoFest: 3,300 visitors learnt about how to preserve our ocean and coast line
1,415 volunteers who physically joined us and 92 volunteers from all over the globe who pledged to cleanup their streets and neighborhoods (Peru, Malaysia, Bangladesh Mexico, Guadalupe, South Africa to list a few!) – Full Report here
We organized the first ever Butt Blitz and collected over 91,000 cigarette butts in less than 2 months
School Assemblies: Our speakers went to 18 schools and educated 6,000 students and teachers about our ocean and the kelp
MLK Day of Service: Planted native plants and removed weeds in Pacifica
With our efforts and your support, we look forward to another year of clean beaches, less cigarette butts and hands on environmental education.