Support Pacific Beach Coalition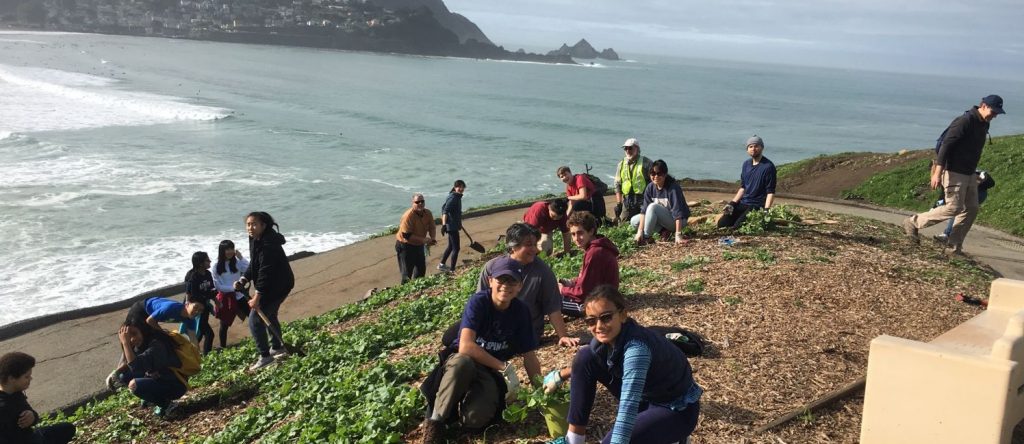 Thank you for your desire to support the
Pacific Beach Coalition
We have been around since 1997 and since then we have grown a lot. PBC has always been an all-volunteer based organization leading beach cleanups, habitat restorations, free lecture series, Earth Day and EcoFest events and organizing school assemblies for the schools and the coastal community. Over the years, we have been educating more and more volunteers and we have been getting more requests from schools, organizations and companies to help educate their groups. Unfortunately, this is not something that can be accomplished with only our dedicated volunteers. While our volunteers are amazing and give us all their free time, to keep educating at this scale and to keep expanding our outreach, we need to build a team of educators and contractors, and maybe have an office. We have so many ideas for new projects and programs expanding from Daly City thru Half Moon Bay and beyond, projects that will help us preserve our ocean — and we need your support to make that happen.
Different Ways to Support & Contribute
1. Donate Your Time
Join our group of volunteers to get your hands dirty and help at a beach cleanup or restore the precious native habitats.
Wanna do this? Check out our Calendar page and our Field programs.

Become an Active Member by joining our monthly meeting to help us make decisions, lead or support an existing or new projects or just share your thoughts and ideas.
Wanna do this? Meet us on the 2nd Tuesday of the month and join the monthly PBC meeting. Check our Calendar or meeting page to find the next meeting date and location.
Become a Junior Active Member by teaming up with our Junior Albatross team. This group of enthusiast teenagers meet virtually on the 3rd Thursday of the month where they create their own projects to spread the word about a healthier ocean among their peers and school. This group is chaperoned by 2 of our incredible adult volunteers Gail and Cecily.
Wanna do this? Send us an email at info[at]pacificbeachcoalition.org to ask questions or get added to the group.
2. Make a Financial Donation
Your financial donations help us keep our existing programs running and create new ones. You can make a one time or a recurring monthly donation to provide ongoing help to our beaches and native habitat year round.
Make a donation today via paypal here. We are also on Venmo!

3. Become a PBC Supporting Member
As of February 2019 we are now offering you the possibility to become a proud member of the Pacific Beach Coalition!
We offer 5 different membership levels so make sure to choose what fits your heart and your wallet the best. Check our Membership page, here.
And thank you to our current members.
4. Support a School by Contributing to the Education Fund
You donation will support our events for children of all ages, where they are guided by a Naturalist and learn first hand about the impact litter has on our environment as well as what they can do to keep our environment clean for a healthy ocean and healthy planet. Your kind donation of $5, 000 would help support at least 10 school events, as well as support our K-12 educational content and classroom engagements. Learn more.
5. Become a Sponsor
If you want your brand, company, business or organisation to gain visibility and be associated with an environmentally powerful movement, we offer you a one-of-a-kind opportunity to add your logo next to ours for thousands to see! Read more.
6. When You Sell Something On Nextdoor or Ebay
You can add us as your non profit of choice when you sell something on Ebay or Nextdoor. Just find us in the list of charities and these 2 organizations will send us a donation.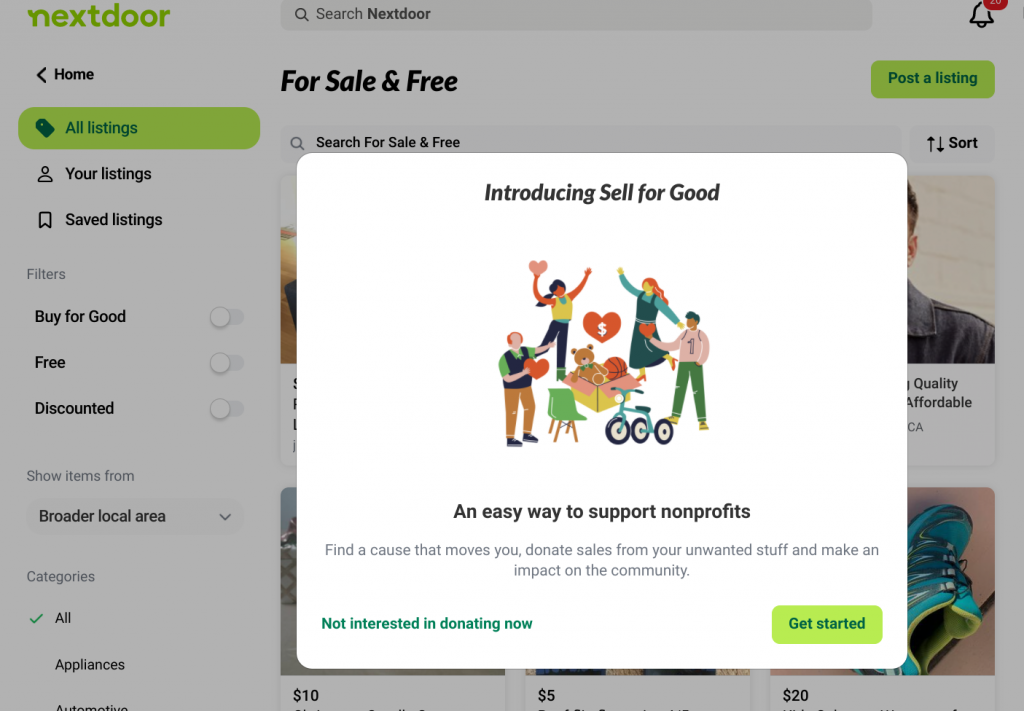 7. When You Shop at Sports Basement
If you go to Sports Basement to buy any kind of goods, at the cash register, make sure to tell the Sports Basement employee that you want to support Pacific Beach Coalition with this purchase. At the end of the year, they will give us a percent of all the purchases that have been done and associated with our name.
This is a great and simple way to support us while shopping!
8. 1% for the Planet
Become a partner to give 1% or more of your profit.
You can select PBC as your partner and every year, your business will financially support our mission. We would be very proud to partner with you and make sure that our volunteers know about this partnership by giving you as much exposure that we can. We want the world to know about this great cause you are supporting!
9. Donate Supplies
Our beach cleanup and habitat restoration programs are always in need to supplies such as buckets, gloves, gardening tools, pick up sticks etc… If you would rather like to donate material instead of money, check our wish lists on Gooddler.com. You can buy from that website and the supplies will be delivered straight to us! http://pacificbeachcoalition.gooddler.com
Show the Coast that your company values a clean and sustainable region – sponsor a cleanup or Earth Day or bring out a volunteer team to a cleanup!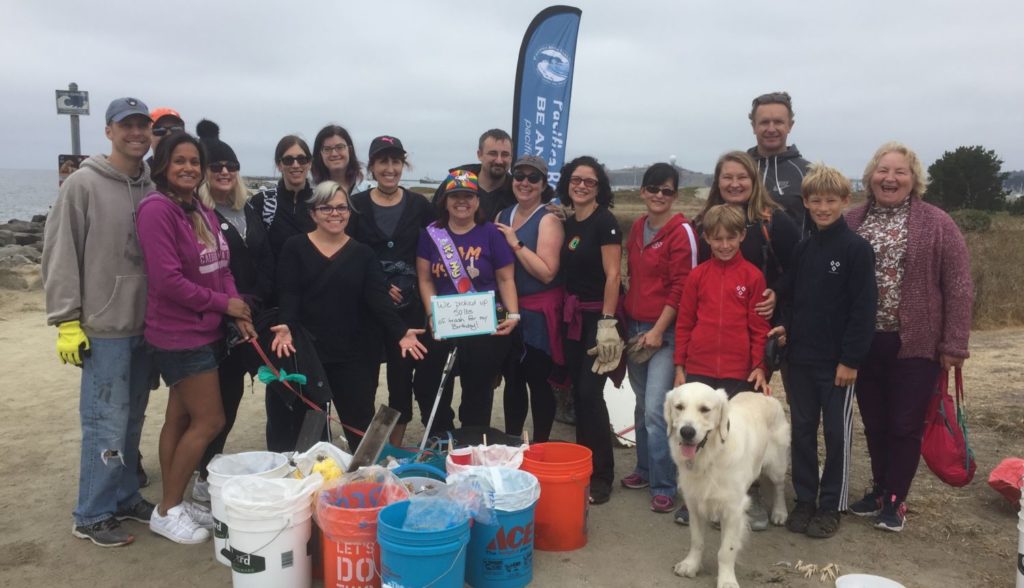 Your Dollars at Work!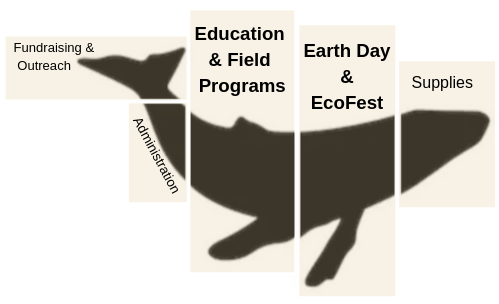 The larger portion of our expenses are made to fund our education and fields programs needed to give our volunteers a great and rewarding experience. Earth Day of Action and the EcoFest in addition to the activities that we organize leading to PBC's biggest annual events also take a portion of our budget, this includes, school assemblies, speakers, stage etc… Gloves, buckets, native plants and tools are part of our supply budget. To make sure that we have enough volunteers to help us with our beach cleanups, habitat restoration or come to our free educational communities lectures, we do have to spend some of our dollars on fundraising, marketing and outreach. Finally, insurance, Quickbooks and other related expenses are part of our administration costs.
See What We Accomplished in 2022!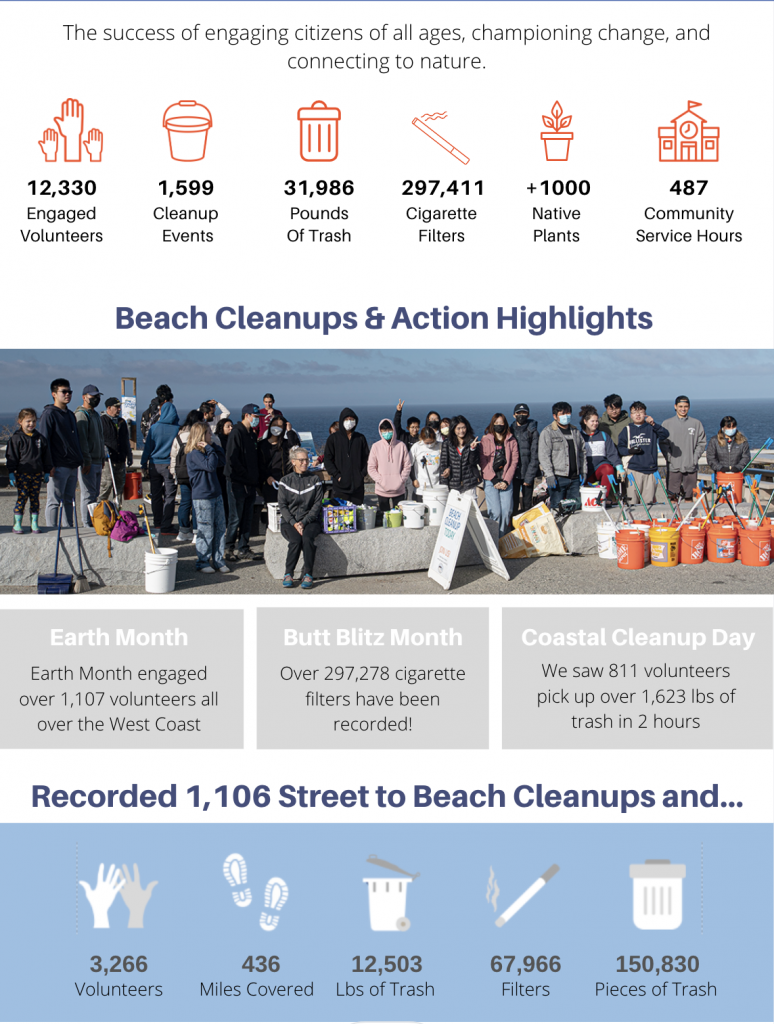 Depending on the amount of your donation, we can buy different things to keep our field and education programs afloat. And we are so very grateful for your support.