Support Pacific Beach Coalition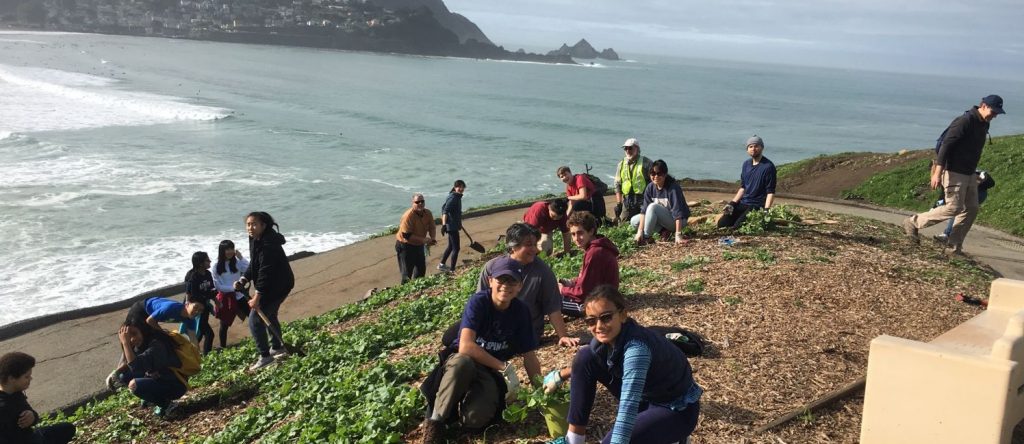 Thank you for your desire to support the
Pacific Beach Coalition
We have been around since 1997 and since then we have grown a lot. PBC has always been an all-volunteer based organization leading beach cleanups, habitat restorations, free lecture series, Earth Day and EcoFest events and organizing school assemblies for the schools and the coastal community. Over the years, we have been educating more and more volunteers and we have been getting more requests from schools, organizations and companies to help educate their groups. Unfortunately, this is not something that can be accomplished with only our dedicated volunteers. While our volunteers are amazing and give us all their free time, to keep educating at this scale and to keep expanding our outreach, we need to build a team of educators and contractors, and maybe have an office. We have so many ideas for new projects and programs expanding from Daly City thru Half Moon Bay and beyond, projects that will help us preserve our ocean — and we need your support to make that happen.
Different Ways to Support & Contribute
1. Donate Your Time
Join our group of volunteers to get your hands dirty and help at a beach cleanup or restore the precious native habitats.
Wanna do this? Check out our Calendar page and our Field programs.

Become an Active Member by joining our monthly meeting to help us make decisions, lead or support an existing or new project or share your thoughts and ideas.
Wanna do this? Meet us on the 2nd Tuesday of the month and join the monthly PBC meeting. Check our Calendar to find the next meeting date and location.
2. Make a Financial Donation
Your financial donations help us keep our existing programs running and create new ones. You can make a one time or a recurring monthly donation to provide ongoing help to our beaches and native habitat year round.
Make a donation today via paypal here. We are also on Venmo!

3. Become a PBC Member
As of February 2019 we are now offering you the possibility to become a proud member of the Pacific Beach Coalition!
We offer 5 different membership levels so make sure to choose what fits your heart and your wallet the best. Check our Membership page, here.
And thank you to our current members.

4. Become a Sponsor
If you want your brand, company, business or organisation to gain visibility and be associated with an environmentally powerful movement, we offer you a one-of-a-kind opportunity to add your logo next to ours for thousands to see!
5. Add us to Amazon Smile
If you go on smile.amazon.com and choose Pacific Beach Coalition, Amazon will give us 0.5% of your total order every time you buy something on Amazon. It doesn't cost you anything and the process is very easy to set up.
6. Donate Supplies
Our beach cleanup and habitat restoration programs are always in need to supplies such as buckets, gloves, gardening tools, pick up sticks etc… If you would rather like to donate material instead of money, check our wish lists on Gooddler.com. You can buy from that website and the supplies will be delivered straight to us!  http://pacificbeachcoalition.gooddler.com
Show the Coast that your company values a clean and sustainable region – sponsor a cleanup or Earth Day or bring out a volunteer team to a cleanup!
Venture Crew 27 San Mateo
Your Dollars at Work!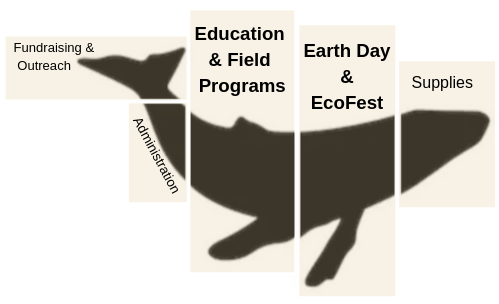 The larger portion of our expenses are made to fund our education and fields programs needed to give our volunteers a great and rewarding experience. Earth Day of Action and the EcoFest in addition to the activities that we organize leading to PBC's biggest annual events also take a portion of our budget, this includes, school assemblies, speakers, stage etc… Gloves, buckets, native plants and tools are part of our supply budget. To make sure that we have enough volunteers to help us with our beach cleanups, habitat restoration or come to our free educational communities lectures, we do have to spend some of our dollars on fundraising, marketing and outreach. Finally, insurance, Quickbooks and other related expenses are part of our administration costs.
See What We Accomplished in 2018!
Counted over 14,000 volunteers – All 2018 accomplishments here
Coastal Cleanup Day: 1,478 volunteers came and picked up 3,624 pounds of trash – Full report here
EcoFest: 5,500 visitors learnt about how to preserve our ocean and coast line
Earth Day of Action: 3,588 pounds of trash and over 12,000 cigarette butts picked up – Full Report here
Community Events: Organized 2 free events for the community. Our speakers talked about the Sea Stars and our local wildlife
School Assemblies: Our speakers went to 21 schools and educated 7,500 students and teachers about our ocean and the Sea Stars
MLK Day of Service: Planted native plants and removed weeds in Pacifica
Depending on the amount of your donation, we can buy different things to keep our field and education programs afloat. And we are so very grateful for your support.
$75 pays for 1 naturalist at a beach cleanup to educate our volunteers about our local environment, wildlife and marine debris.
$25 pays for 1 bucket, 1 pair of reusable gloves and pick up stick good for a volunteer at a beach cleanup.
$900 pays for a new trash can for a beach site.
$33 pays for a gardening tool and a heavy duty pair of gloves for habitat restoration.
$5 pays for a native plant.
$250 pays for 1 school assembly.
$5000 pays for a classroom to go to the beach to get onsite education (transportation, insurance and naturalists).
$1500 pays to get a new monthly beach cleanup started at a new beach.
2019/2020 GOALS:
– Hire 1 naturalist for every beach cleanups organized
– Organize 25 free school assemblies
– Plant 3000 new native plants
– Start a cleanup at 6 new beaches
– Get 2 classrooms to the beach
– Get supplies for 50 beach cleanup volunteers and 20 for habitat restoration
– Get one new trash can at a beach in need