Save the Date: April 25th for Earth Day of Action & EcoFest!
Save the Date … What's the Bay Area's Biggest Action and Education Event of the Year?
Earth Day of Action & EcoFest! It's coming Saturday, April 25th from 9am-2:30pm. Online registration for individuals and families to "take action" begins March 18th. Registration for your team or group for a special Earth Day project is opening soon.
Earth Day is Action!
The annual 'citywide day of action' is part of our field education programs, and has grown to become popular, family-friendly, and only one of a few in the Bay Area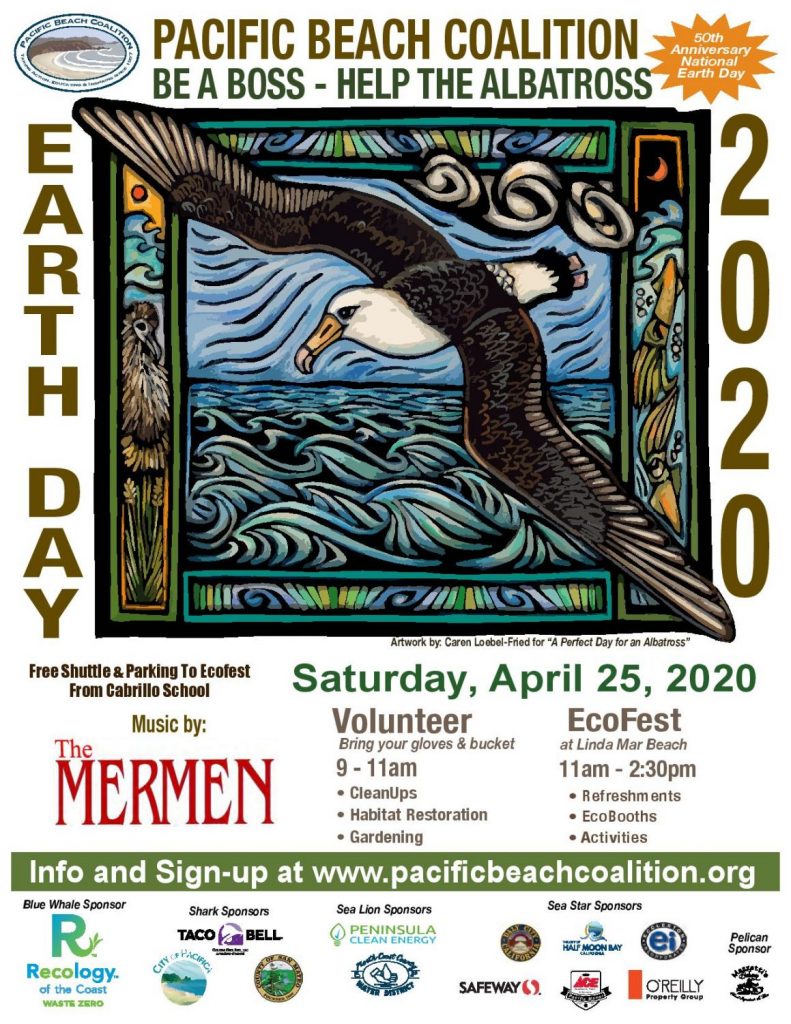 dedicated to inspiring, uniting, educating and building community to remove litter and restore native landscape along the San Mateo County coast. Thousands of volunteers of all ages gear up with gloves and buckets to join the hands-on action at organized sites from Mussel Rock to Tunitas Creek, on beaches and along highways and streets from Highway 35 to the coastline.
Earth Day of Action & EcoFest is Education!
Earth Day of Action also brings environmental education about the Sea Stars to schools through assemblies, to volunteers through hands on experiential learning, and to the public via the many Eco Booths and speakers at Linda Mar State Beach during EcoFest as part of our school and public education programs. Each year, we share an educational theme focused on wildlife protection to raise awareness, inspire and learn about important ways to protect our ecosystem. This year the volunteers elected the Albatross (Be A Boss – Help the Albatross) and the past Earth Day of Action themes have included the Kelp (We All Need A Little Kelp), Sea Star (Sea Stars, Sea Change.), Dolphins (Make a Splash by Ending Trash!), Sea Otters (Health Waters, Healthy Otters), Bees (Bee the Change, Bee an Earth Hero), Western Snowy Plovers (Little Things Matter), Sharks (Take A Bite Out of Litter), Whales (Make A Whale of A Difference), and Sea Turtles (Be Turtley Cool, Take Action).
Everyday is Earth Day!
Our passion to create sustainable stewardship around protecting and preserving our ocean, beaches, and coastline's natural beauty is why we organize Earth Day of Action & EcoFest. Our goal is to inspire, educate, engage and sustain a community of Earth Heroes so they continue to be stewards of the environment not only during Earth Day, but everyday through daily actions.
So if you are up for the challenge and want to make our Earth a trash-free planet you can start here!
Individual & Family Registration – OPEN
If you are an individual, a family or a small group of friends and you wish to help at one of the beaches or general sites, fill out this online waiver form to sign up and select the project location you would like to join, you can also refer yourself to the map below. The waiver must be filled out online by each person/family or on the day of the event, please note that doing it online saves time and paper.
Group, Team & Site Captain Registration – OPEN
Please fill out this group registration form if you are:
– A group WITH a site to cleanup, garden, or do habitat restoration
– A group who would like to ADOPT a new site => See the sites in need here!
– A group who is looking for a needy site to HELP
Please also fill out this online waiver form and share the link with your group. It is one waiver per person and it must be filled out online or on the day of the event, please note that doing it online saves time and paper.