To Patty, From Her Ocean Shore Students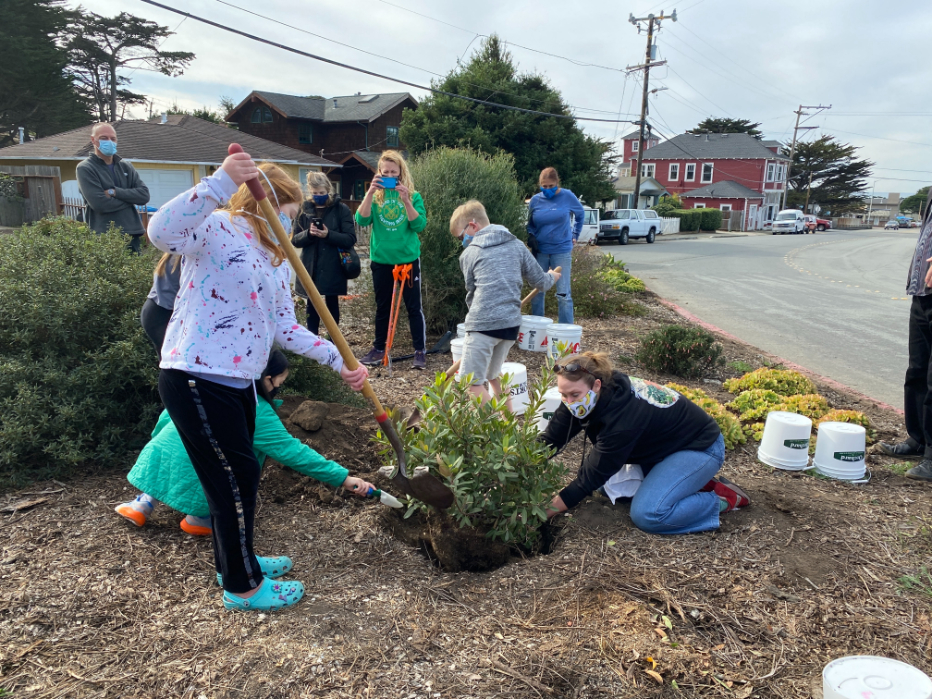 From Anneliese Phillips, Ocean Shore Grad and PBC member
A teacher's job may appear to be as simple as guiding the class through the school's curriculum, saying goodbye after a year of work, and then preparing for the next group of students to arrive. To Ocean Shore teacher Patty McNally, who passed away on November 14th, the job meant much more than that. In her 46 years of teaching at Ocean Shore School, she was able to brighten the lives of her students, their families, and her coworkers with her enthusiasm, care, and passion.
To honor McNally, a group of junior Pacific Beach Coalition members, Oceana High School's Ocean Conservation Club, and past and current members of McNally's class joined together to plant a tree. This native Toyon tree is located in the turning triangle across from Oceana High School tennis courts on Paloma Ave at Mirador Terrace, an area that has been transformed from a weedy patch just 4 years ago to a thriving garden thru the stewardship of PBC, Oceana students and neighbors .
The past several months have been difficult with school being completely remote, and for her students whose last moments with her were distant and unconventional, saying goodbye only adds to the pain. Having these kids along with their parents and siblings (some of which were also students of McNally) together again to say goodbye brought love and warmth to the event. Everyone there worked together to plant the tree and took turns shoveling dirt and nourishing it with water.
A toyon produces berries to feed the wildlife around it, making the species a fitting tribute to McNally, who nurtured her students and their families. The beauty of the area demonstrates the openness and affection you would feel when in the presence of her. This memorial represents McNally's impact on those who knew her and how it will continue to affect this community. All are invited to visit and enjoy this area. To honor Patty further, please consider bringing water to help the Toyon or other plants or taking a moment to pull a weed or two.
Special thanks to Dawn of the Living Room Plant Co. for donating 60 additional succulents, flowers and plants which were planted along with the tree with love for Patty.