Thank You For Coming To Our 12th Annual Surf Movie Night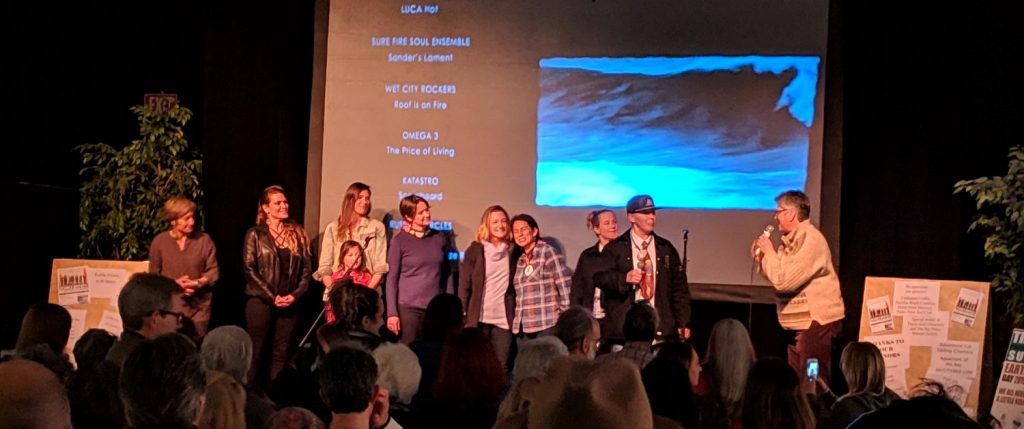 Thank you all for buying your tickets and coming to the Surf Movie night last Friday. That night was the best fundraiser event we have ever had (which was what we also said last year!) and we could not have been more thankful than to have you and the Bay Area community around us!

The movie fundraiser helps us create and organize Earth Day of Action and the EcoFest every year, and this year it is going to be AWESOME as we are honoring the kelp, an incredible and very important seaweed that is often underestimated. We already have some amazing speakers lined up to talk at the EcoFest and we will have some great booths to teach us how we can make an impact by reducing our use of plastic. So save the date:
Saturday April, 27th 2019
Once again, thank you to our sponsors Pedro Point Brewery for providing the beer and Craftsman Coffee for the coffee.
Thank you to Dig It Dave and Amanda Hill for finding such valuable gifts for the raffle and thanks to all of you for participating.
Raffle Prizes Contributors
Adventure Cat Sailing Tours, Adventure Out, Aquarium of the Bay, Bay City Bike Tours, Bomb Waves, Bubba Gump Shrimps Co, Cal Academy of Sciences, Coastside Comics, Craftsman Coffee, Electric Tour Segway San Francisco, Enterprise Rental Car, Family Room Acupuncture, FLY Massage, Frank Quirarte, Gearhead Bike Shop, Grape in the Fog, Grocery Outlet, Hard Rock Cafe San Francisco, Hornblower Cruise, Kettlebell Fitness Studio, La Playa Restaurant, Modern Salon, NorCal Surf Shop, Pacifica Beach Boot Camp, Pedro Point Brewery, Pedro Point Surf Club, Seaview Tire Brake Center, Sierra Club, Sir Francis Drake Hotel, Sirens Pacifica, Spindrift School of Performing Arts, Sonlight Surf Shop, Sue Pemperton, The Marine Mammal Center, Traveler Surf Shop, Triple J Farmers, Visions Seaside Spa.