Cancelled – Volunteer Now for Earth Day of Action
Due to COVID-19 and the current circumstances we are cancelling our 2020 Earth Day of Action.
It is with extreme sadness that we are cancelling the 2020 Earth Day of Action. We want everyone in our community to remain safe and healthy. Please still enjoy the Ocean and we hope that you can celebrate Earth Day and its 50th Birthday with your family and a small group of peers.
VOLUNTEER & SITE REGISTRATION
EARTH DAY OF ACTION 2020 – April 25th 9am to 11am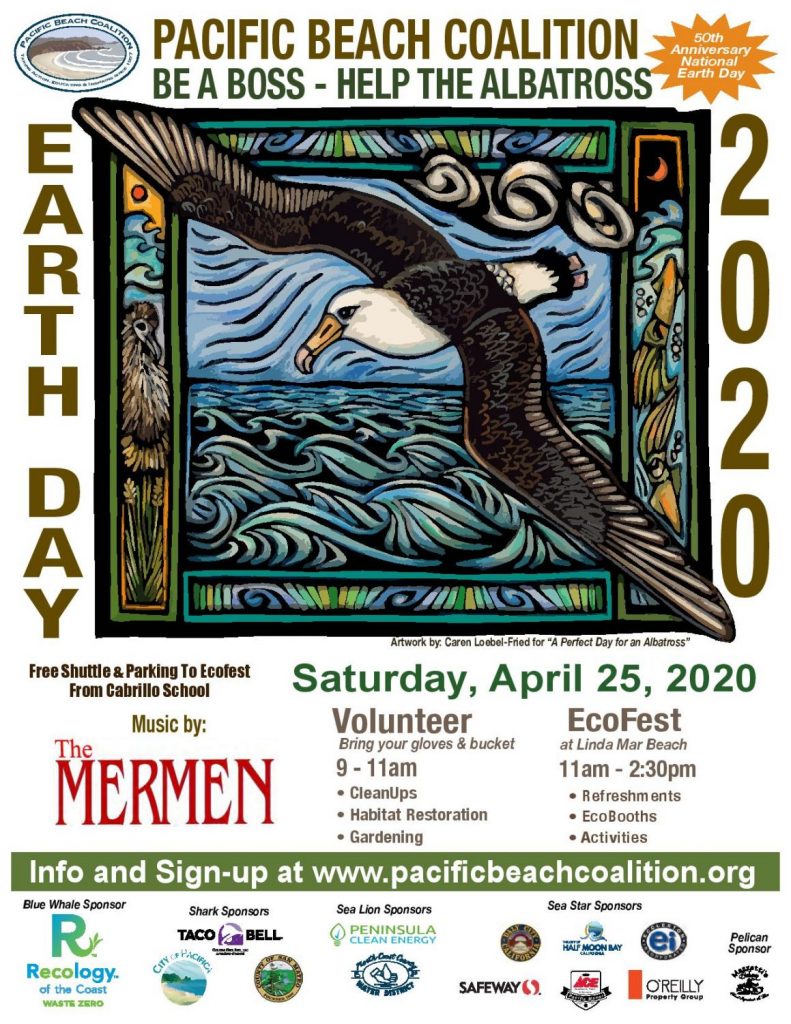 For the 16th year in a row, Pacific Beach Coalition is organizing one of the largest eco-friendly event in California, leading beach and neighborhood cleanups from Daly City to Half Moon Bay from 9-11am and then hosting a large EcoFest at Linda Mar State Beach with food, fun, music, eco-booths, hands on kids activities, environmental speakers from 11am – 2.30pm.
Last year, 9,198 volunteers removed nearly 3,588 of trash, 768 of recycles, and 14,873 cigarette filters. See all results here!
We invite you to join our movement!
There are plenty of opportunities available to you, from volunteering as an individual or a family to organizing a group or leading a cleanup, garden, or habitat restoration project.
Or simply coming to our EcoFest located at Linda Mar State Beach. Live music, fun activities for kids and adults and awesome environmental booths are on the program!
STEP 1: Register Online
Registration for Individuals & Families

Click to register and find a beach cleanup or habitat restoration near you!
If you are an individual, a family or a small group of friends and you wish to help at one of the beaches or general sites, fill out this online waiver form to sign up and select the project location you would like to join, you can also refer yourself to the map below. The waiver must be filled out online by each person/family or on the day of the event, please note that doing it online saves time and paper.
Registration for Group, Team & Site Captains

Please fill out this group registration form if you are:
– A group WITH a site to cleanup, garden, or do habitat restoration
– A group who would like to ADOPT a new site => See the sites in need here!
– A group who is looking for a needy site to HELP
Please also fill out this online waiver form and share the link with your group. It is one waiver per person and it must be filled out online or on the day of the event, please note that doing it online saves time and paper.
Please scroll below to find the documentation and how-to guides.
If you do not have a site, feel free to contact lynn[at]pacificbeachcoalition.org to discuss options and needy spots that your group will enjoy, then fill out this form.
STEP 2: Take Action
Action for Individuals and Families
1. Arrive at your site at 9am on Saturday, April 25th
2. Check in, be safe, help at your site, and have fun
3. When done join the fun at EcoFest at the South Parking lot of Linda Mar State Beach from 11AM to 2:30PM
Limited Parking, so hike, bike, carpool or take the shuttle to the EcoFest!
Remember to:
WEAR – Proper clothing (i.e., sturdy shoes, sunscreen, hat and layered clothing).
BRING – Reusable clean up supplies to reduce waste
PLEASE BRING YOUR OWN BUCKET AND GLOVES!
Action for Group Leaders and Site Captains
All leaders and site captains will have access to:
• Publicity (posters, flyers + online promotion)
• Supplies for your project (gloves, buckets, scales…)
• Giveaways (Educational Memento)
• Debris Disposal (dump site information below)
• Instructions & papers (waivers, contact form…)
1. Remember all your supplies, material and documents
2. Arrive at your site before 9am to set up on Saturday, April 25th
3. Lead your cleanup, have fun and stay safe
4. After your cleanup, drop off your Trash Result Form to the waste collection center with your trash and extra supplies. If you can't make it, send us an email at info[at]pacificbeachcoalition.org.
SUPPLIES PICK UP:
Thursday, April 23rd
Sharp Park Library, 104 Hilton Way (off Palmetto) 1st floor 6pm to 7:30pm
DUMP-SITE DETAILS:
Dump Site is Old Sewage Treatment Plant yard (right across from Library), Palmetto & Hilton Way.
Instructions:
– Separate trash, recyclables, rigid plastic and green wastes– Collect separately and record the count of all cigarette filters
– Weigh your trash, recyclables and green waste separately and record results
– Complete the Trash Result Form and turn it in at the Dump Site with your supplies.
If possible, return all materials & results paper to Dump Site as soon as you're finished.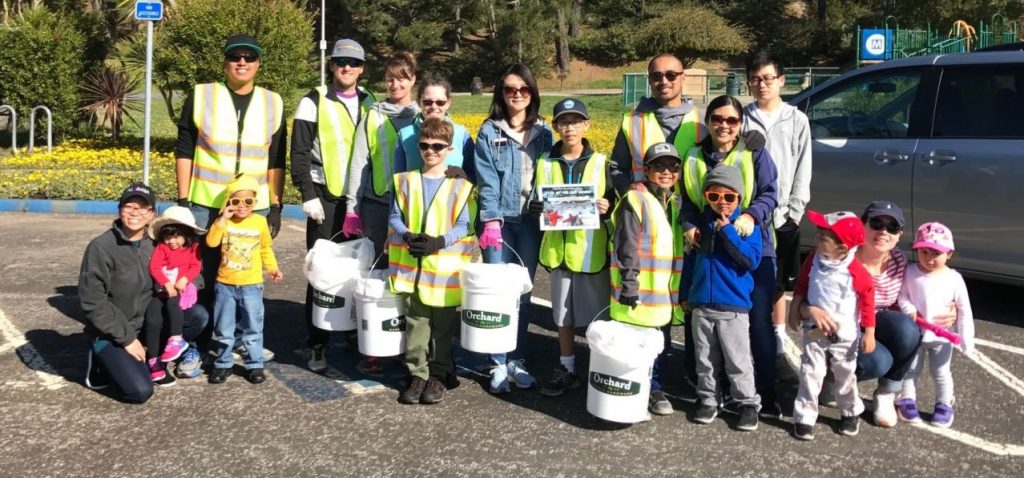 DOCUMENTATION & HOW-TO GUIDE
MAP WITH SPOTS TO ADOPT & PLANNED CLEANUPS
2020 Earth Day Sponsors and Supporters