Current Campaigns

Cigarette butts ― also known as tobacco litter ― continue to be the #1 item polluting our coastline.  In 2014, the Pacific Beach Coalition launched our Tobacco Litter Reduction Education Initiative to address the issue by raising public awareness to reduce the harmful impact on our environment.

Why It Matters: More than 145,000+ butts have been collected in Pacifica from our beaches, bike trails, sidewalks, curbs, streets, parking lots, roads and highways during Coastal Cleanup Days from 2005 – 2012.  Butts contain heavy metals and organic compounds that create toxicity in the environment. They contaminate our waterways, devastate water quality, threaten shorebirds and marine life, endanger our pets and children, and impact the overall health of our creeks and ocean.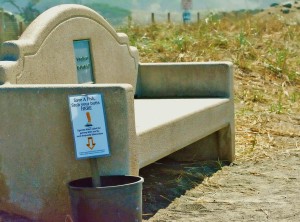 In 2014, the Pacific Beach Coalition launched the initiative during the 10th Anniversary of Earth Day of Action to reduce the amount of cigarette litter polluting our beaches and coastline. The initiative supplements the City of Pacifica's Smoke-Free Beaches & Pier ordinance which prohibits smoking on Pacifica's beaches and Pier. By working with partners to install cigarette butt receptacles at sites determined to be in highest need throughout Pacifica. The receptacles are specifically designed to collect tobacco litter, promote a cleaner coastal environment and prevent its harmful impact.
Butt litter receptacles have proven to be effective in successfully reducing cigarette litter at an average of 70% in locations installed throughout California. They offer an attractive way to properly dispose and collect the #1 type of pollution. Our initiative also includes education about the harmful impacts of cigarette butts discarded in our environment. 
Read more about cigarette litter from our Smoke-free Beaches & Pier campaign, and our Educational Resources.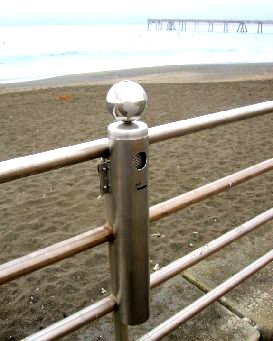 Help Us Reach Our $3,500 Goal
Contributions to the Tobacco Litter Reduction Education Initiative support the purchase and installation of 10 receptacles in areas with the greatest need to reduce cigarette butt litter, in addition to volunteer recruitment and coordination for beach, creek and neighborhood clean ups, supplies, public education materials, and data collection to increase awareness and build partnerships.
Learn ways to make a difference by supporting the Tobacco Litter Reduction Initiative. Make a secure tax-deductible contribution today: