75.5 Pounds of Trash Collected During a Chilly December Montara Cleanup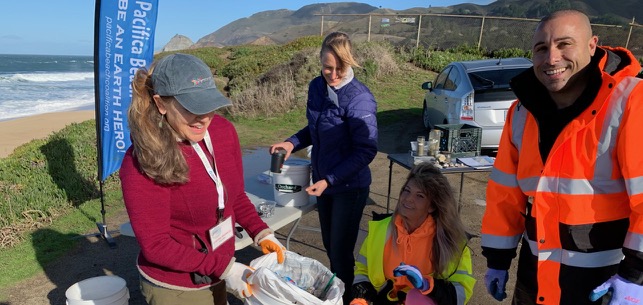 18 Earth Heroes came out on a cold and blustery December morning to clean Montara Beach. Many volunteers reported this was the cleanest beach they had ever seen…yet together we were able to remove 29 pounds of trash, 6.5 pounds of recycling, and 110 cigarette butts from the beach and bluffs! In addition, we were able to rescue a 40 pound waterlogged shelf that washed up on the beach while we were watching. Proof that even clean beaches need our love! Our finds include:
110 cigarette butts
28 bottle caps
3 straws
a Christmas tree ornament
part of a broken mirror
a motorbike reflector
a large waterlogged shelf
part of a wooden pallet
We are so happy to have our naturalist Julie on hand each month to share her knowledge of the local sea life without our volunteers. We hope you all have a safe and happy holiday season!