Past Event – Coastal Cleanup Day 2021
Coastal Cleanup Day 2021 Is Happening!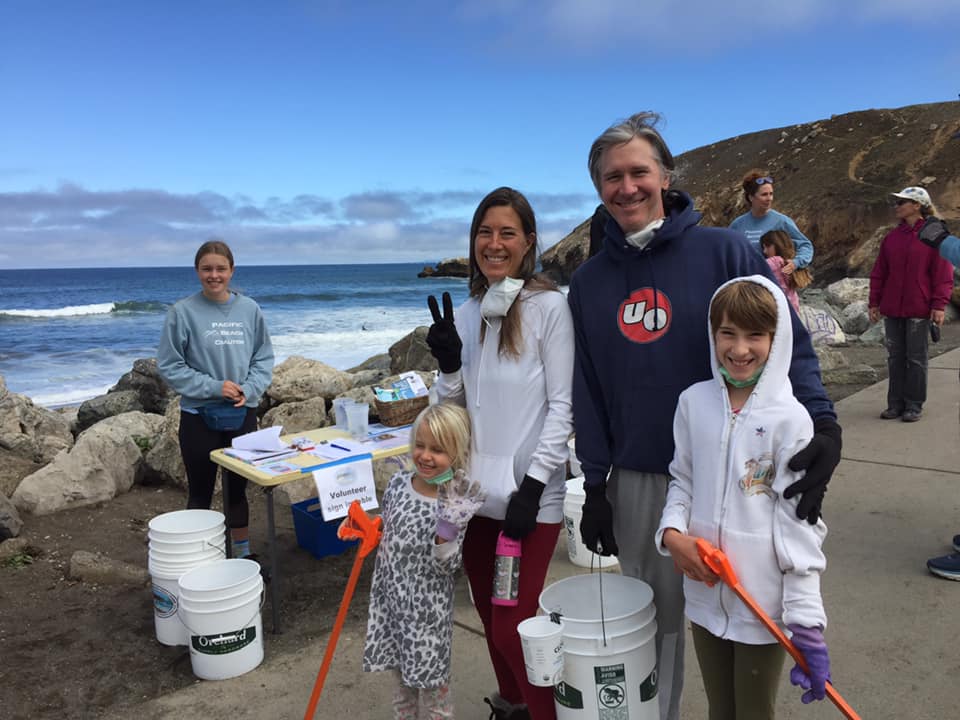 Join us and the volunteers for the 37th Annual Coastal Cleanup Day set to happen on:
Saturday, September 18th from 9am to 11am at multiple locations!
We are extremely excited to bring back Coastal Cleanup Day as over the years, this event gives Earth and Ocean lovers from around the globe the opportunity to cleanup their neighborhood and places they love. So join us and help us remove the trash and plastic pollution that has been accumulating over the days or years.
According to the California Coastal Commission, in 2019, more than 74,000 volunteers picked up more than 900,000 pounds of trash from beaches and waterways throughout California and last year, despite COVID, more than 14,000 Californians participated in a neighborhood cleanup during the entire month of September, preventing over 150,000 pounds of trash from entering our stormwater systems and potentially polluting our coast and ocean. Well done!
Volunteer for Coastal Cleanup Day
Joining an organized beach cleanup is easy:
Find a location near you or that you enjoy going to

Sign our online waiver to prevent long lines during the check in process

Gather the supplies that you will need to bring with you (think reusable)
– 3 or 5 gallon buckets are ideal
– Reusable gloves, the one for gardening or doing the dishes work well
– Bring your mask
– Closed toe-shoes, hat, sunblocks, reusable water bottles are always good to have
Come to the meeting location on Saturday, September 18th at 9am
Note: Our site captains will have a limited number of extra buckets and gloves. They will be distributed on a first come first serve basis so we highly encourage you to bring your own.
Find Your PBC Location and Register Online to Volunteer
For all other cleanup locations if you want to volunteer please, REGISTER HERE!
Join the Street to Beach Cleanups for Other Locations
If the place that you love and/or your neighborhood is not listed above, we still encourage you to join this wonderful and highly rewarding movement by doing a cleanup on your own or with your own group. These kind of cleanups are part of our Street to Beach Cleanups program meaning that you can use the Clean Swell app to track the amount of trash you collect.
Fun Fact: Last year Coastal Cleanup Day only happened thanks to the Clean Swell app where 14,000+ Californians got the app and logged their results.
Check out our special Street to Beach Cleanups page to get more information on this program so that you can volunteer for Coastal Cleanup Day and all year long.
Map and List of Locations in Need of Love
If you want to do a cleanup outside our organized cleanups, here are a list of locations that are often being littered.
Town: Pacifica
Adobe
Crespi Drive
Fairway Drive and around the Golf Course
Fassler
Hwy 1 from Moose to Vallemar
Hickey Blvd
Linda Mar Blvd
Manor Blvd (lower end)
Milagra Ridge (paths behind Oceana High School)
Moose Lodge area
Oddstadt
Palmetto (by the recycling yard)
Peralta
Reina Del Mar
Rosita
Terra Nova Blvd
Waterford Street (the one by the Car Wash off of Monterey)
Town: Half Moon Bay
Around OPL and near the creek
South Jetty rocks
Stone Pine Center (parking lot)
New Leaf (parking lot)
Safeway (parking lot)
Town: Montara
Montara trail head
Gray Whale Cove
Get our Community Service Hours Approved
California Coastal Cleanup Day Posters for 2021
You will find more information on this wonderful event on the California Coastal Commission website.