Next Creek Cleanup: San Pedro Creek – Sat. February 4th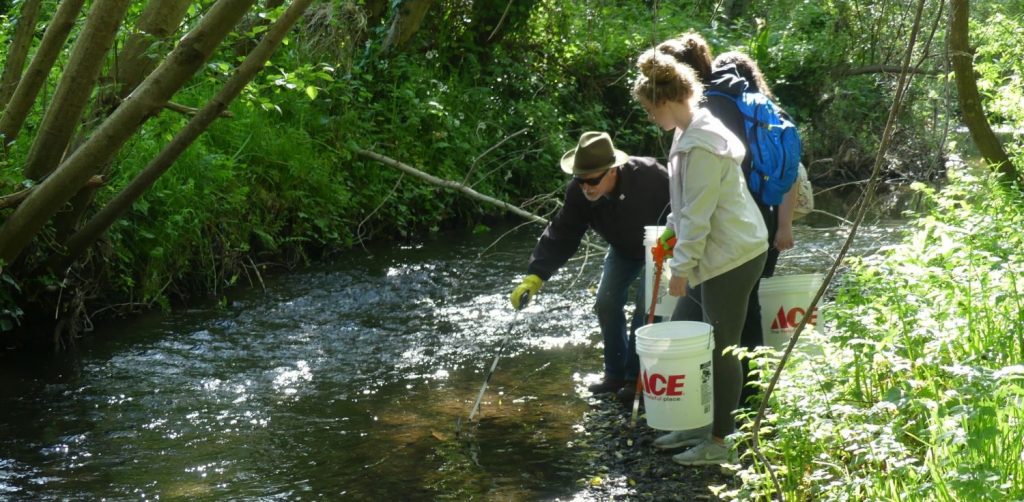 Next San Pedro Creek Cleanup: Saturday February 4th from 9am to 11am, Pacifica
Following the Watershed Coalition's years of creek cleanup, we are extremely excited to be adding this new location to our monthly cleanups!
About San Pedro Creek:
San Pedro Creek is a perennial stream in the City of Pacifica and San Mateo County, California whose tributaries originate on Montara Mountain and Sweeney Ridge in the Santa Cruz Mountains. The main stem of the creek flows 2.5 miles through the Linda Mar neighborhood to the Pacific Ocean at Linda Mar Beach. The creek supports a steelhead population and various other riparian species.
Site Captains:
Meet John. John is a retired Ph.D. research biochemist. He and his wife have lived in Linda Mar since 2007, attracted by its many hiking trails and beautiful coastline. John is a former City Council member and mayor and has been involved in keeping the coastline and creek pristine and sustainable. He is a board member of the Pacifica Land Trust and the San Pedro Creek Watershed Coalition.
About the Cleanup:
Time: Saturday of the month from 9am-11am.
Where to Meet: At the end of San Pedro Terrace Rd by the trail head. 751 San Pedro Terrace Rd, Pacifica.
Parking: On San Pedro Terrace Rd.
Cleanup Areas: San Pedro Creek and adjacent areas including the San Pedro Terrace trail.
Supplies: Volunteers are encouraged to bring their own buckets and reusable gloves. Extra gloves, buckets, pickup sticks and specific tools for this site cleanup will be provided while supplies last. Because we are never sure of the weather, make sure to bring extra layers, a hat, sunblock, water and snacks.
Litter: Mostly mid-sized or small trash, with occasional bulky items, like detritus from homeless encampments.
Restrooms: None available at the site. Closest public restrooms are at Linda Mar Beach.
Be sure to read through the Cleanup Guidelines before attending a cleanup.
More questions? Read our Beach Cleanup FAQs.
San Pedro Creek Cleanup Location Map: