Painted Bucket Success Story
Pacific Beach Coalition Cigarette Butt Receptacle Installation Proves Successful

Story by: Amaelia Bringas, PBC Jr Albatross Member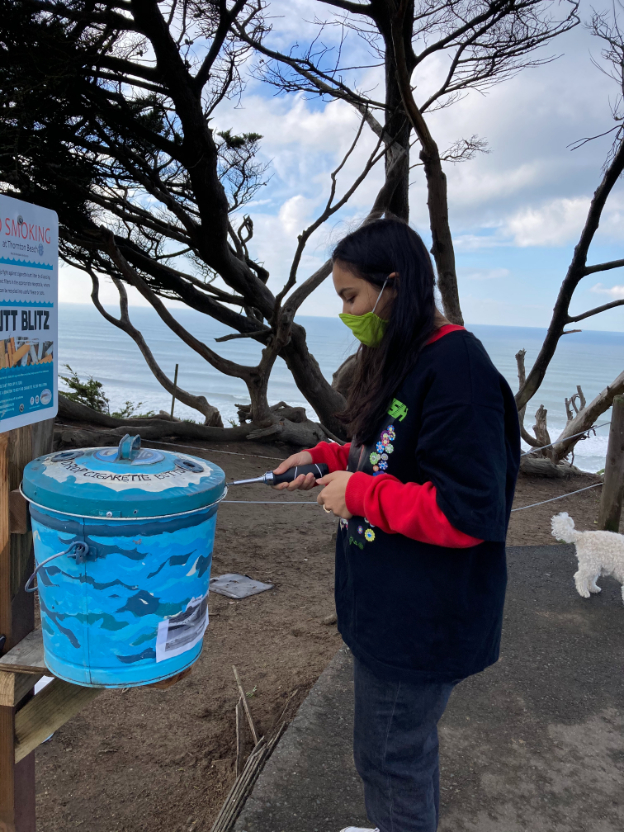 After bringing attention to the problem of cigarette butts littering the ground, Daly City installed cigarette receptacles at Mussel Rock Park Beach and Thornton Beach Vista in early November. A whopping 500 cigarettes have been collected from these two receptacles alone in less than two months. Instead of finding their way into our precious Pacific Ocean, these toxic cigarette butts will now be properly recycled.
The story starts when I first encountered Thornton Beach Vista last year as a sophomore on a service trip. My high school, Mercy Burlingame, requires all students to complete around twenty hours of service annually. Being a little behind on my hours, my mom and I headed to a nearby area, Thornton Beach Vista, after school. Despite the beautiful view, we were quick to notice the overwhelming amount of trash littered around the site – especially cigarette butts.
My mom and I were eager to help. After our first visit, my mom and I would do occasional cleanups there, gathering trash and cigarettes every visit. However, our help was not enough. We informed Daly City about the overwhelming mess and recommended installing cigarette disposals. They were quick to respond and collected the excess garbage within twenty-four hours. However, they initially denied our idea of installing receptacles because they believed it would encourage illegal smoking at the beach. Fast forward a year later, I was introduced to the Pacific Beach Coalition (PBC), a volunteer-led organization dedicated to protecting and advocating for the ocean. With the PBC, I along with fifty others designed and painted cigarette receptacles in their "Paint-a-Bucket" contest. After a little persistence and the offer of shiny-new freshly painted PBC cigarette buckets, two receptacles were beautifully installed at Thornton and Mussel Rock by Daly City's Public Works Department in early November. They also went the extra mile of accompanying the buckets with informative signage.
500 Cigarette Filters in the Buckets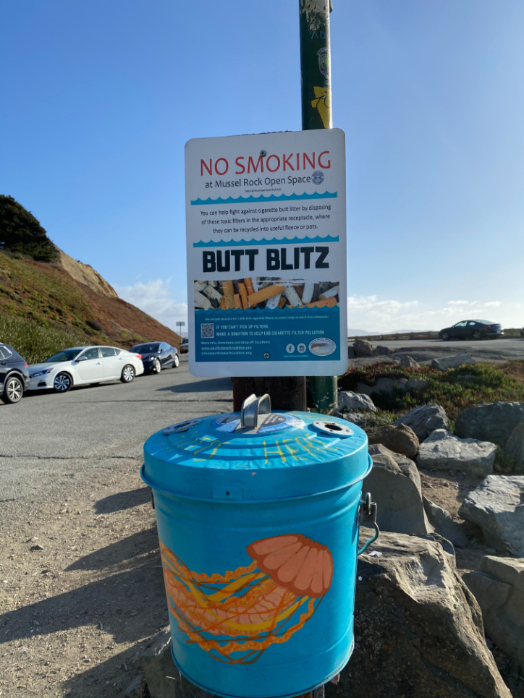 In less than two months, the two new receptacles collected over 500 cigarette butts! As members of the PBC, my mom and I regularly service these two buckets. Other PBC volunteers service the many other receptacles which can be found near the beaches in Pacifica. Although we still do find cigarette butts on the ground, there are much fewer thanks to these receptacles. It is important to properly dispose of cigarette butts to prevent toxic material leaching into the soil and into our precious Pacific Ocean. After the cigarette butts are collected by PBC volunteers, they are sent to TerraCycle for recycling. I look forward to more properly discarded cigarette butts in the new year!

Quote: The painted buckets are doing exactly what we hoped they would do, said PBC president Lynn Adams. They are raising awareness and reducing tobacco litter along the coastal trails from Daly City to Half Moon Bay. The contest in September was hugely successful and fun for all involved. Our volunteers are always excited to find the buckets filled with filters. 500 in two buckets in 2 months! Now that is amazing.