Contest: Paint A Bucket. End Tobacco Litter.
ALL BUCKETS HAVE BEEN CLAIMED
The interest has been incredible — thank you! We look forward to seeing all the final painted buckets in September!
Calling all artists and everyone who wants to help end tobacco litter!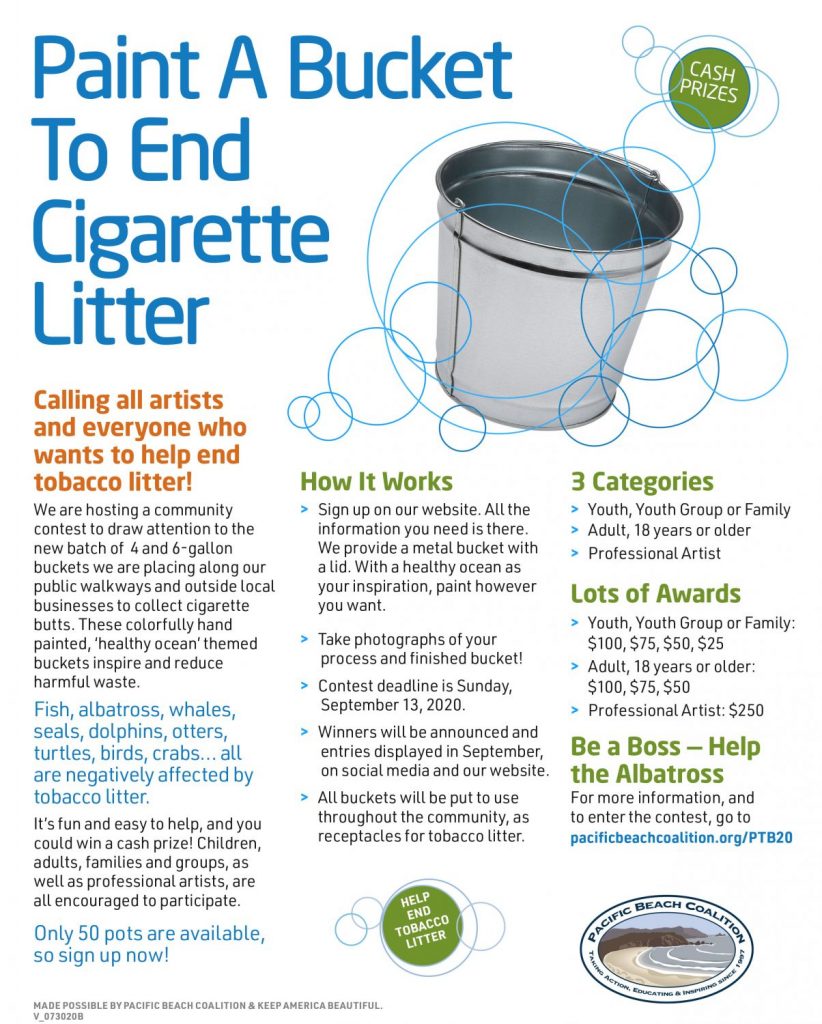 We are hosting a community contest to draw attention to the new batch of 4 and 6-gallon buckets we are placing along our public walkways and outside local businesses to collect cigarette butts. These colorfully hand painted, 'healthy ocean' themed buckets inspire and reduce harmful waste.
Fish, albatross, whales, seals, dolphins, otters, turtles, birds, crabs… all are negatively affected by tobacco litter.
It's fun and easy to help, and you could win a cash prize! Children, adults, families and groups, as well as professional artists are all encouraged to participate. Only 50 pots are available!
Contest deadline is Sunday, September 13, 2020.
Official Rules
1. Sign up here to enter.
2. PBC will reach back out and provide you with a 4 or 6-gallon bucket.
3. With our 'Healthy Ocean' theme in mind, paint to your heart's content.
4. Don't forget to paint 'DROP CIGARETTE BUTTS HERE FOR RECYCLING' on the top of the lid — large enough for people to read.
5. Take photographs of your process and finished bucket! Feel free to share and tag @pacificbeachcoalition at any time.
6. Return the finished, painted buckets to PBC before or on Saturday 08/12.
7. We will be displaying the finished buckets Saturday, 9/19 at Sharp Park Beach, in Pacifica.
8. A panel of 3 community judges will determine the cash winners in each category based on creativity, message and visibility. The local community will vote for the People's Choice Award.
9. Winning buckets will be announced Saturday, 9/26 on PBC's social media and website. 
10. All 50 buckets will be on display throughout the community, as receptacles for tobacco litter. Pacific Beach Coalition retains ownership of the buckets.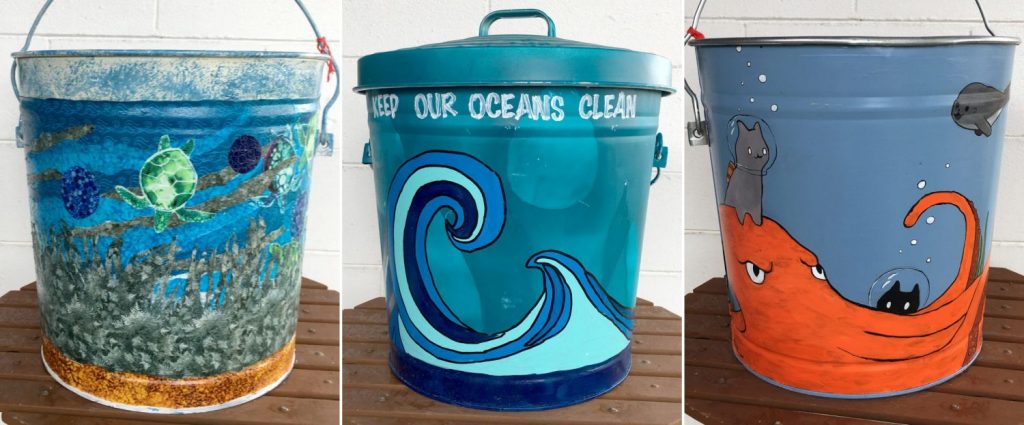 The Categories
A. Youth, Youth Group or Family
B. Adult, 18 years or older
C. Professional Artist

The Awards
A. Youth, Youth Group or Family:
First Place: $100,
Second Place: $75
Third Place: $50
Honorable Mention: $25
B. Adult, 18 years or older:
First Place: $100
Second Place: $75
Third Place: $50
C. Professional Artist: $250
TIPS for best paint results, (but not required):
1. PREP: Wipe down the can body and lid lightly with vinegar to remove any factory coating.
2. PRIME: Paint the can body and lid with a coat of primer to ensure your paint sticks.
3. PAINT: Use house or art type paints which will successfully withstand the outdoor elements. (Tempera and watercolor wash off easily.)
* (Please be careful to work AROUND, NOT ON the placed lid stickers)
For additional questions or more information, please reach out to jen@pacificbeachcoalition.org.
Made possible by Pacific Beach Coalition; a grant from Keep America Beautiful provided funding to reduce tobacco litter; and Terracycle who recycles the filters collected by PBC.