2017 Was Incredible, Check Out What We Accomplished!
Pacific Beach Coalition 2017 Successes
Some Numbers:
| | | | | |
| --- | --- | --- | --- | --- |
| | 2013/14* | 2015 | 2016 | 2017 |
| Volunteers | 11,894 | 11,603 | 12,283 | 12,327 |
| Trash in LBS | 18,244 | 16,475 | 15,032 | 19,509 |
| Recycle in LBS | 4,814 | 2,370 | 3,509 | 4,943 |
| Green Waste in LBS | 11,608 | 23,789 | 38,878 | 49,122 |
| Cig. Butts | Didn't Count | 95,594 | 172,443 | 157,672 |
| Beach Plastic in LBS | | | | 101 |
* April 2013 through Nov 2014
Our Actions: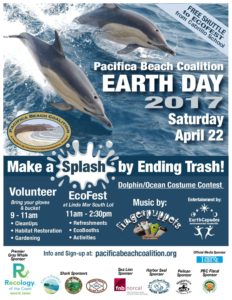 Earth Day 2017 was a real success:
– 6,807 volunteers
– 5,585 students participated to our School Assemblies to educate them about the dolphins and effects of the litter
– 3,783.5 pounds of trash collected
– 767.5 pounds of recycle collected
– 15,422 cigarette butts picked up and recycled!
To learn more about our 2017 Earth Day of action, please read our blog post from April.
During the EcoFest where over 2,500 people came (best turnover on record) we gave everyone the chance to vote for their favorite Painted Buckets that are aimed to collect cigarette butts. These buckets are now placed in front of local businesses all around Pacifica in which so far, 39,584 butts have been discarded!
This year, to match our tagline "Make a Splash by Ending Trash" we gave out reusable fabric bags to dispose of trash inside your car so that they can make a difference at home. A real hit!
We made a huge difference during Coastal Cleanup Day:
– 1,720 volunteers (1,340 volunteers in 2016)
– 3,906.5 pounds of trash
– 1,539 pounds of recycle
– 2,548.5 pounds of green waste
– 18,354 cigarette butts collected in 2 hours!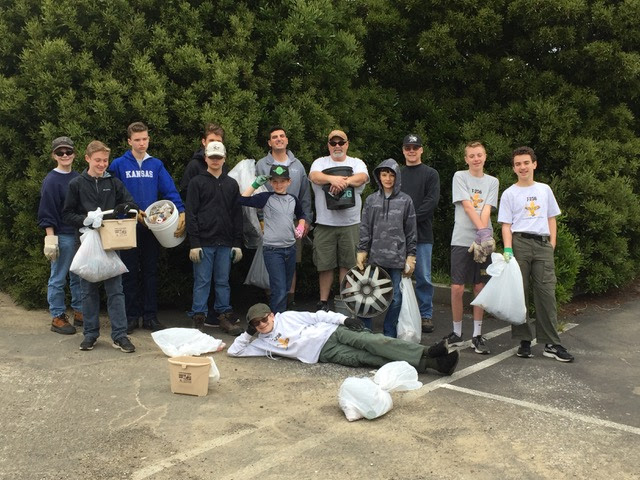 Our Coastal Cleanup Day was followed by our annual amazing dedication and Celebration Ceremony with CA Coastal leaders, city leaders, volunteers and other incredible guests.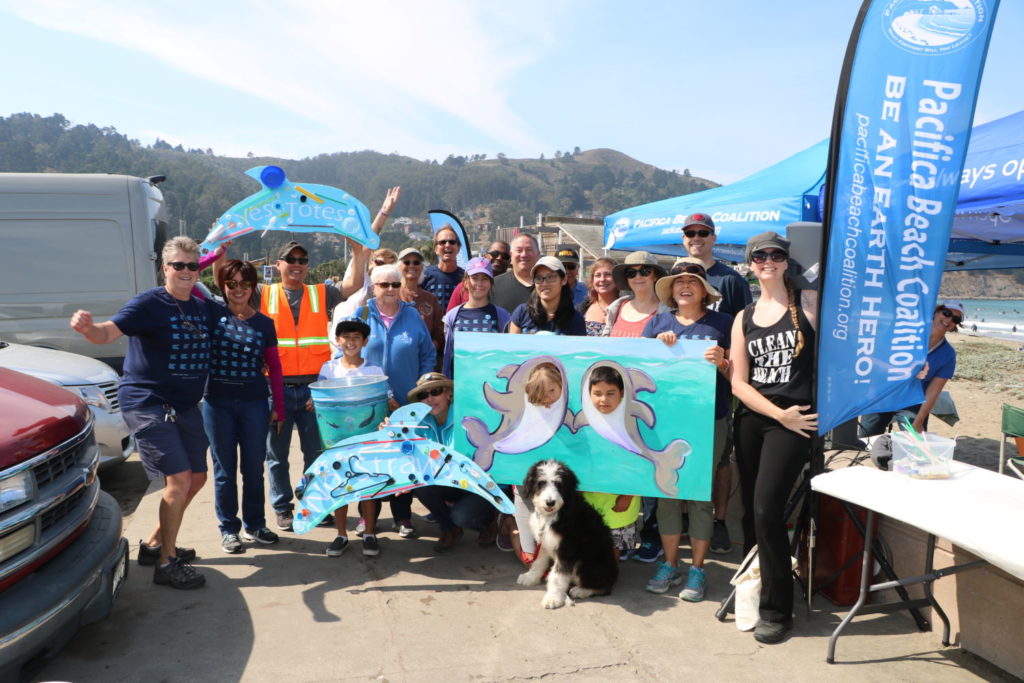 Other Beach Cleanups and Habitat Restorations Events:
– Rockaway Switchback – new habitat restoration added on Fridays with Friedel
– 4th of July – Great cleanups on a working Tuesday, removed a lot of Fireworks
– MLK Habitat Restoration – New Rockaway HR team planted & helped weed the coastline.
Corporation Give Back Program:
– 764 volunteers
– 24,545 of green waste removed
– 698 pounds of trash
– 192 pounds of recycle
– 19,362 Cigarette butts picked up and recycled
The Give Back teams are coming from multiple companies from the Bay Area: Genentech, Google, Thermo Fisher, Apple, Eversight, VMware, Nest, Dynatrace, Walmart, Liquid Robotic, Genomic Health, ADT etc…
Find out more about the progress that was made thanks to our Give Back volunteers!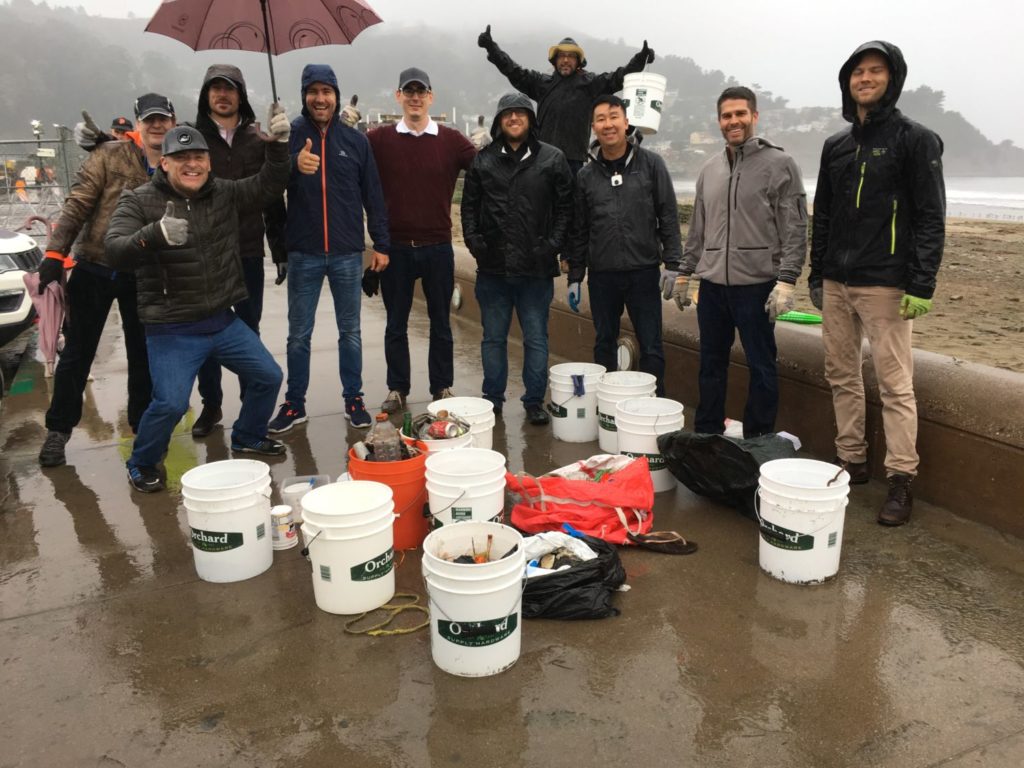 Our Education Programs
We participated in a couple fairs and school events to educate the public about our actions and about what can be done to reduce the number of cigarette butts on the streets and beach as well as to reduce litter:
– FogFest in Pacifica
– Pacifica 60th Anniversary
We organized local events and lectures to educate the public about our local Marine Life:
– Plastic Oceans movie night and talk at the Pacifica Library ~75 people
– WhaleTown & Dolphin City talk and presentation at the Pacifica Community Center ~550 people
Our New Program
We are once again tightening our relationship with TerraCycle by being part of the Beach Plastic program. So far 101 pounds of beach plastic are going to be recycled and not end up in our landfill. To learn more about our program click here.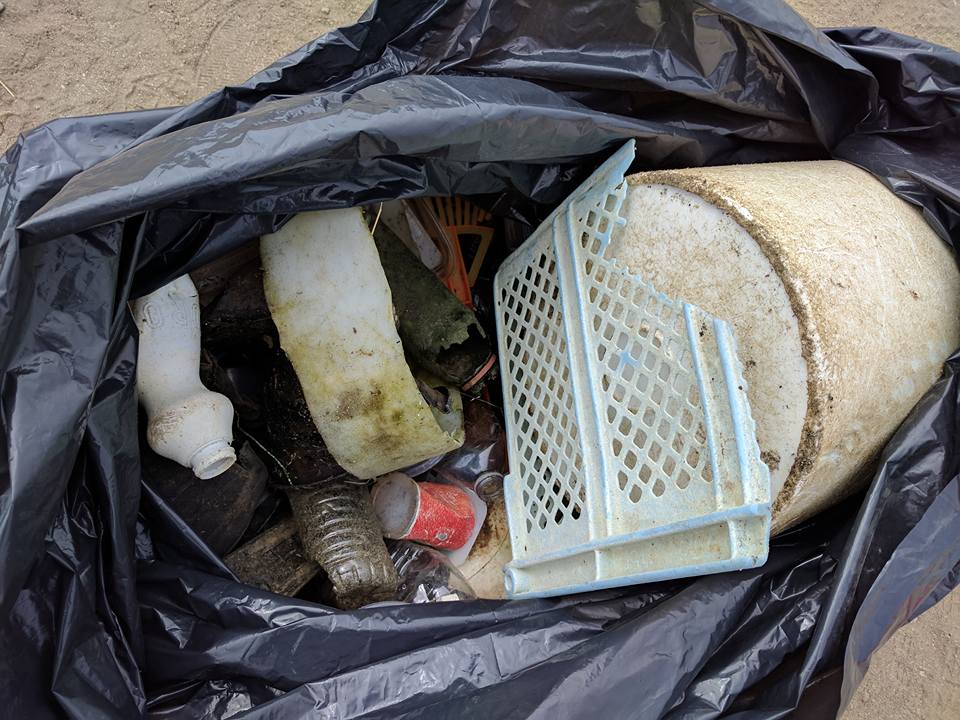 Our Earth Hero Scholarship
Two recent graduates from Oceana and Terra Nova high schools, received the first ever PBC Earth Hero Scholarship. The scholarship is in the amount of $500 and was presented at our last event. Audrey Meiman, who has been cleaning up our beaches and streets since she was a young kid and Paxton Christner, who has been an incredible volunteer at Mussel Rock, were the selected Earth Heroes.
They both play an important role in our community as they are a great source of inspiration for other kids like them.
Our Fight Against Cigarette Butts Continues
Our Cigarette Butt sub-committee who's goal is to measure, educate and find new initiative to reduce the number of cigarette butts thrown on the ground or on the beach, is still going strong.
As part of the education program, Nancy Enge led the painted bucket contest and Adventure Our financed our supply purchases and gift certificates for the winners. We are very very proud of the buckets and how successful this project was. We might do it again next year so stay tuned!
Our Other Great Accomplishments
– We received great donations from private contributors and corporations
– Our team has been really good at recording every litter and counting every single cigarette butt
– Highlighted women surfers during our Annual Surf Movie
– We reached 750+ likes on our Facebook Page and 5,000+ members in our emailing list
– Terrific support from sponsors: Recology of the Coast, Adventure Out, City of Pacifica, Pedro Point Surf Club, County of San Mateo, Mazzetti's, Pacifica's Environmental Family
– Received a couple of Awards including the San Mateo Sustainability award
– Growing participation from over 100 very active volunteers and supporting cast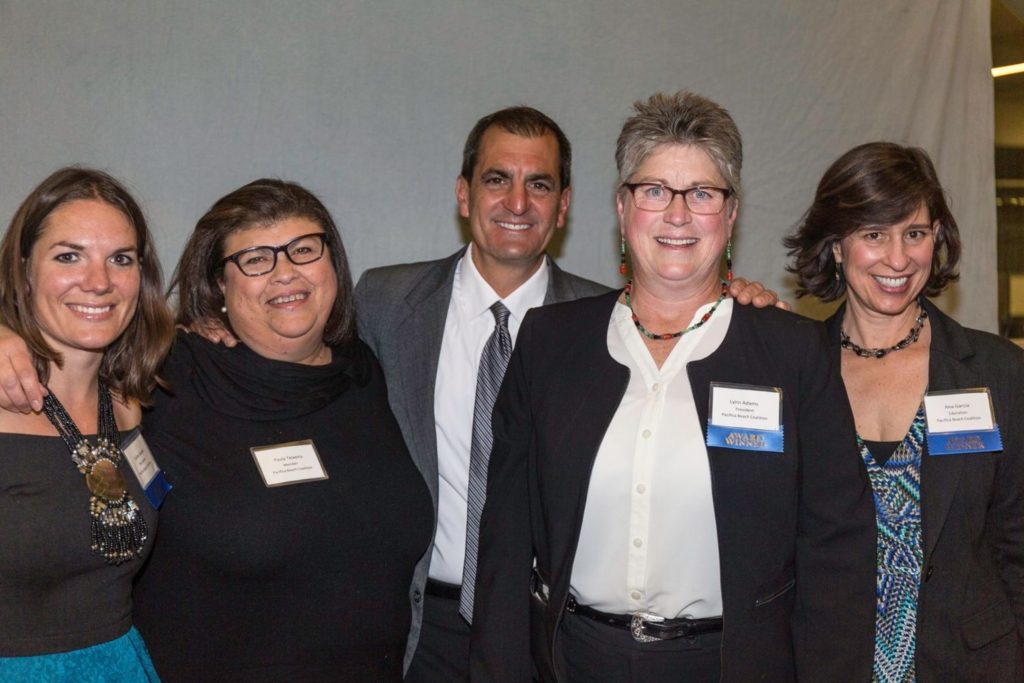 Wonderful New Members & Reinforced Site Captain Teams,
Thank you!