Past Event – Volunteer for Earth Day of Action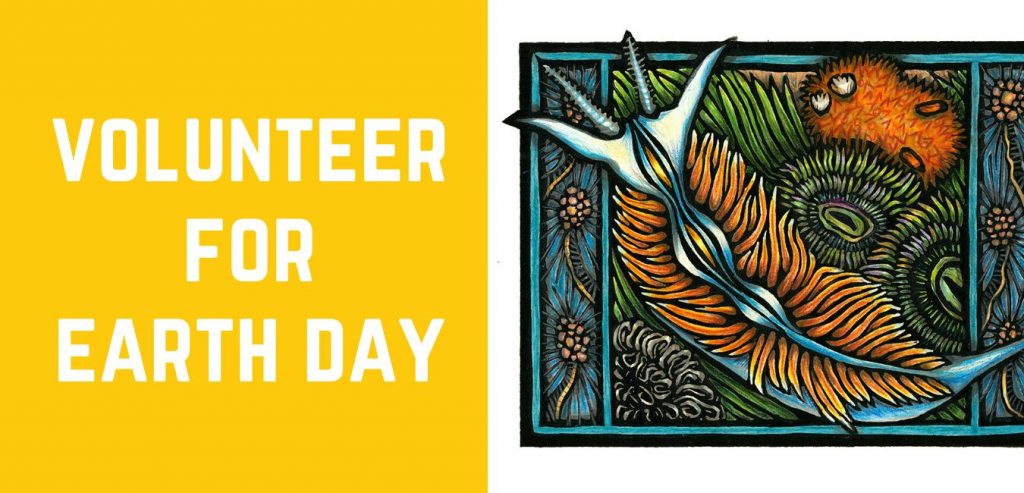 Join our Organized Beach Cleanups and Habitat Restoration
The annual 'citywide day of action' is part of our field education programs, and has grown to become popular and is family-friendly. Earth Day of Action is part of a few in the Bay Area dedicated to inspiring, uniting, educating and building community to remove litter and restore native landscape along the San Mateo County coast.

Every year, thousands of volunteers of all ages gear up with gloves and buckets to join the hands-on action at organized sites from Daly City to Half Moon Bay, on beaches and along highways and streets from highways to the coastline.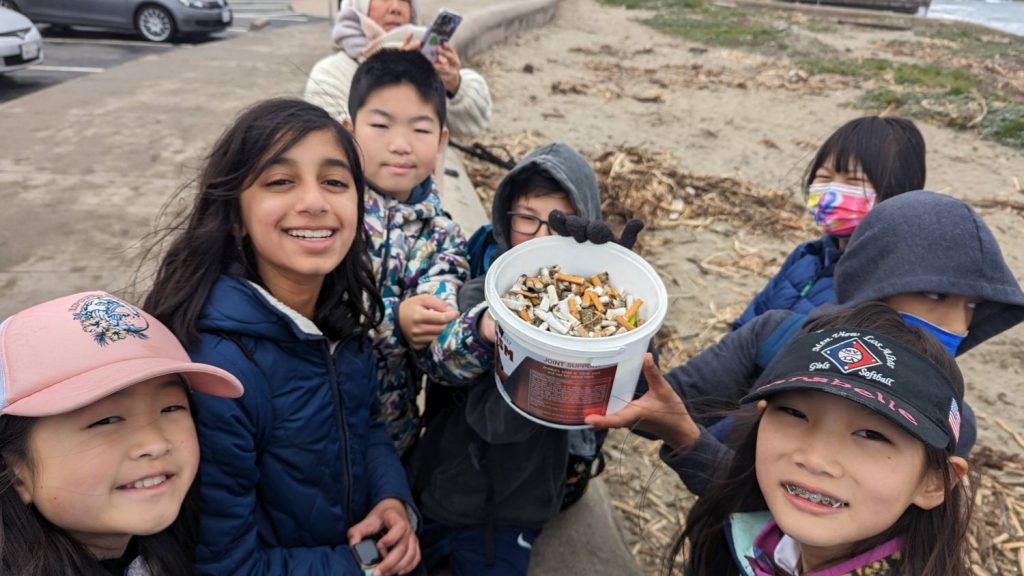 STEP 1: Register Online
Registration for Individuals & Families
Click on the link next to the location of your choice to sign up our online waiver.
If you are an individual, a family or a small group of friends and you wish to help at one of the beaches, fill out the online waiver form to sign up.
We will have site captains at our monthly locations, please find the nearest location to you or the one you want to help at:
Litter Cleanup
Meeting Location
Online Registration
Esplanade,
Pacifica
Site Captains: Gail & Brittaney
Meeting Location: top of the path/stairs on Esplanade Ave
next to OceanAire Apartments. Park on Esplanade.
Sign up online here
Seal Point, Foster City
Site Captain: Nilofer
Meeting Location: Turn right when you enter the parking lot, meet near the San Mateo Park Rangers shed (map)
Sign up online here
Foster City Levee Pedway (around Seal Slough)
Site Captain: Shilpi
Meeting Location: Drive to 120 Beach Park Blvd. (map)
Sign up online here
Linda Mar State Beach,
Pacifica
Site Captains: Jim, Ana, Julie & Antony
Meeting Location: southern end of the main parking lot
(just north of Taco Bell).
Sign up online here
Montara State Beach,
Montara
Site Captains: Janice & Iona
Meeting Location: off Hwy 1 in the north lot of what was
previously known as La Costanera Restaurant.
Sign up online here
Mussel Rock Beach,
Daly City
Site Captains: Helen, Joe, Chris & Myrna
Meeting Location: Mussel Rock carpark located at the lower
coastal end of Westline Drive.
Sign up online here
Pillar Point Harbor,
Half Moon Bay
Site Captains: Laurel, Julie, Alex, Meredith & Melinda
Meeting Location: 1 Johnson Pier, Half Moon Bay.
Near the Harbor Master office.
Sign up online here
Roberts Road, Pacifica
Site Captain: Dig'it Dave
Meeting Location: At the top of Roberts Rd, overlooking Linda Mar State Beach
Sign up online here
Rockaway Beach,
Pacifica
Site Captains: Wendy & Michael
Meeting Location: SW corner of the North Beach parking lot,
near the back corner of the Lighthouse hotel.
Sign up online here
Manor, Pacifica
Site Captain: Jim
Meeting Location: Meet on the left hand side of the Manor Safeway entrance
Sign up online here
San Pedro Creek,
Pacifica
Site Captains: Dave, Audrey & Jacqueline
Meeting Location: end of San Pedro Terrace Rd by the trail head.
751 San Pedro Terrace Rd, Pacifica.
Sign up online here
Sharp Park Beach,
Pacifica
Site Captains: Pauline, Ellen & Deirdre
Meeting Location: corner of Beach Blvd and Clarendon
at the start of the Levee.
Sign up online here
Thornton Vista, Daly City
Site Captain: Cynthia & Sierra
Meeting Location: look for our site captains' table after the roundabout on Thornton Beach Rd where the walkway starts.
Sign up online here
Habitat Restoration
Linda Mar,
Pacifica
Site Captains: Michael
Meeting Location: east side of Highway 1 in the Community
Center parking lot off Crespi Drive.
Sign up online here
Other Locations
Other group sites coordinated in advance with Jim (jim@pacificbeachcoalition.org).
Waiver coming soon
Street to Beach Cleanups
Done by yourself or with family and/or peers whenever is convenient for you. It can be around your neighborhood, at the beach, in a needy area, or anywhere you'd like.
Sign up online here
The waiver must be filled out online by each person/family or on the day of the event, please note that doing it online saves time and paper and helps us be prepared.
Registration for Group, Team & Site Captains
If you are a group but do not have a site, feel free to contact info[at]pacificbeachcoalition.org to discuss options and needy spots that your group will enjoy.
STEP 2: Take Action
Action for Individuals and Families joining our organized group cleanups
1. Arrive at your site at 9am on Saturday, April 22nd
2. Check in, be safe, help at your site, and have fun
3. When done join the small celebration at Linda Mar State Beach from 10:30AM to 12PM
Limited Parking, so hike, bike, carpool when possible
Remember to:
WEAR – Proper clothing (i.e., sturdy shoes, sunscreen, hat and layered clothing).
BRING – Reusable gloves and a bucket to reduce waste
PLEASE BRING YOUR OWN BUCKET AND GLOVES! And feel free to send us pictures and/or your stories at info [at] pacificbeachcoalition.org
Action for Group Leaders and Site Captains
All leaders and site captains will have access to:
• Publicity (posters, flyers + online promotion)
• Supplies for your project (gloves, buckets, scales…)
• Giveaways (Educational Memento)
• Debris Disposal (dump site information below)
• Instructions & papers (waivers, contact form…)
1. Remember all your supplies, material and documents
2. Arrive at your site before 9am to set up on Saturday, April 22nd
3. Lead your cleanup, have fun and stay safe
4. As you cleanup track your trash on the Clean Swell app and with "Pacific Beach Coalition" as your group name
5. Send your story and pictures to info [at] pacificbeachcoalition.org
SUPPLY PICK UP:
Saturday, April 15th
Sharp Park Library, 104 Hilton Way (off Palmetto) 1st floor, from 10am to Noon
DOCUMENTATION & HOW-TO GUIDE
If you are interested in leading a cleanup, you can contact us at info [at] pacificbeachcoalition.org to learn more and see how we can help!
Thank You to Our Sponsors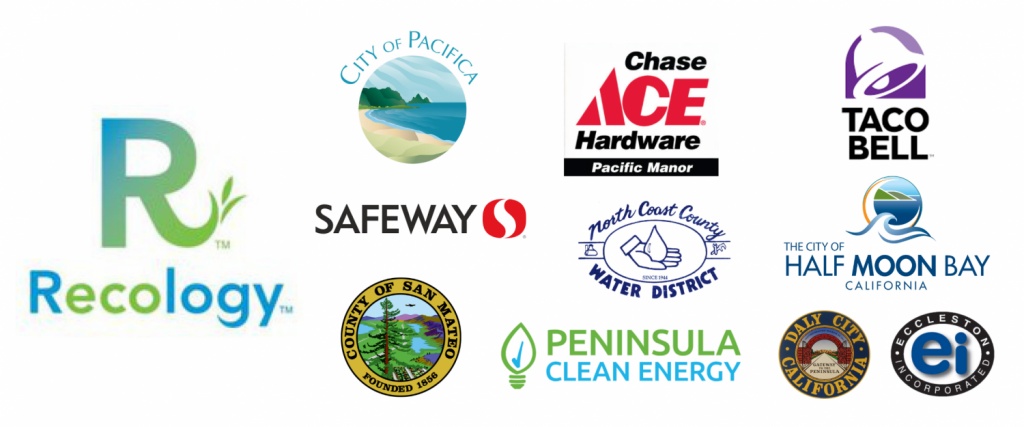 Spread the Love with Our Earth Day Poster