Winners! Cigarette Butts Bucket Contest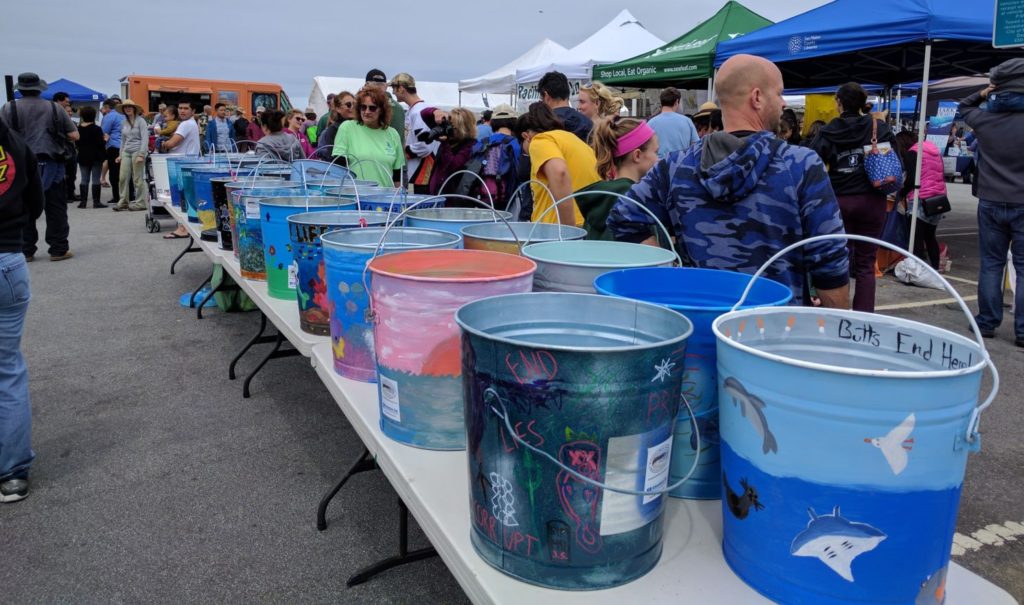 Thank you, Paint A Bucket Contest participants. The results are amazing. We had 30 wonderfully varied painted buckets on display for Earth Day, and they were surely the most popular attraction at EcoFest!
Our judges had reviewed all buckets in each category, and had many spirited discussions to arrive at their final decisions. It was difficult, to say the least, to have to choose only eight prize winners. We were consoled by remembering that all buckets will go into service in our community and help end tobacco litter. Additionally, at EcoFest there was a People's Choice award, where every fair goer had the opportunity to cast a vote for their favorite bucket.
Youth, Youth Group or Family
4th Place:  From Terra Nova High School: McKenzie Petersen, Marisa Rabiolo and Anthony Yoshido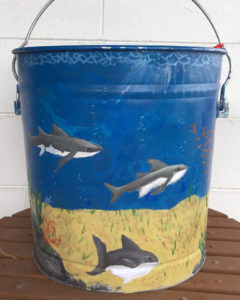 3rd Place:  From Ocean Shore School: Sheila Gamble-Dorn's 3rd Grade Class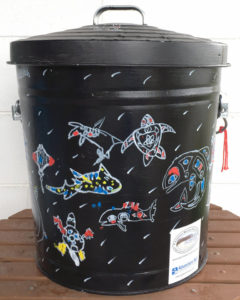 2nd Place:  Representing Heirs to Our Oceans: Coralyne Taylor (age 11) and Cambria Bartlett (age 12)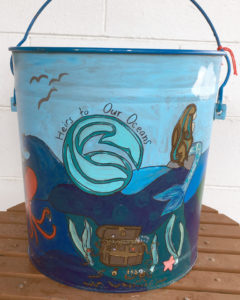 1st Place:  Tessa Daroza (age 14)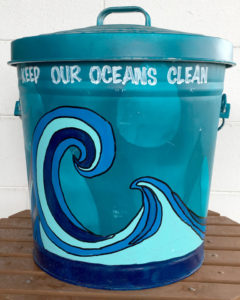 Adult
3rd Place:  Debora Liao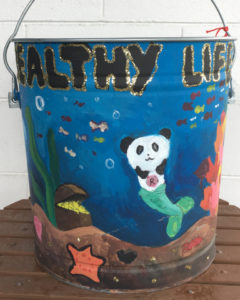 2nd Place:  Kiko Porte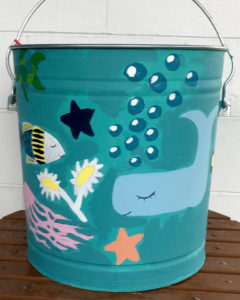 1st Place:  Claudia Reinhart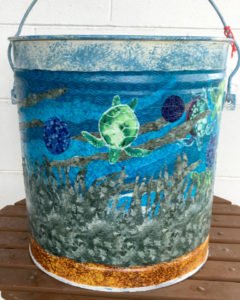 Professional Artist
Cris Orr
Peoples Choice Award
Cris Orr
Thank all of you for participating, and for making a splash by ending trash. The contest was made possible by Pacific Beach Coalition; Adventure Out — a leading outdoor school providing surf lessons in Pacifica — generously donated the cash prizes; and a grant from Keep America Beautiful provided funding for the buckets to reduce tobacco litter.
And BIG thank yous to our incredible and talented volunteer Nancy for leading this project!