Whoaa, Check Out Our 2016 Successes!
Pacific Beach Coalition 2016 Successes, So Far…
Some Numbers:
| | | | |
| --- | --- | --- | --- |
| | 2013/14* | 2015 | 2016 |
| Volunteers | 11,894 | 11,603 | 12,283 |
| Trash in LBS | 18,244 | 16,475 | 15,032 |
| Recycle in LBS | 4,814 | 2,370 | 3,509 |
| Green Waste in LBS | 11,608 | 23,789 | 38,878 |
| Cig. Butts | Didn't Count | 89,162 | 136,662 |
| Cig. Butts (Pots) | Didn't Have Pots | 3,733 | 32,372 |
| EcoPots | Didn't Have Pots | 2,699 | 3,409 |
* Since April 2013 – Nov 2014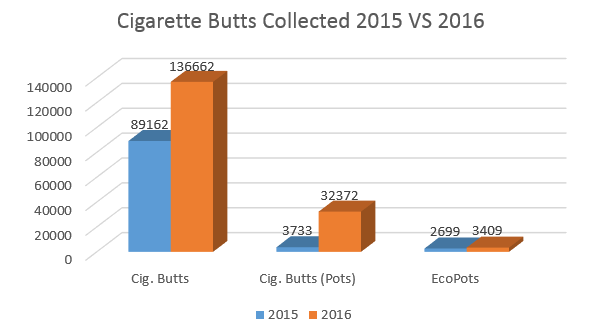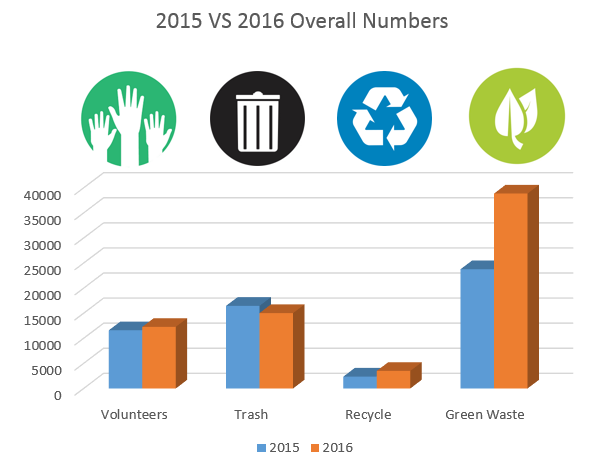 Our Actions: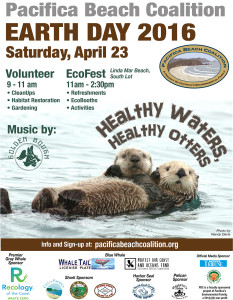 Earth Day 2016 was a real success:
– 7,286 volunteers
– 15 School Assemblies to educate our young about the Sea Otters and effects of the litter
– 4,025 pounds of trash collected
– 1,031 pounds of recycle collected
– 7,609 pounds green waste removed
– 15,923 Cigarette butts picked up and recycled!
To learn more about our 2016 Earth Day of action, please read our blog post from April.
During the EcoFest (which was the best EcoFest ever) we gave out Earth Hero buttons, bookmarks listing our monthly beach cleanups and habitat restoration schedule as well as our Sea Otter pledge. We also gave out compost bucket to our volunteers so that they can make a difference at home.
We made a huge difference during Coastal Cleanup Day:
– 1,340 volunteers
– 3,525 pounds of trash
– 753 pounds of recycle
– 600 pounds of green waste
– 24,089 cigarette butts collected in 2 hours!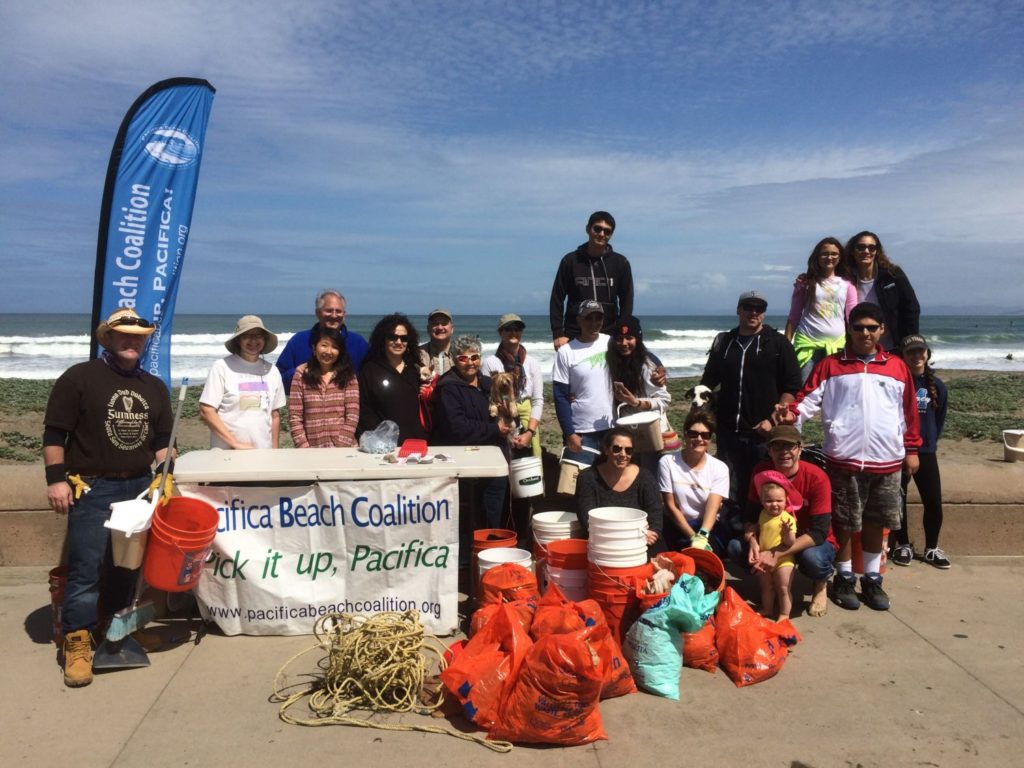 Our Coastal Cleanup Day was followed by our annual amazing dedication and Celebration Ceremony with CA Coastal leaders, city leaders, volunteers and other incredible guests.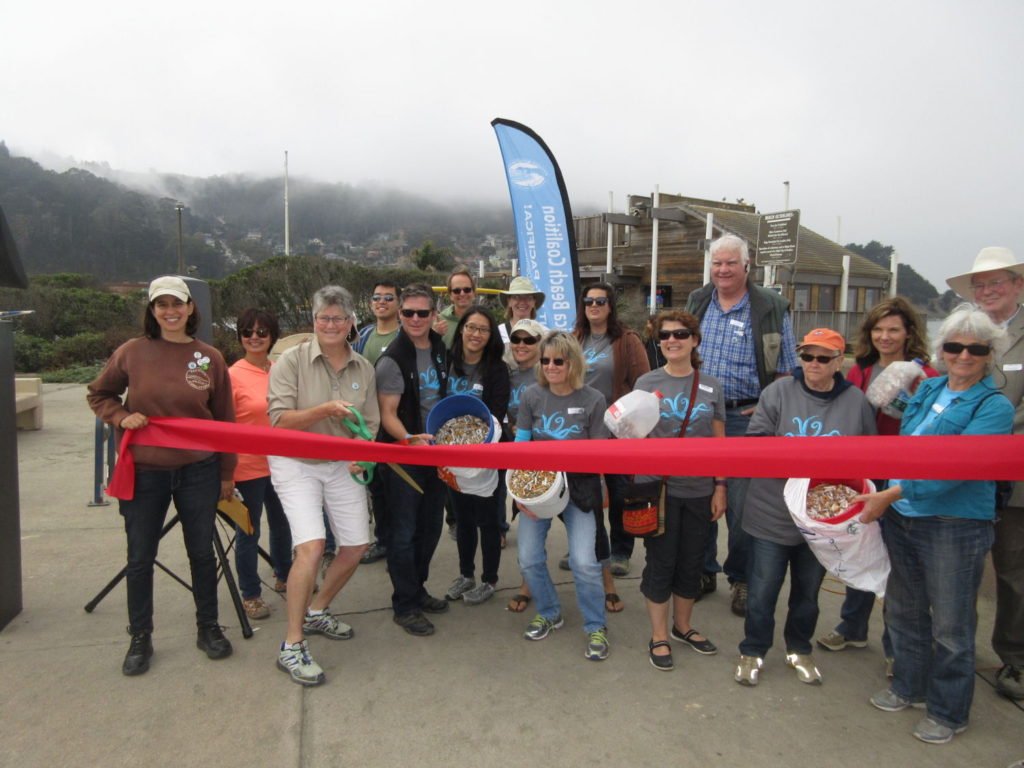 Other Beach Cleanups and Habitat Restorations Events:
– Japanese Tsunami Marine Debris – Several suspicious finds by Mussel Rock Team
– 4th of July – Great cleanups on a working Tuesday, removed a lot of Fireworks
– MLK Habitat Restoration – New Rockaway HR team planted & helped weed the switchbacks. We also made Seed Balls and tossed them around to increase the growth of California Native plants.
Corporation Give Back Program:
– 856 volunteers completed weeding entire Linda Mar bike path and Rockaway switchbacks and remove a lot of Cal Trans Buckwheat. Plus, weeded the top strip along the highway.
– 22,400 of green waste removed
– 745 pounds of trash
– 161 pounds of recycle
– 18,413 Cigarette butts picked up and recycled
The Give Back teams are coming from multiple companies from the Bay Area: Genentech, Google, Thermo Fisher, Apple, Bank of America, Rakuten, Monster, AOL etc…
Find out more about the progress that was made thanks to our Give Back volunteers!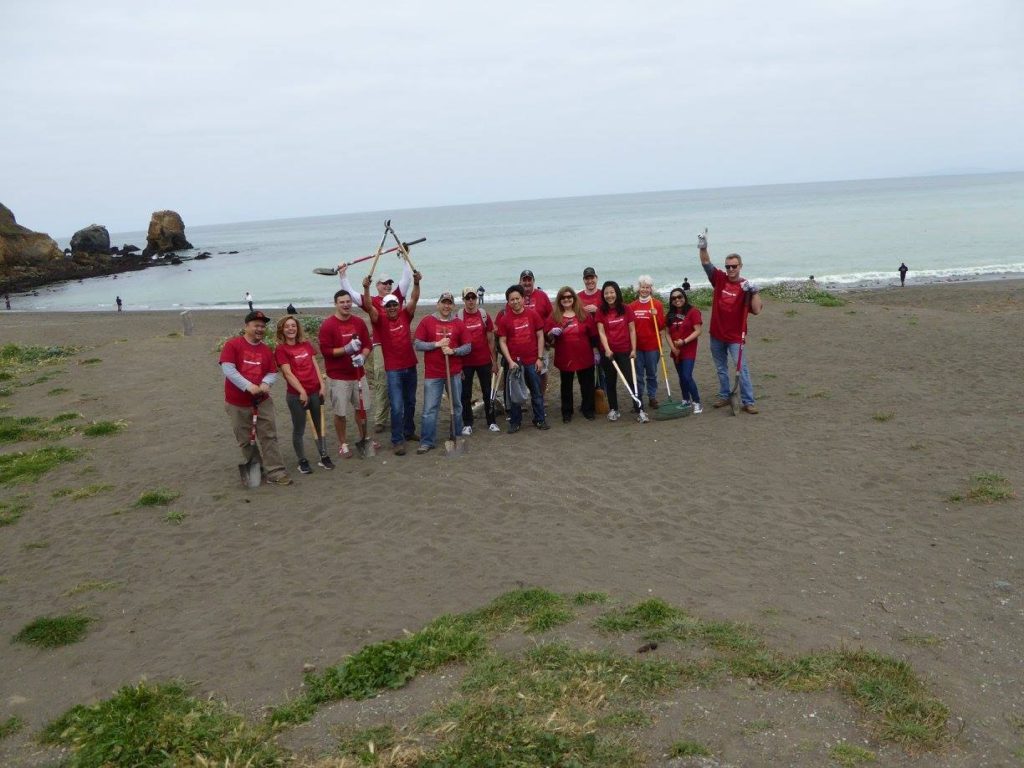 Our Education Programs
We participated in a couple fairs to educate the public about our actions and about what can be done to reduce the number of cigarette butts on the streets and beach as well as to reduce litter:
– FogFest in Pacifica
– Sharktober Fest in the Precidio San Francisco
We organized local events and lectures to educate the public about our local Marine Life:
– Sea otter talk at the Pacifica Library ~75 people
– WhaleTown talk and presentation at the Pacifica Community Center ~250 people
– Sharktober Celebration, talk and movie at the Pacific Community Center ~150 people with PCT partnership and video coverage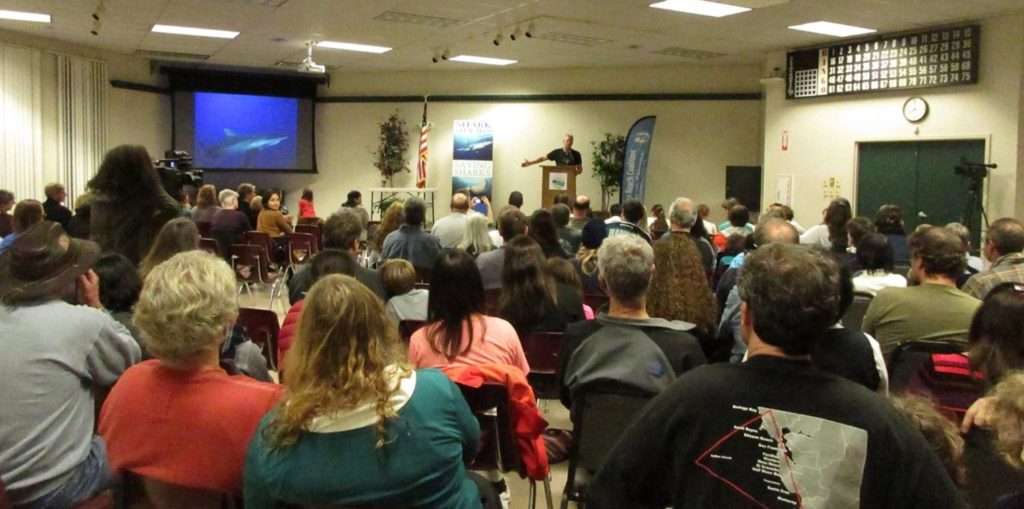 Our Local Disaster Response
Pacific Beach Coalition's volunteers are always ones of the first to respond to a local disaster:
– Matson container spill response – Removed styrofoam and broken bread containers (still finding broken trays)
– Beach boat in Moss Beach – Cut the boat to pieces and removed each parts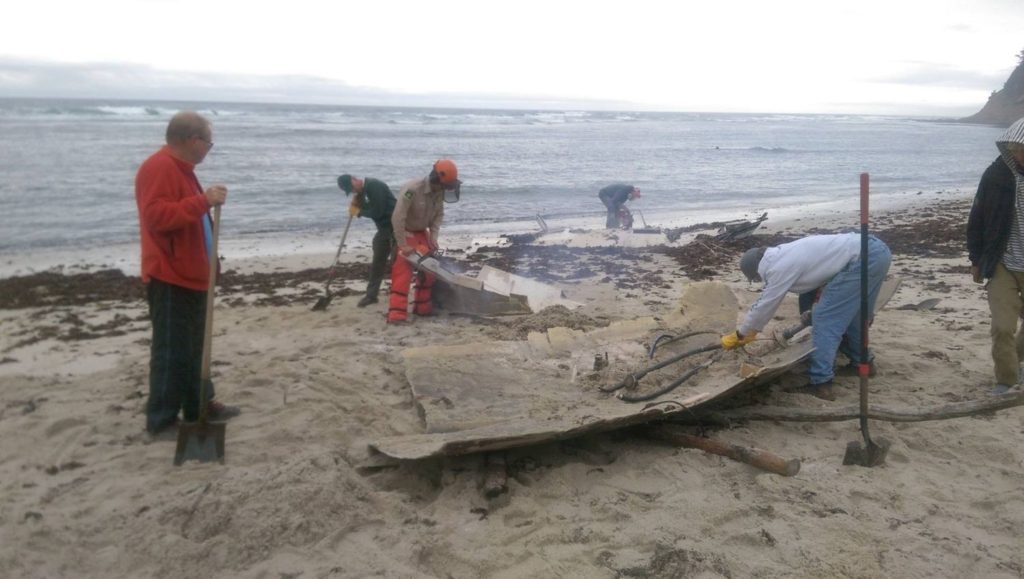 Our Fight Against Cigarette Butts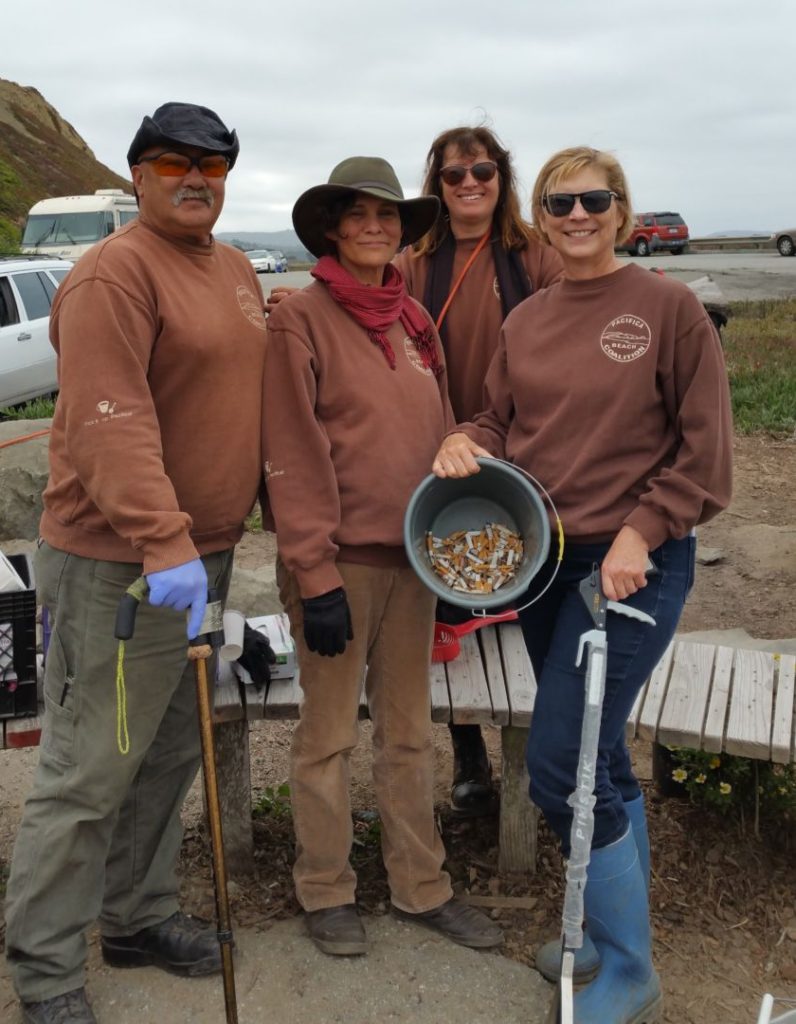 We know have a Cigarette butt sub-committee who's goal is to measure, educate and find new initiative to reduce the number of cigarette butts thrown on the ground or on the beach.
As part of the education program, we organized after Coastal Cleanup Day a Dedication ceremony and this year, it was with Susan Hansch, Eben of CA Coastal Jerry Hill's office, Carol Groom, Mayor Digri, Council members Keener and O'Neil, Chamber president Vickie Flores, and public at CCCD.
Our sub-committee also led the installation and now maintain dozens of black pots by benches, businesses and key locations such as Esplanade.
Thanks to the $5000 KAB Grant, our team was able to install containers at Pedro Point (2), Eureka Shopping Center (4) and in Manor (2).
Our Other Great Accomplishments
– We received a Whale Tail Grant for $20,000 that helps fund some of our programs
– Our team has been really good at recording every litter and counting every single cigarette butt
– We reached 600+ likes on our Facebook Page and 4,000+ members in our emailing list
– Terrific support from sponsors: Recology of the Coast, NCCWD, City of Pacifica, First National Bank, Whale Tail, Protect our Coast, Pedro Point Surf Club, County of San Mateo, Mazzetti's, Pacifica's Environmental Family
– Received a couple of Awards: US Congressional Award from Jackie Speier and two CA Senate Awards from Jerry Hill
– Growing participation from over 100 very active volunteers and supporting cast
Find more details about our Awards.
Wonderful New Members & Reinforced Site Captain Teams,
Thank you!