Lastest Update: Matson's Donation & Report
Latest Update: Email Sent to Lynn from our Matson Contact.
"Thanks for the nonprofit info. I can now confirm that Matson Foundation will make a contribution of $5,000 to your organization in early 2016 as a gesture of our appreciation for the support you and your members have shown Matson in the wake of our container loss event, and for your continued partnership in helping us monitor your coastline for more related debris that's likely to wash up in the coming weeks.
As discussed, while we have reached the stage where there is less and less for work crews to pick up out on the beaches, Matson remains committed to continued monitoring of the coastline and recovering all that we can recover of the debris emanating from our lost containers.  Daily checks by your members will be a great help to ensure that we capture everything we can as stuff appears.  Our understanding is that PBC members will generally collect and dispose of what they find, and let us know if they see any accumulations or pieces of debris too large for them to deal with so that we can get our contractor down there to pick it up.  It would also be helpful if members report what they're finding in general terms, whether it's plastic bread trays, pieces of insulation or pieces of metal container that relate to our containers.
Also, if you could please confirm the geographic reach of your organization and the number of volunteers you will be calling on to support our efforts, that would be good for our folks to know.
We have a new operational plan going forward: our Safety, Quality and Environmental Affairs team will have a representative inspect the beaches on Monday's  and Thursday and send out contractors as required on Tuesday's and Friday's.  Next inspection will be Monday, December 28th.  I'm copying Kevin Krick, our director of SQE, so you have each other's contact information for any coordination needs.
Meanwhile, we are also working closely with NOAA and representatives of the Farallons and Monterey National Marine Sanctuaries to develop a plan for attempting to locate any containers that may have sunk within a sanctuary and will continue to pursue that.
Please keep me in touch with PBC activities relating to our clean-up, and photos are always helpful."
12/18: Our Mussel Rock crew organized an unofficial beach cleanup to help out with the Matson debris.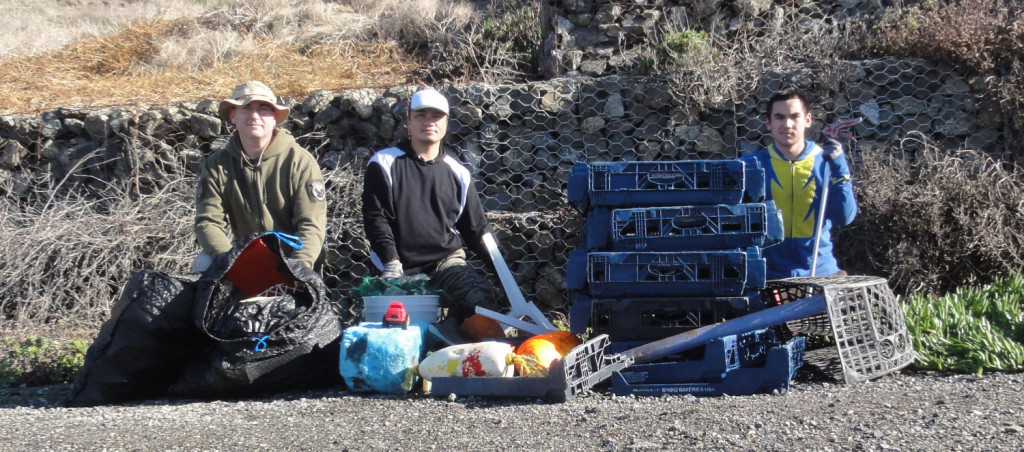 In this group shot, crates found from the Matson shipping container plus other debris. From L to R is:
Jeff Christner
Richard Roth
Paxton Christner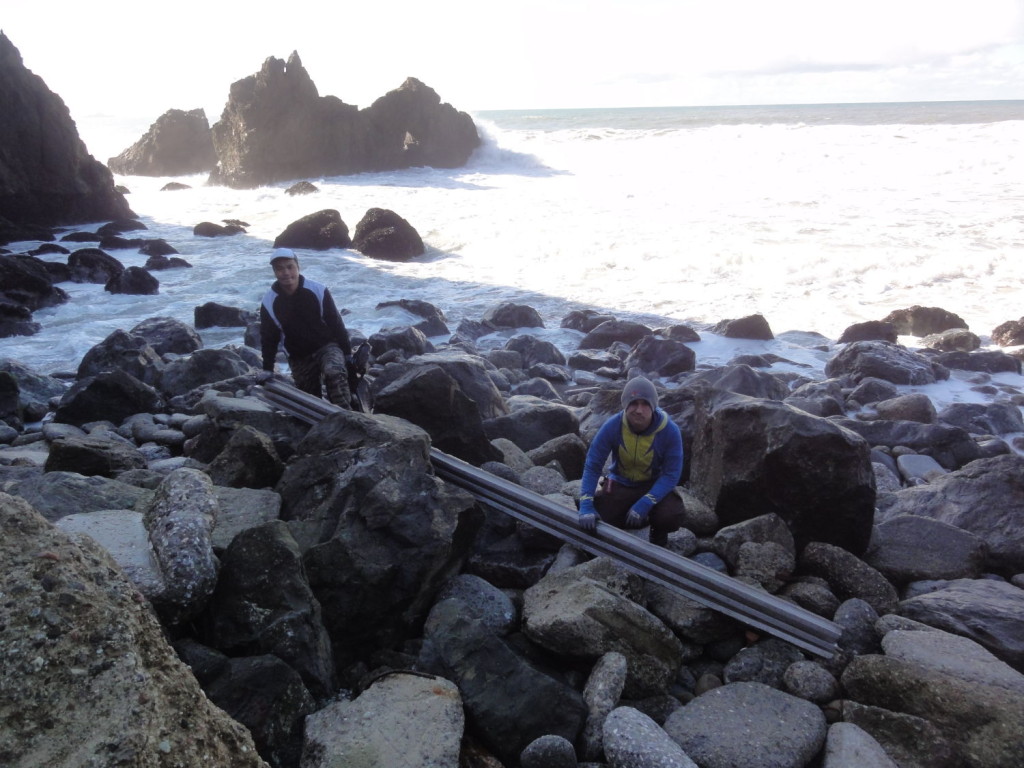 In the shot of the 16′ piece of shipping container L to R are:
Richard Roth
Paxton Christner
3 or 4 more pieces were found along with 12 other crates and 2 large bags of styrofoam. We notified the Matson cleanup crew about these.
Thank you Jeff and crew as well as all the other volunteers who cleaned up our beaches over the past week!
12/15: Message from our Matson contact:
"Coast Guard flight this morning spotted another container offshore Pacifica, mostly submerged, and we have dispatched a salvage vessel and a tugboat to the area to find and recover it.
I've passed your info along to our coordinators, so you may get a call if they still need info or assistance accessing affected areas."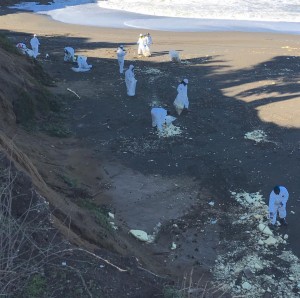 12/14:
As a lot of you might have contact us.
Lynn Adams has been in touch with Matson shipping company. They have a team hired to clean up the debris. They are sending the team to Sharp Park and Esplanade.
Once again, please report anything you see and include a photo if you can. If you can safely pull any up to dry ground please do, the crew will come get it ASAP.
Finally, anyone who finds a container on the beach is asked to be cautious and call the Coast Guard Sector San Francisco command center at (415) 399-7300.
Photos by Jeff Christner.