Earth Month Challenge 2020 – Act Green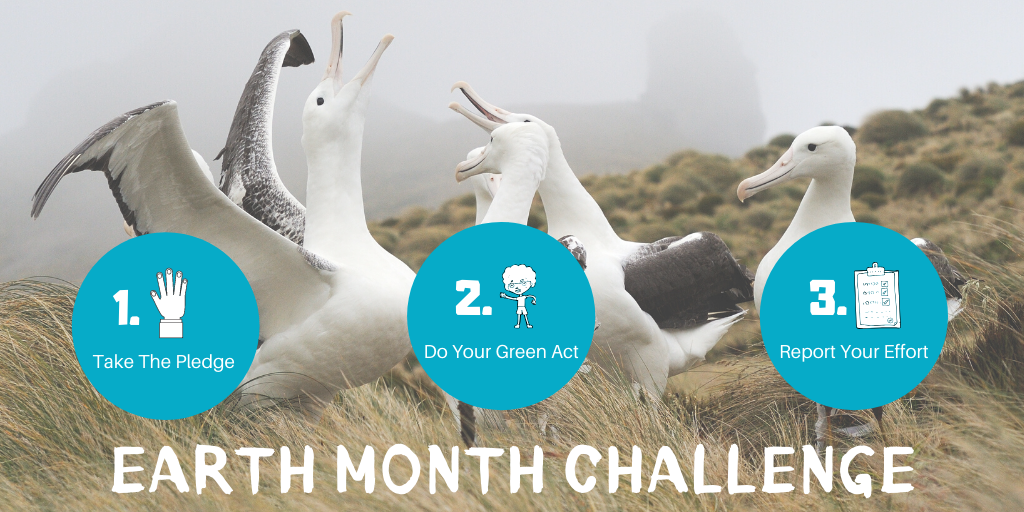 1 month to take the pledge & Act Green for Earth Day's 50th anniversary.
It is the first time that we will not work as a team to celebrate Earth Day. This is why we created this Earth Month Challenge so that you have 1 month to do one or multiple Green Acts.
Taking a Green Act is easy. It is can as small as turning off your lights more often to removing all the non-native plants from your front/back yard.
We hope you will feel inspired and will take the pledge because we are sure excited to see what kind of Green Acts you decided to take!
1. Take The Pledge
We hope you will join us in celebrating Earth Day's 50th Birthday by making a difference big or small, at home or outside. Do do so, take a pledge and let us know how you are going to help the Earth during April 2020.
2. Do Your Green Acts
As an individual or a family, we invite you to adopt one (or multiple) Green Acts to help our planet. Here are some quick ideas and we have more on our website. Feel free to create and do your own and let's see how many you can do in one month!
Examples of Green Acts
At home or in your yard:
Plant native plants
Remove invasive weeds
Grow your own vegetable garden without using pesticides
Plant native flowers for the bees
Create a window/yard sign to show your neighbors how you are supporting Earth Day
Track your trash (great activity to do with kids, table to print below)
Use less single-use plastic (ziploc, plastic wear, plastic glasses, plastic straws…)
Use reusable kitchen items (glass jars, tuperwear, wax cloth…)
Turn off the lights more often
Use less water (when brushing your teeth, showering, doing the dishes…)
Make your own soap or counter cleaner
Repair instead of buying new
Recycle only clean items that have the number 1 2 or 3 in the triangle
At the store:
Buy organic when you can
Use a reusable produce bag
Buy in bulk
Bring your own tote (when we can again)
Buy at the local to support local businesses
Bring your own mug (when we can again)
Buy only what you really need
Recycle your cloth
Buy cloth at local thrift stores
Say "no" to plastic wear and napkins when ordering "to go"
Outside but walking distance from your home:
Pick up litter around your block
Pick up litter when walking your dog
Pick up after your dog (pet waste is toxic!)
Dispose of your dog poop bag in the trash can (landfill)
Educational movies (get the popcorn ready!):
Additional green acts:
Sign the Petition-Get the Plastic Pollution Reduction Act on the Ballot – http://chng.it/YpJHSxbVn8
Sign up for a beach cleanup (when everything goes back to normal)
Sign up for a habitat restoration (when everything goes back to normal)
Advocate for the ocean
Use my voice to educate others about plastic pollution
Additional activities that are great for kids:
The tracking table can be one of your Green Acts.
You can track your Green Acts with this check list.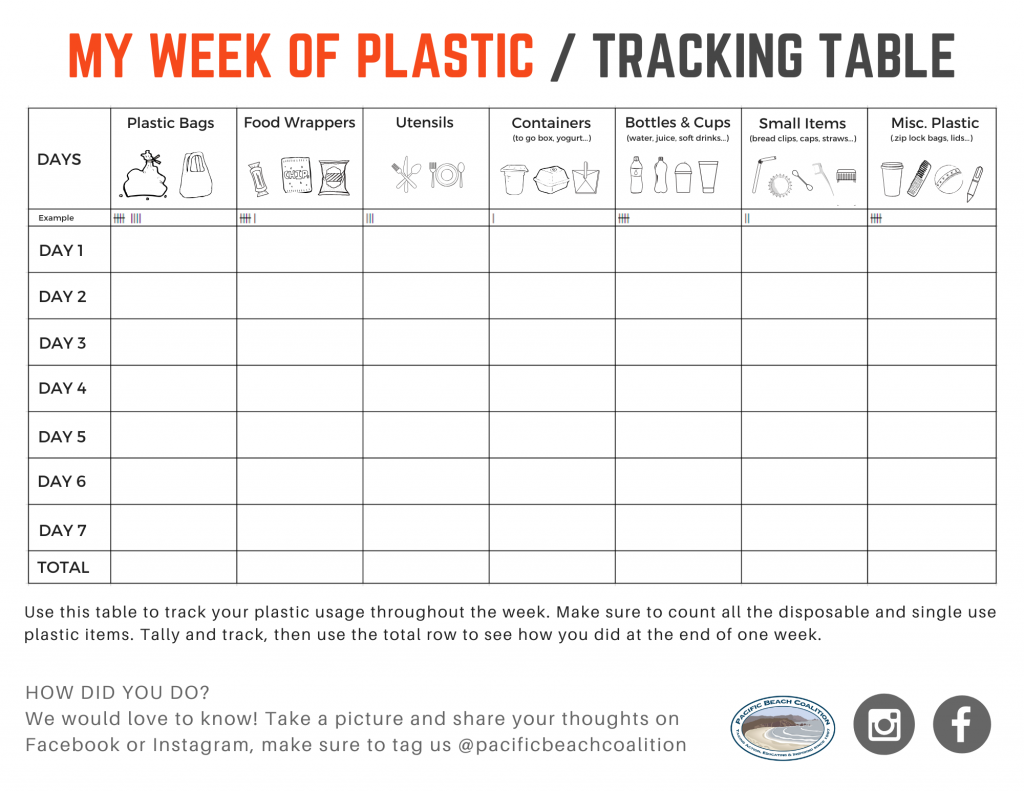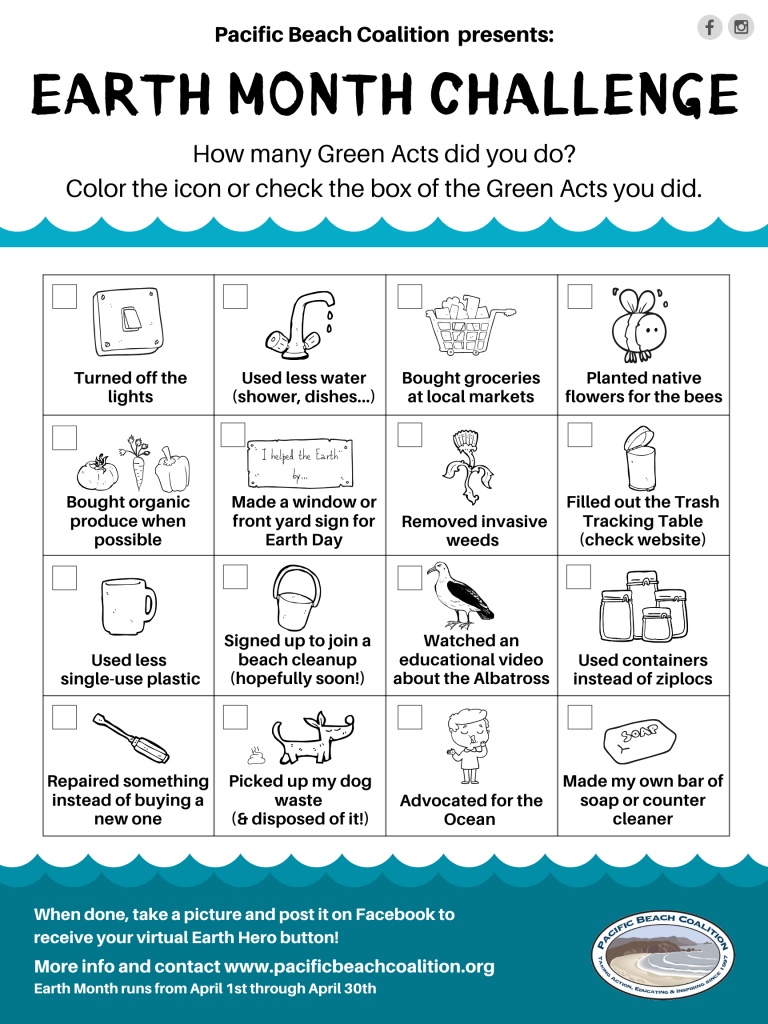 Friendly but important reminders:
Only cleanup if you are comfortable with it
Do not drive to do a cleanup, instead cleanup your street and block
Use gloves
Use a pick up stick (we can land you one!)
Do it alone or with your close family
Respect all the good practices such as washing your hands for 20+ seconds
Respect "spacious solidarity" of 6 feet is someone is on the sidewalk
Cleanups can be done individually or with members of a quarantined household
3. Report Your Effort
Yay! We are so excited to give you the opportunity to report your Green Acts! Here is the very short form that you need to fill out.
You can also take a picture of the check list and post it on social media, make sure to tag us @pacificbeachcoalition to receive your virtual Earth Hero button!