Past Event – Butt Blitz 2021, Pickup Filters Before the Big Flush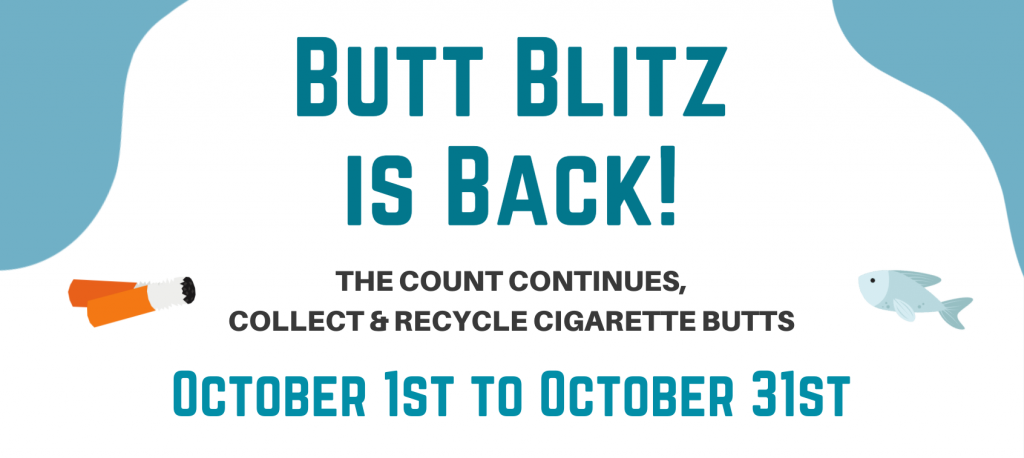 Since 2014 we have recycled 1,200,000 filters, but who is counting?!
For the 3rd year in a row, we are going on a mission to recycle as many cigarette filters as possible. We are encouraging you to join us to pick them up all month long and beyond to make sure that they don't end up in the ocean or in the stomach of fish!
Event Proudly Sponsored by Adventure Out
"We provide a program & environment that empowers and supports people of all walks-of-life to achieve their wildest adventures in the outdoors, while fostering a respect for and connection to the natural environment." -Cliff Hodges, Founder/CEO.
Thank you Adventure Out for supporting clean beaches and streets.


Join the Butt Blitz, Participating is Easy
Find cigarette filters in zones that are prone for them such as parking lots, bus stops, near restaurants or benches… and pick up the butts with gloves. Keep them in a sealed container (yogurt, to go plastic containers…).
Count them and record them either via the Clean Swell app or our Blue Bucket
Drop them at one of our multiple drop off locations on the coast – check the map below. Or bring to one of our cleanups and give them to the site captain!
Hot Spot Tips
If you don't know where to go to find cigarette filters, here are some typical places that are very likely to contain a few:
Parking lots
Sitewalks near businesses and restaurants
Public benches
Bus stops
Any locations where people might be waiting
About the Counting and Drop Offs
If you use the Clean Swell app, make sure to add "PBC" or "Pacific Beach Coalition" as your group
If you drop your filters at a beach cleanup, tell the site captain if you recorded them (we recommend that you record them on the Clean Swell app – but if not, let the site captain know and they can record them)
Drop Off Locations
You can drop off your cigarette butts at any time at one of these locations.
If You Can't Pick Up, Donate
We understand that it might be tricky to find some time to pick up cigarette butts and these things can be pretty nasty. This is why we offer you the opportunity to still participate to end cigarette filters litter by making a financial contribution.
100% of your donation will go directly to our programs such as the Butt Blitz that are design to educate the community about the negative impact cigarette filters have on the ocean and wildlife. But also programs that are put together to remove the filters from our ecosystem.
If you believe in a cleaner ocean and value citizen education as well as our efforts, you can make your donation a recurring event by checking the "donate monthly" checkbox.
No amount is too small… or too big 🙂 Thank you so much for your support and generosity.
Get Community Service Hours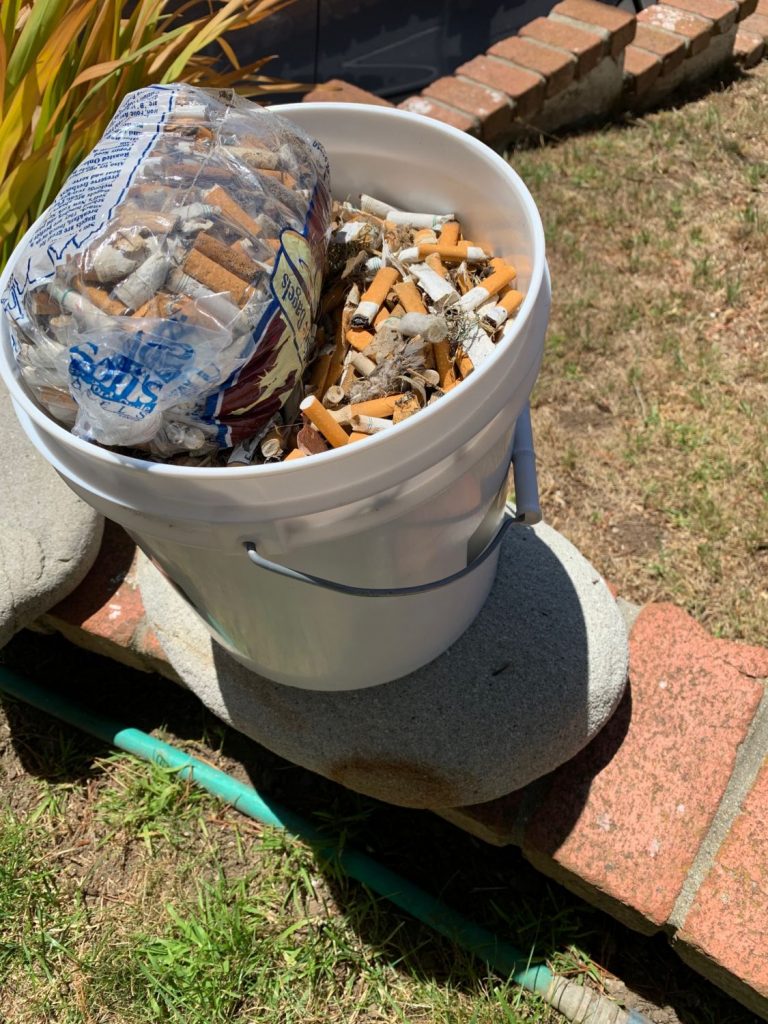 You can get your service hours verified when collecting filters for the Butt Blitz. Here is what you need to do:
Collect the cigarette butts
Use the Clean Swell app and make sure to add "PBC" or "Pacific Beach Coalition" as your group
Send an email to volunteer@pacificbeachcoalition.org with the following:
A picture of you and or cigarette filters
A copy of the "Thank you" email that Clean Swell will send you when you complete your cleanup
The location of where you collected the filters
The date of the cleanup
If your email doesn't contain all these elements, your hours will not be approved. Please allow 7 days to get your hours verified by one of our volunteers.
91,721 Filters for Butt Blitz 2020
Last year we recycled over 91,000 butts. The 2020 Butt Blitz was a huge success and so many of you pitched in and from all over the Bay Area!
We could not believe that number but the great thing was that all the filters got diverted from the landfill and went straight to Terracycle to be recycled. Cigarette filters, aside from being packed with toxins, also contain plastic this is why they can be recycled to become useful fleece, pots or even ashtrays!
But the main question remains… Are we going to collect more this year?
Help Us Spread the Word
Here is our flyer so that you can share it with your peers and family. Feel free to post in post offices, grocery stores, coffee shops etc…
We are also all over social media. You can create your own posts or share ours from Facebook and Instagram.