Past Event – Surf Movie Fundraiser Night

13th Annual Surf Movie Fundraiser
FRIDAY, FEBRUARY 7th 2020
GREAT HIGHWAY
This year's film is Great Highway, a film by Mark Gunson, Mark Ruegg and Krista Howell, which documents an iconic time and place in the surf culture. From interviews with some of the original locals, to solo explorations a little ways south at Mavericks by Jeff Clark and O'Neill's first surf shop in San Francisco, it weaves together an interesting tapestry of unique moments and characters.
Come join us for an evening of big waves, amazing surfers, popcorn, beer from Pedro Point Brewery, wine, and fun on Friday, February 7th with programs at 6pm and 8:30pm to support the Pacific Beach Coalition's Earth Day of Action & EcoFest 2020 event.
Snacks and beverages available for purchase. Beers from Pedro Point Brewery. CASH ONLY.
Q&A with Special Guests: Director Mark Gunson and Producer Krista Howell.

Time & Location
Doors Open at:
5:30pm for 1st program
8:15pm for 2nd program
This movie will be screened at Mildred Owen Concert Hall, 1220 Linda Mar, Pacifica
Tickets Prices & Purchase
Online: $15 – see checkout below – ENDED
At the door: $20 – CASH ONLY – First come, first serve
At participating surf shops: $15 – CASH ONLY – ENDED
Participating surf shops:
Sonlight Surfshop, 575 Crespi Drive, Pacifica (650) 359-5471
Traveler, 5450 Pacific Coast Hwy, Pacifica (650) 735-9192
Purchase Tickets Online – ENDED
You can still buy tickets at the door. $20 / ticket – CASH ONLY.
"This PBC fundraiser is not just a movie, it is an event. Year after year it shares an inspiring insight into the ocean and the surfers & volunteers who love the ocean!"

-Pedro Point Surf Club's Greg Cochran
"Fun and inspirational night! Thanks to everyone who worked out front and behind the scenes, organizing details great and small! It was a treat to attend!"

– Participant, Gail M.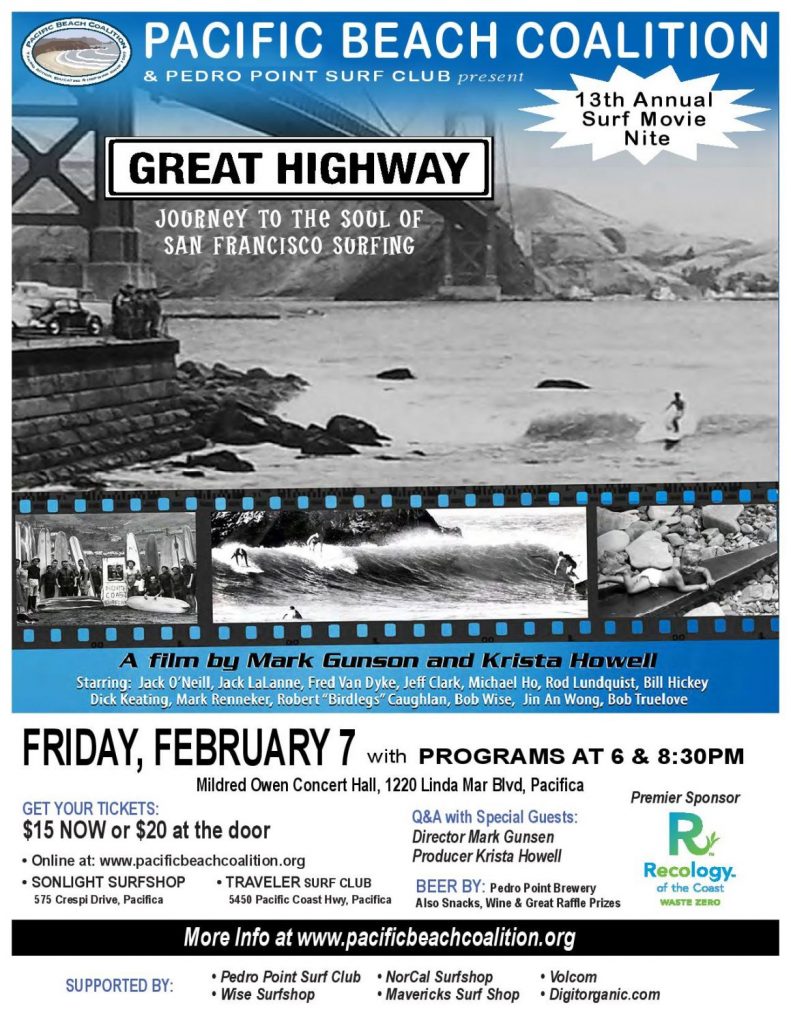 About The Great Highway:
Great Highway traces the roots of Bay Area surfing and explores the changes that time reveals. The history is told by those who lived it in the freezing cold Bay Area conditions. Starring Jack O'Neill, Jack LaLanne, Fred Van Dyke and Michael Ho. The local surfers of Northern California are full of character, and offer their own perspectives on the history and the future of surfing.
www.greathighwaymovie.com
DONATE TO THE DRAWING & AUCTION!
Be ready for a really fun and awesome drawing! Contact us at info[at]pacificbeachcoalition.org for more details on making a contribution to one of the our most important benefit events of the year.
Take a sneak peak at the raffle prizes to see what you can win!

All proceeds benefit Earth Day of Action & Eco Fest on Saturday April 25th in Pacifica, Daly City, Montara & Half Moon Bay.

Hosted in partnership with Pedro Point Surf Club of Northern California www.pedropointsurfclub.org
Event Supporters: Recology, Pedro Point Brewery, Best Western Lighthouse Hotel, Hard Rock Cafe, Sonlight Surf Shop, Traveler, Mavsurfer, NorCal Surf Shop, Wise Surfshop, digitorganic.com, PIER 39, California Academy of Sciences, Sir Francis Drake Hotel, SF Electric Tour Company, Aquarium of the Bay, City Sightseeing, Pedro Point Brewing.