Welcome!
When you join the award-winning Pacific Beach Coalition, you're a part of something special!
We're a volunteer-driven community of Earth Heroes inspired by kindred spirit and collective passion for protecting and preserving our ocean, beaches, creeks, wildlife and native habitat. Together, we're growing as a powerful force for positive change recognized as a community-centered model leading sustainable environmental stewardship among all ages through advocacy, education, community building and citizen action in the Bay Area.
You too can lead positive change! Throughout the year, we host field and education programs connecting thousands who care for our environment. You can clean a beach, restore habitat, advocate, become a member, organize events, donate, join a committee, become a student liaison, lend your skills, share your talent … all while learning more about protecting our coastal environment.
Learn more about us, our Earth Heroes and how we have been achieving our mission since 1997!
Pacific Beach Coalition is a registered 501(c)(3) non-profit organization.

Next Volunteering Opportunities

Did you know? This is one of the few remaining near-town rivers still populated with Steelhead trouts.



Call to all the volunteers who want to get dirty and help restoring and preserving our native coastal habitat.


Stay Engaged: Local Events & Global News

For over 30 years, residents of the small town of Brisbane, California just south of San Francisco, have fought to save rare butterflies on private […]

Contest Deadline: Sun, July 31. You Can Vote for Your Favorite Bucket in the People's Choice Awards!

Mission Blue Butterfly Virtual Talk Follow-up with Q & A from Hannah Ormshaw.

The results are here! 158 Cleanups, 1,323 Volunteers, 2,959 lbs of Trash and a small celebration to re-watch!
From the Field: Volunteers & Trash Results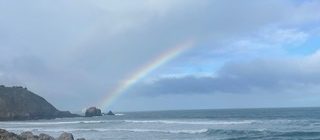 Rockaway's May Clean Up greeted us with a beautiful rainbow over the ocean and 65 volunteers participated.

Site Captains Wendolyn and Michael and Naturalist Nancy were joined by 40 fabulous volunteers who got hard to work on cleaning the beach. 

Unbelievable turnout at Surfer's Beach yesterday in El Granada for our March cleanup!  So many earth heroes showed up, wanting to make a difference for […]

We had a successful dry-run at Thornton Vista. The site captains, Cynthia and Sierra met Jim and he provided with a table, buckets, sticks, gloves, […]
Sustainable Corner: Reduce Your Plastic Footprint

Two of the biggest plastic waste areas in the kitchen are the refrigerator and the food pantry. Here are my favorite low cost plastic free […]
Our Earth Heroes, Partners & Donors
We would like thank our sponsors this year as they helped us support our different initiatives during Earth Month 2022.
Many Ways to Support our Mission

We always welcome new active members to our meeting on the 2nd Tuesday of the month.

If you believe that preserving our ocean is a great cause worth fighting for, become a PBC member today.

Support us by making a one time or a monthly donation to help us keep our programs afloat.
Join one or a few of our committees to spearhead projects that deliver and maintain our programs.