218 lbs Removed by 36 Volunteers at Davenport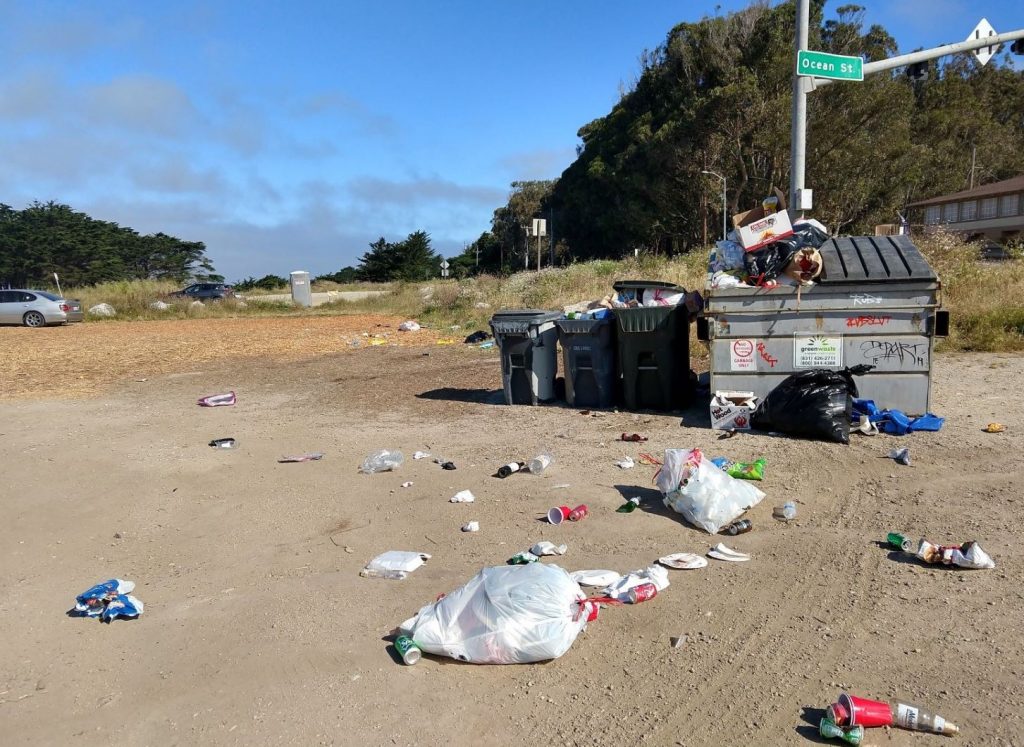 Today, we cleaned up Davenport, a beautiful beach in the Santa Cruz county. When we arrived this morning, the dumpster was full and the trash bags near it were all torn apart. Looked like the wildlife had been through it and half their content was all over the parking lot, blowing in the wind and heading straight for the ocean.
Shortly after setting up our registration table, our volunteers arrived and they started cleaning up the area. The parking lot got all cleaned up and the trash bags by the dumpster got placed inside the trash cans. The volunteers also took care of the railroad, the side of the road and the beach.
We had 2 huge red bags that we used to separate all the recycles from the rest of the trash and then we gave it all to a local looking for glass bottles, avoiding us to take it back to our home. Unfortunately, we had to use plastic bags to keep all the trash we found contained as the dumpster and trash cans were already all full.
We found a bike frame, a barbecue, cigarette butts and hundreds of plastic and glass bottles.
The locals were extremely grateful to have us around to cleanup their beach. They even gave us free coffee, invited us to their barbecue and we also received a Blue Marble from Wallace J Nichols' Blue Mind movement. So special!
This cleanup was set as an emergency cleanup. If you would like to take care of Davenport and help us clean it up more often, check out our page on how to become a site captain and don't hesitate to contact us if you have questions!
And thank you to Kathleen from Half Moon Bay who told us about this beach and helped us organize this cleanup. If you know a beach in need of love, contact us and we can help you get a cleanup going. info [at] pacificbeachcoalition.org