We Won! Most Creative Walking Group of the Parade!
Thank you all so much for supporting PBC, clean shores and most importantly, supporting our BEES.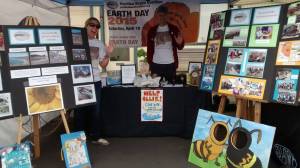 The Pacific Coast Fog Fest was created in 1986 to promote the City of Pacifica and to celebrate its marvelous coast and community. Fog Fest now attracts up to 80,000 festival-goers and it is a big event for our organization, so receiving this award means a lot to us!
We would like to thank Deirdre and Pauline for working on the honey comb and the costumes, Sandy and Margo for getting our booth together, Terra Nova for painting our signs, Jim and Ana for carrying our banner during the parade and all the volunteers who walked with us and helped keep our booth welcoming and informative.
We hope you enjoyed the show and had a good time. See you all next year!
Bee the Change – Bee an Earth Hero!