A Walk in the Mud
by Greg Finkelstein – PBC Naturalist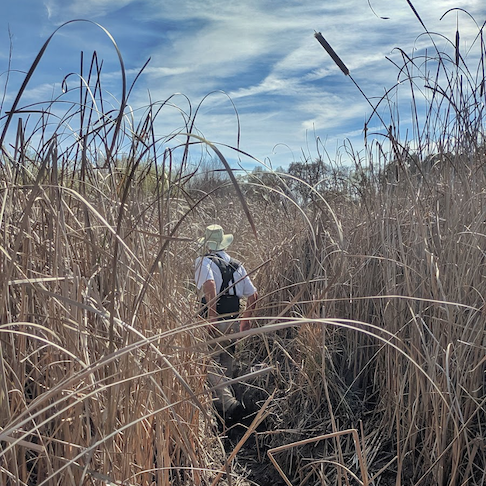 Some of my earliest memories are of duct taping my shoes to the ends of my jeans. During my childhood, my father, Jay Finkelstein, was a leader of the Bayfront Cleanup, which is now a part of Coastal Cleanup Day. On that day, he would borrow an airboat, and we and a small team would go zipping along the mud flats in search of dumped tires. With tape holding our shoes on, we would lug out over 100 tires from the Bay's shoreline. Those experiences have always stayed with me and are part of the reason that I am with PBC today.
Fast forward 25 years and I get a call from my father saying that Lodi Lake has been drained temporarily and he wants to get out there and clean it up. Lodi is just north of Stockton and where my family spends most of their time these days, is adjacent to the Mokelumne River (which fills Lodi Lake). The Mokelumne River not only provides drinking and agricultural water, but also drains to the Delta, through the Bay, and into the Pacific. A large population of salmon even run up the river every year. When he told me he wanted to clean up the lakebed, I was reminded of one of the mantras of PBC, "Ocean trash can come from anywhere, and we should stop it at its source."
In the first few days of Spring, my father and I headed out to the drained lake and dry portions of the river. We found many bags in the reeds and mud, fishing line and lures tangled in branches, and a plethora of plastic and glass bottles. We found some large items as well, including a half submerged lounge chair, sleeping bags with polyester filling spilling everywhere, and even two car batteries. The latter items were a very interesting find because I spotted the first one, which was mostly submerged in mud, finally pulled it out, then saw the second one below the first! I wondered how much trash has been pulled into these lake and river beds over the years that we will never see again, but whose impact will certainly be felt by the environment.
Lodi Lake is one of the last strongholds of nature in this part of the San Joaquin Valley. It is home to wood ducks, otters, green herons, kingfishers, and much more. It is just a small lake about 70 miles inland, but it is directly connected to the Pacific Ocean. Walking through the reeds that day while pulling waste out of the mud reminded me so much of those early adventures of my childhood. I am so thankful that I was instilled with a sense of obligation to do what I can for the environment from the very beginning, and even today I am continually inspired by those around me who work so hard to fight for this beautiful planet. In conclusion, tape up your shoes and go for a walk in the mud, it makes for a great adventure!