Street to Beach Cleanups Turns 1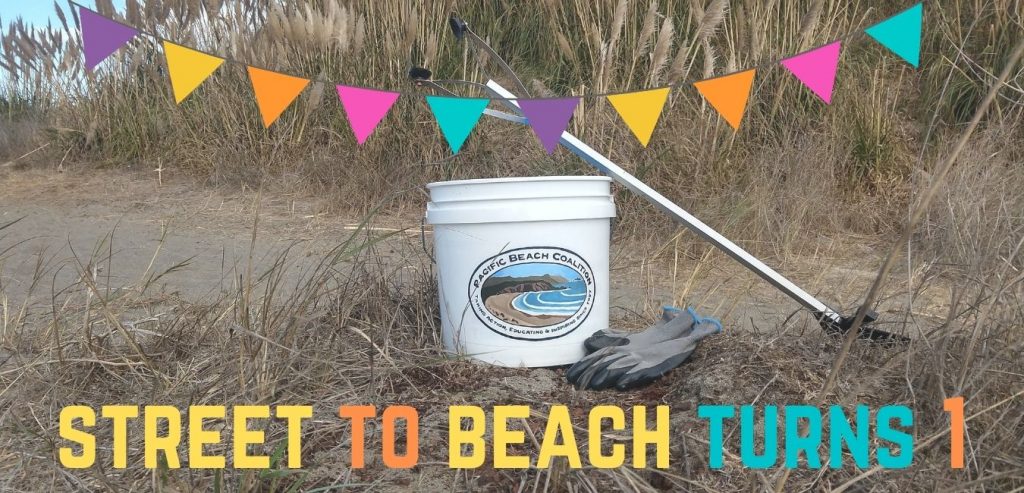 Remembering Where It All Came From
Over a year ago, we all got hit by unprecedented events. The pandemic put all of us on hold with nothing else to do but to stay at home and find new indoor hobbies. Going out was barely possible unless near our home. And social interactions were definitely out of questions. But Zoom meetings became popular and the planet and ocean still needed our help. So after a few hours of virtual calls, our team came up with some new ideas to replace our monthly cleanups. And out of this craziness was born the Street to Beach Cleanups program! This program was originally designed to be temporary to get volunteers outside so that they could safely do something good for their mind and for the planet.
Little would you know, that after a year the Street to Beach Cleanups program became one of our most successful campaign we had ever created! And we are so proud to say that this incredible initiative is turned 1 in May.
The adoption of the Street to Beach Cleanups and the Clean Swell app was beyond expectations and we are so grateful for ALL of you who participated and were part of this journey.
Data Collection Is The Key To The Success
And more than anything, we are so grateful for all the data that got entered on the Clean Swell app and that its being recorded every day from all over the West Coast. Thanks the California Coastal Commission and all of you, we had a huge coverage on news pieces from all over the world. This really highlight the importance of your efforts collecting every singles pieces of trash, no matter of cumbersome it can be at times.
After 1 Year Of Data Collection
Number of volunteers who did at least 1 cleanup: 5,189
Pounds of trash: 24,759 lbs
Miles covered: 2,165
Cigarette filters: 130,526
E-cigarettes: 1,398
Food wrappers: 28,443
Plastic take out containers: 5,685
Bottle caps: 11,225
Plastic beverage bottles: 7,760
Grocery bags: 8,604
Beach toys: 2,129
Pieces of plastic: 57,133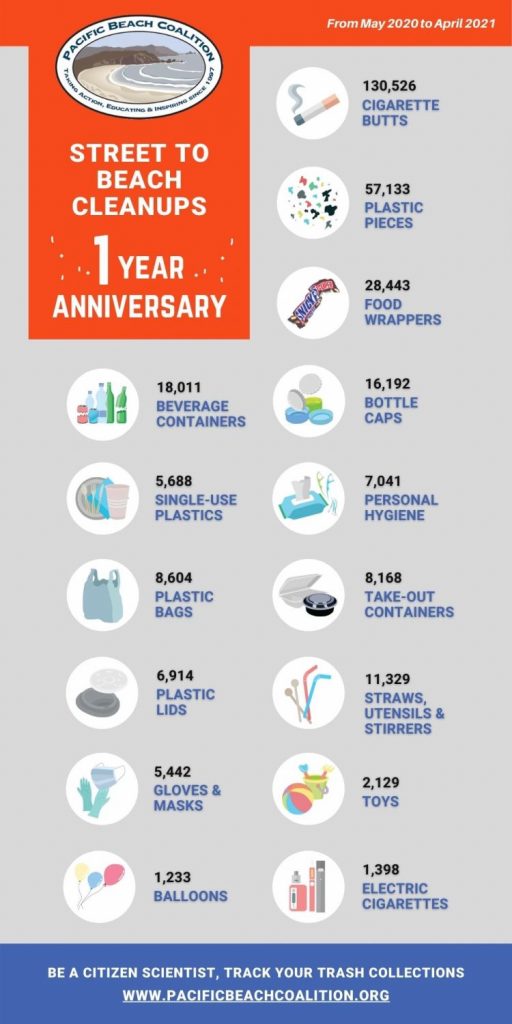 998 Hours Of Service Hours
Students in need of community service hours quickly became part of the Street to Beach Cleanups program. As a result, we were able to approve 998 hours of community service hours for students from Washington State to SoCal. We are so proud of all the kids who are going out and caring for the health of our ocean and planet. And huge kudos to the teachers and schools who are supporting and increasing environmental protection awareness.
Here And Here To Stay
The Street to Beach Cleanups program will remain an active program as long as we can keep it alive. We know that for some of you, meeting with a group during the weekend is not convenient, so please keep picking up trash whenever you can and don't forget to record your effort with the Clean Swell app and Pacific Beach Coalition as your group name.