41 Volunteers and 101 LBS of Trash!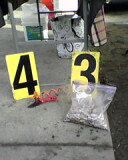 WOW!  We had 41 volunteers on Saturday. December 5 at Rockaway Beach. Students from Terra Nova High School showed up in force as well as students from Richmond High School. We also had several people who were walking by and stopped to help out. One family from San Diego who were staying at the hotel pitched in, too. It was a very nice day and we picked up near record amounts of trash (for a monthly Rockaway cleanup). 101 pounds of trash. 22 pounds of recyclables. 1076 cigarette butts. Thanks, volunteers!
Some of the trash found: large numbers (for sign); Large orange screw – for attaching dog leash?, some nylon fishing netting, a pocket-knife in good condition, ziplock bag of cigarette butts, just a portion of course of the total count and some rusted out metallic pipes and pieces of pipes.