Mussel Rock Has Been a Viewing Point to See Thousands of Birds This Week!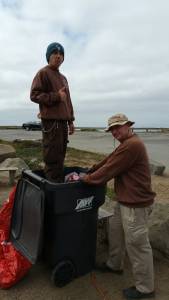 After almost 3 months of daily excitement surrounding sightings of whales fluking, spyhopping, breaching and spouting, we have had an influx of large flocks of birds, circling the bait balls as they move up and down the shore. Not surprisingly, this has brought lots of viewers to the car park at Mussel Rock. Unfortunately, they have left behind a lot of trash associated with eating take-out food here.
Our 4th Saturday cleanup, on 22 August, was supported by 19 volunteers, including 9 new volunteers. Many of the newbies want to return to our cleanups, and some said that they have volunteered at other cleanups. They were all given Don't Drive and Drop Car Stickers, which is a new campaign in San Mateo, to alert drivers to the awareness of cigarettes dropped from cars.
We picked up only 65 pounds of small trash, but a large number of bottles, weighing 40 pounds, and a whopping number of cigarettes, 2,700. The cigarette butts will be boxed, and then sent to Terracycle for recycling into new plastic items. This recycling of butts surprised many of the new volunteers.
PBC member, Gitte, joined us today, and she did an excellent job, running the magnet along Westline Drive to collect ferrous metal objects such as nails, staples and screws that otherwise could puncture car tires.
Thanks to everyone who helped cleanup today!
Also, catch the article about Ian Butler, site captain of the Secret Waterfall, near to Mussel Rock, in the new magazine, Pacifica. The article about him is called The King of Clean. It mentions the Mussel Rock area and has my photo of the Japanese tsunami skiff found last August on Thornton/Mussel Rock Beach.
Thanks to the Mussel Rock Stars, Mussel Rock is looking beautiful again!