Mussel Rock Car Park- The Landfill Below Our Feet
On a very cold February Saturday, we put on gloves and went to work to clean this ancient and beautiful site. Children read the Dolphin Earth Hero pledge from our 2017 PBC bookmarks. Skyline College joined us for the second time this year, making them an official Adopt a Beach group.
There were over 30 volunteers who managed to find over 220lb of trash, 1500 cigarette butts, 1lb rigid plastic, 15lb glass bottles, 3lb aluminum cans, and 2lb plastic bottles.
Kudos to Skyline College students who found an industrial refrigerator in pieces scattered around the former Allied Waste transfer station. They also uncovered a secret stashing place for thieves, who had stolen and pilfered Amazon delivery boxes that were abandoned half empty, half full, but with no mailing address left on the boxes.
Mussel Rock Landfill
As many of us have been reading the book to action for Earth Day "Garbology-Our Dirty Love Affair with Trash" by Edward Humes, we have become landfill aficionados. The Mussel Rock car park sits upon a large landfill site. Below our feet, where bluffs are eroding, it is easy to see lots of 1960s trash. This is going to be another source of plastic pollution in our oceans. A plastic doll and a plastic Pennsylvania Railway annual pass dated 1959 were found in our landfill, today. These were the most unusual items collected. Also, the doll is probably one of the creepiest finds, ever.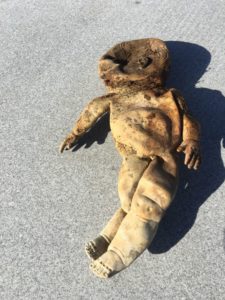 In fact, it was so creepy that Jeff said he probably would not show it on his table at the Eco-Fest on Earth Day!!!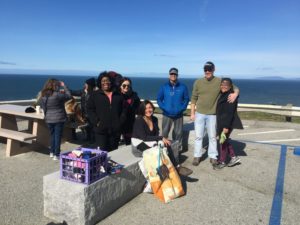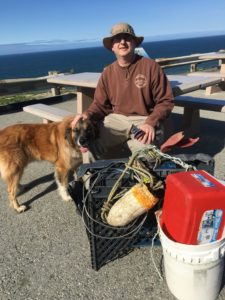 Thanks to everyone who helped, especially Joe and Chris, who went the extra mile to pack up all the buckets, gloves, signage, rolling magnet and pickup sticks and bring it all to the site and return it to my garage.
See you next month for more landfill exploration!