Make A Difference Day in Daly City
We were blessed with sunshine and blue skies for our Make A Difference Day beach cleanup at Mussel Rock. Nineteen volunteers, young or young at heart, picked up 103 lbs of trash and about 50 lbs of recycling, mostly beer bottles. Over 2000 cigarette butts were picked up or found in cigarette butt receptacles.  Young students from Westmoor School were able to get credit for volunteering, and they were lucky enough to find some discarded baseball bats. Also, as we were chatting (see photo), one of our Mussel Rock Stars, Jan McCulloch, said that she had attended Westmoor school too!
r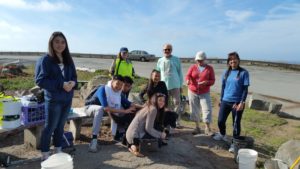 As in prior years, on Make A Difference Day, I was expecting either Mike Guingona or David Canepa to visit us as both are running for San Mateo County Supervisor office. Well, sure enough, former Daly City Mayor, David Canepa dropped by and introduced us to his lovely wife, Anna. David asked about the nature of crime in our area since the Transfer Station was closed down in February 2016. There have been some drug deals, gang-related tagging of structures using spray paint and people racing cars into the car park, making sideshow or doughnut turns during the day.
Jeff Christner and Paxton Christner collected large plastic items that had gotten caught on the rip rap by the ocean. Jeff reported that the Mussel Rock "structure" that everyone always asks us about had dislodged one of its poles and had shifted. He described the history and purpose of this structure, which dates from WWII as a datum point.
The following day, Helen and Chris Burr turned recycling into $45 cash at RePlanet on Southgate Avenue. Later they dined at Rubios of Serramonte using the free taco cards kindly donated by Rubios Restaurants.
Thanks to everyone who volunteered, helped me by placing signs and conveying buckets and bags full of recycling back to my garage and made a difference!