Make a Difference Day in Daly City
Saturday, 24 October, 2015, was Make a Difference Day in Daly City when Public Works is helping clean up the city, and others help with shredding and recycling and giving gently used clothes and kitchenware to those in need. It was also the 4th Saturday, so Mussel Rock, a beauty spot in Daly City, held its regular cleanup. At 9am promptly, we had two bus loads full of students from Notre Dame School, in Belmont, turn up, lead by their physical education teachers. Another large group came from the Pacifica Church of Latter Day Saints. There were others who signed up through Volunteer Match, and past Mayor of Daly City, Mike Guingona, and his son, Kye. Carolyn from Daly City City Hall came to take photos of us all.
All 38 volunteers, including regular Mussel Rock Stars such as Joe Recto, Oscar Porter and Dave Ellers, came and directed volunteers who needed guidance. Joe was my hero of the day, as he repaired the magnet device that broke. My best friend, Michele, a pastor in training, came to help us despite having a painful wrist. Dave Ellers had flown over the bluff along Palmetto Avenue, and spotted a lot of trash heading into the ocean. He took a group to the possibly vacant homeless camp beneath a bluff side Cypress tree. Five of us carted off lots of useless items that had been amassed there. We left the tent and anything that looked useful, for the homeless person to realize he or she needs to move on. Next month, we will return to remove the remaining items.
Volunteers also were directed by Helen Nicely to remove dozens of cans of preserved beetroot that were strewn on the bluff and in a shopping cart. We had two shopping carts dumped along with a mattress and sofa along a short stretch of Westline Drive below Helen's house.
At noon, a group of us headed to Daly City City Hall for a meal served by the Lions' Club, which was sponsored by Boston Market. Other volunteers were given remaining Rubio's sustainable sea food restaurant taco tickets to use before they expire on 25 October.
Later, Christine Burr drove many of the bags of recycling back to my house. Thanks, Chris!
A sunny day in Daly City was a delight for the volunteers who made a big DIFFERENCE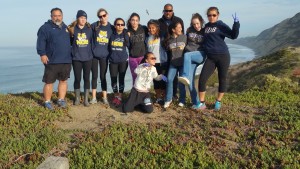 . The area is looking much better thanks to you all.