34 Volunteers at Mussel Rock Beach Cleanup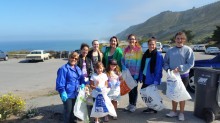 We were a big group of 34 volunteers today! There were 12 women and girls from Job's Daughters (see photo) as well as a group of mathematicians from Sunnyvale.  Thanks to Christine Burr who told me about the mathematicians.
We saw whales spouting and spyhopping during the cleanup on a bright sunny day at Mussel Rock.
There was mostly light trash derived from foods and smoking, with total weight of about 80 pounds. There were about 2000 cigarette butts picked up.
Obviously, trash weights have reduced significantly, but cigarettes are increasingly prevalent everywhere. New cigarette urns have been placed at the seating area for the past week, two of three urns remain, but one was stolen within 10 hours. This is part of a new project to improve the availability of cigarette urns at the site so that smokers are encouraged to use the receptacles more in future. Research tells us that smokers put out their lit cigarettes on the ground to reduce the chance of fire risk. For this reason, a group called the Mussel Rock Butt Busters will be placing a lot more plant containers filled with sand at the site in the next months.
If you have any plant containers available for this project, please leave them at Mussel Rock near the seating where they will be put to good use.
Many thanks!