How to Celebrate a 3 Year Old's Birthday!
Surprisingly on a rainy morning after Thanksgiving, there were 25 volunteers who cleaned Mussel Rock today. One couple was celebrating their son's 3rd birthday. The 3-year-old was excited when I pulled out Earth Hero badges and his mother pinned one on him. He was less excited about the safety vest that I insisted he wear. See photo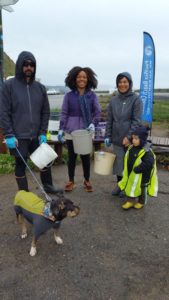 We were blessed with a 2-hour break in the rain while we picked up 65lb trash and 29lb recyclables. Everyone was shocked at the huge collection of soggy cigarette butts, approximately 1250 in total.
The most unusual item was found by Jeff Christner; he wheeled a rusty Razor scooter back from the bluff opposite Skyline Drive (see photo). His son, Paxton, managed to use it in the car park.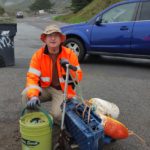 I am very grateful to Joe Recto for his support today at the cleanup and for returning items back to my garage. He helped me wash out all the buckets that had accumulated wet mud in the bottom.
And, to all those who cleaned up today, I thank you. It was hard to find any trash after this cleanup so you all did an amazingly thorough job! Finally, at 11.30am the rain started again. Alleluia!