Eco-Friendly Halloween – Say Boo to Plastic
It's that time of year for the holidays, which also means extra waste on the daily. So here are a few of my favorite low-waste decorations, costumes and treat ideas for you.
DIY Halloween Decorations
Let's Start with Spooky Street Sign!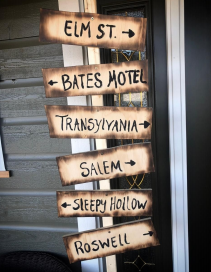 You don't need any wood working experience for this one. Just a few scrap pieces or wood or a pallet.
● (1) Between 5-7 foot long piece of wood
● (5-8) Between 12-18 inches pieces of wood
● Nails
● Black Paint
● Torch
After cutting the wood pieces, (being very careful not to burn yourself) use the torch on all the edges of the smaller pieces of wood.
After the wood is cool, paint spooky Halloween streets with black paint.
Next, place the smaller pieces on the top of one side of the longest piece of wood and nail into the desired place.
And that's it, stick into a big potted plant or right into the ground.
And Now, the BOO Cans…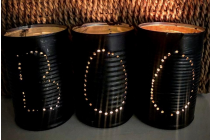 I love this one….but NOT a craft of the kiddos!
● Washed out food cans
● Black paint
● Long nail
● Hammer
● Marker
After washing and drying your desired amount of cans, place a towel down to keep the can from rolling around. With the marker draw design and carefully hammer the nail on the lines.
Once all holes are done paint black all over the outside of the can. Let dry, then place the tea light in and you're done.
Tiny Ghosts
These little guys are great fillers to the Halloween decor.
● Old white sheet or shirt
● Newspaper or any scrap paper
● Any kind of string or yarn
● Marker
Start by cutting up your sheet or shirt into desired squares. (No need to be precise on cutting the more rough cut the better).
Then, ball up a small piece of newspaper or any king of scrap paper into a tight ball (I wet it a bit).
Place in the middle of one square piece of your material and tie up with your spring or yarn. With your marker draw two eyes. Next, cut two small holes on the top of the head of your tiny ghost to string your yarn throw. You can either string up single ghosts or string them up together.
Here are a few other great Eco-Friendly Decor ideas…
● Make your own wood and burlap spooky signs
● Hand paint on pumpkins of a longer lasting pumpkin
● Use beeswax candles
● Utilize yard branches fallen from trees for a spook look
● Pick out the odd shaped and different colored pumpkins
● Old sheets are always great for Halloween crafts
● Black construction paper, cut silhouettes of cats, bats or rats and place on doors, stairs, windows etc.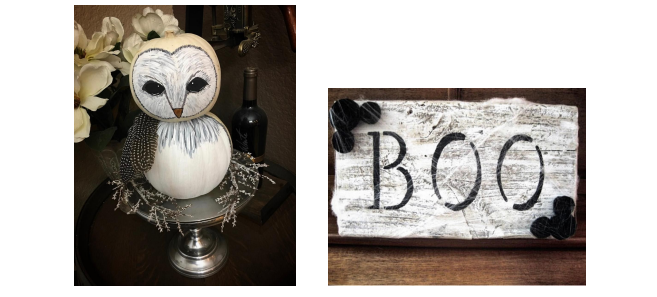 Spooky Earth Friendly Costumes
● Borrow your costumes
● Share costumes with friends
● Donate to thrift stores
● Make your costumes- Use old things from around the house, fine pieces from your local thrift store, get creative make it a game and part of your Halloween tradition.
Let's Not Forget The Treats
Handing out and sharing Halloween treats doesn't have to be a waste for you or your friends.
● Buying candy in bulk(placing into paper bags)
● Buying per package candies in paper or tins
● Pumpkin seeds
● Popcorn
● Apple Chips
● Gram Cracker, chocolate and marshmallows
● Non candy treats- crayons with color card, Origami paper, homemade playdough with cookie cutter, bracelets, gold fish, etc.
My one last tip, as the Halloween day comes to an end remember to compost your carved pumpkins or donate to a local farm for their animals. And don't forget to roast up those pumpkin seeds! Hope these helpful tips make your Halloween holiday a little more fun, creative and be mindful about our planet's health.

Peace, Love and Happy Earth!
Blog post written by our sustainable blogger Julie Murillo. You can follow her on Instagram @jamstang67/