Contest Ended – Paint A Bucket to End Tobacco Litter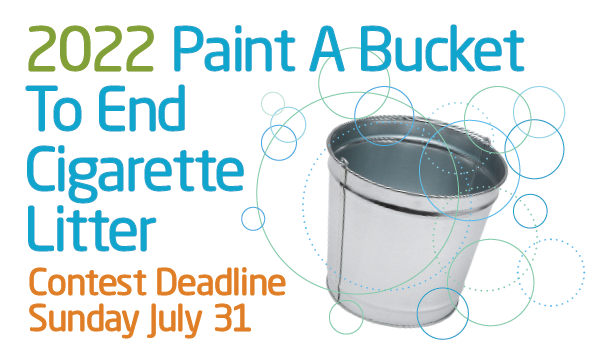 ---
The response to the Paint A Bucket to End Cigarette Litter contest has been exuberant! There are more than 50 buckets out there being transformed, and as of this morning, 11 have already been returned — we thank you!
All buckets — completed or otherwise — must be returned to:
515 Beaumont Boulevard, Pacifica (the same place from which you picked up)
by 3:00 pm, Sunday, July 31
We are thrilled by the enthusiasm and commitment of all of you in making our mission to end tobacco litter a reality with beautiful new hand-painted buckets, replacing our much-used old ones from 2020.
Judging is set to take place on August 13. Winners will be notified the following week, and an update sent out to all participants.
Let's not forget the cash awards! Three entry categories, eight awards:
Youth, Youth Group or Family
First: $100
Second: $75
Third: $50
Fourth: $25
Adult, 18 years or older
First: $100
Second: $75
Third: $50
Professional Artist: $250
You Can Vote for Your Favorite Bucket in the People's Choice Awards!
Friday, August 26: All Bucket Art Walk 4pm
Please attend the celebratory gathering! We're inviting all artists, families and friends to join us at the Pacifica Community Center on Crespi Drive on Friday, August 26, from 4:00 to 6:00 pm. All buckets will be on display on the walkway outside the front entry to enjoy, with an opportunity to talk about your project and take photographs. Ribbons will be awarded to prizewinners.
AND you'll be able to cast votes for your favorite buckets in the People's Choice Awards.
Happy painting!
Theme: Mission Blue Needs You
Every year we honor an endangered species and this year, we are bringing awareness towards the Mission Blue butterflies. These fragile pollinators are local to the Bay Area and entered the Endangered Species list in 1976. Learn more about our 2022 Earth Honoree.
Why End Tobacco Litter
Fish, albatross, whales, seals, dolphins, otters, turtles, birds, crabs… all are negatively affected by tobacco litter.
According to Truth Initiative, cigarettes make up more than one-third—nearly 38 percent—of all collected litter. Disposing of cigarettes on the ground or out of a car is so common that 75 percent of smokers report doing it. Littered cigarette butts leach toxic chemicals—such as arsenic (used to kill rats) and lead, to name a few—into the environment and can contaminate water. The toxic exposure can poison fish, as well as animals who eat cigarette butts.
After the Contest
Thanks to the grant we received from Keep America Beautiful, we are be able to provide you with this contest but also hire a staff member who will maintain and repair buckets in need as well as count cigarette filters for our data collection and reports and finally, send these filters to Terracycle.
Buckets from Previous Contests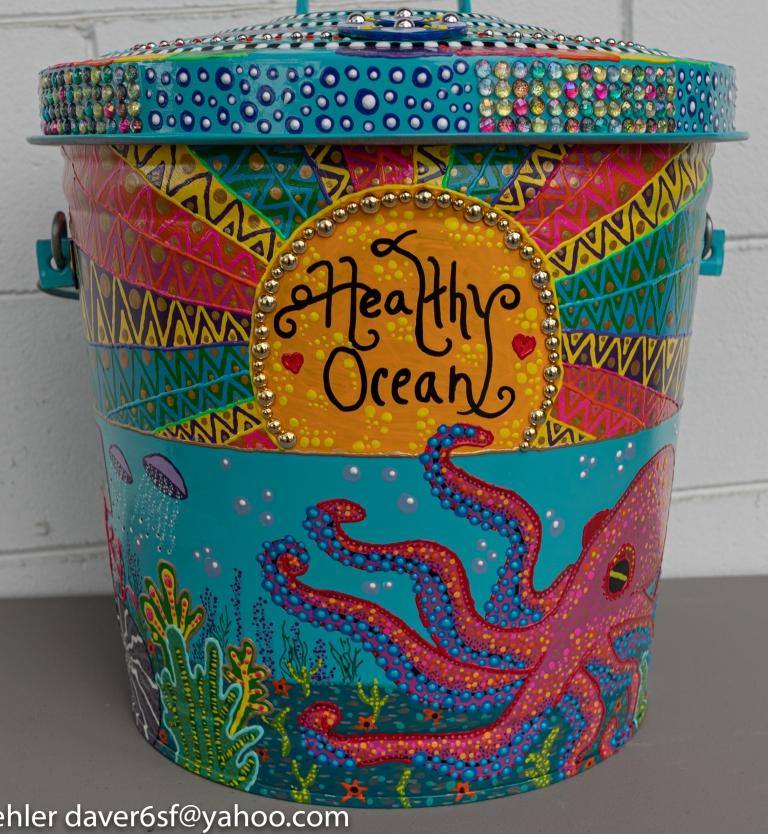 Help Us Spread the Word
We encourage you to spread the word about this community driven contest to either paint a bucket or come vote or watch the display in August. Feel free to save, share and print this flyer or any of our social media posts.