A Busy & Beautiful Cleanup At Linda Mar Beach
Setting out for PBC's regular third Saturday cleanup on August 19th felt more special with five juniors in attendance (Juliana, Charlie, Sasha, Ella and Elona)! Sherry and Kim also volunteered their expertise at the Naturalists' table and attracted quite a crowd!
The busy cleanup proved to be a success with beautiful weather, lots of visitors, and 102 volunteers total! Collection totaled over 50 pounds of trash, 15 pounds of recycling, 10 pounds of compost, and 1100+ cigarette butts on the no-smoking beach — a beach that many of our volunteers said looked very clean even before we started.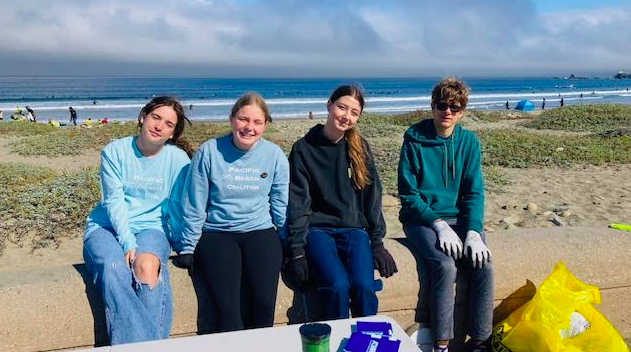 NCL (National Charity League) Crystal Springs was also there in force as was YMSL (Young Men's Service League), a bevy of volunteers from Terra Nova, Oceana, and peninsula high schools along with our regular heroes. Linda Mar Beach ended up looking sparkling clean ready for the big surfing and beach day ahead! As always, our volunteers did a fantastic job! Thank you to each of you who make these cleanup events successful and inspiring.
We appreciate everyone who supports Pacific Beach Coalition's work and educational programs. Thank you for helping us to protect our beautiful ocean and coastline by donating money, time, or both! Your dollars will go towards our ongoing educational efforts (such as the Naturalists program) and our beach cleanups and habitat restoration efforts along the coastal trail. Thank you so much for any contribution: big or small!