MLK Jr Day of Service, Linda Mar Planting Event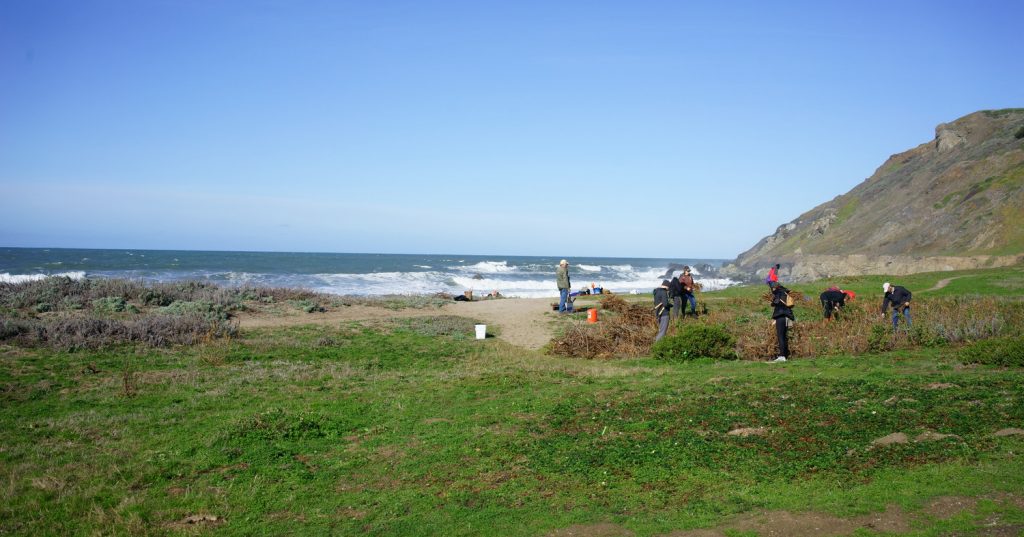 Volunteers are needed to plant over 1,000 native dune plants to increase biodiversity and protect the wintering habitat of the endangered Western snowy plover and other wildlife.
National Service Day was first established in 2009 ago by President Barack Obama to invigorate community volunteering. So every year during the Martin Luther King weekend, we organize the biggest planting event of the year! In partnership with the Pacifica Environmental Family and the Pacifica Shorbird AllianceWe gather small plants that have been babysitted by our volunteers for months and we all regroup on this particular day to introduce them to their new habitat. We also have our regular Linda Mar monthly beach cleanup happening in the morning. This event is a joined effort and all the community contribute.
About MLK Habitat Restoration:
Since 1998, volunteers have planted over 20,000 native dune plants, creating a more biologically sustainable and beautiful beach.
"Come and make this your tradition, too. Every year we have a wonderful mix of people who have been coming for years and those who are first getting their hands into the sand. Everyone is welcome to plant and learn and truly make a difference." – Mary Petrilli
Site Captains and Event Leaders: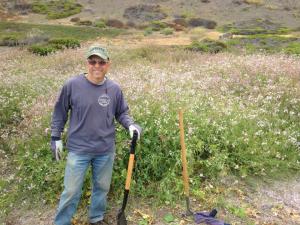 Meet Michael Ayala. A volunteer and active member since 2008, he began cleaning our beaches during daily walks and Earth Day of Action as co-captain. By 2010, Michael was leading monthly restoration events along the sensitive dunes at Linda Mar Beach. His hands-on skill and inspiring goals of fully eradicating invasive non-native plants while expanding a flourishing native habitat teeming with biodiversity in Pacifica are the inspiration guiding our restoration program.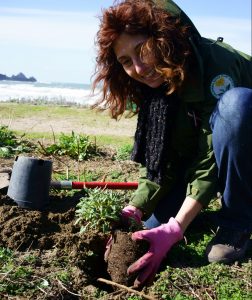 Meet Mary Petrelli. Teaming up with Clark Natwick in the late '90 with a mission to transform the ice plant dunes into native habitat for the Snowy Plover and other beach dwellers, Mary has been planting native plants on Linda Mar State Beach every year since. Petrilli often shares the story about Clark's decades of beach stewardship and now ask volunteers to honor him, Martin Luther King Jr and President Obama with their work. Ask Mary to show you how to carefully plant the seedlings on dunes and she will demonstrate the best techniques so that they can get established quickly.


About the Cleanup and Restoration:
January 15, 2022
Time:
Beach Cleanup from 9am to 10am &
Planting from 10am to Noon.

Where to Meet:
For the cleanup, at the southern end of the main parking lot (near Taco Bell).
For the planting, at North on the beach along the bike path past the Crespi intersection.

Parking: Fee to park. However, when you check in, site captains provide a parking pass good for use during your participation in the cleanup. Should you stay beyond cleanup hours, fees apply. Fee for parking is $4 for up to four hours, $8 all day; $50 for an annual pass, available at www.cityofpacifica.org.

Cleanup Areas: The parking lots, promenade and the beach.
Planting Area: Near the beach and the coastal trail in the sand dunes.

Supplies: Volunteers are encouraged to bring their own buckets, reusable gloves and gardening tools. Extra gloves, buckets and specific tools for this site cleanup will be provided while supplies last. Because we are never sure of the weather, make sure to bring extra layers, a hat, sunblock, water and snacks.

Restrooms: Yes (with outdoor showers at parking lot). Open 6am-10pm.
Special Regulations:
Dogs: Permitted on leash on beach. Use caution around the seasonal fencing installed to protect the federally endangered western snowy plover. Please be responsible and pick up your dog waste.
Fires or BBQ grills and glass containers: Prohibited on beach.
Fireworks: Read the City of Pacifica's Restrictions on the use of fireworks at Linda Mar Beach.

Smoking: Prohibited on beach. Linda Mar is a smoke-free beach under City of Pacifica ordinance subject to fines for violation since 2006.

Wildlife & Habitat Protection: Seasonal fencing is installed to protect the federally endangered Western Snowy Plover. Installed north of the Crespi path entrance on the west side of the dunes, it will remain in place until the plovers leave in mid-April and be removed in mid-August. In Pacifica, snowy plovers over-winter – usually arriving mid-August and leaving sometime in March or April. During this time they fatten up on rich protein diet of kelp flies, beach hoppers, other insects and small invertebrates washed up on the beach, and occasionally in the back dunes. When not foraging, snowy plovers nestle down in the sand, low enough to be warmed by radiant heat and still have a view out to the sea.
Be sure to read through the Cleanup Guidelines before attending a cleanup.
More questions? Read our Beach Cleanup FAQs.
Would You Like to Join Us? To make sure we bring the right amount of supplies, to be more efficient and conserve paper, please complete our online form. It will only take you a few seconds!