Past Event – MLK Day Of Service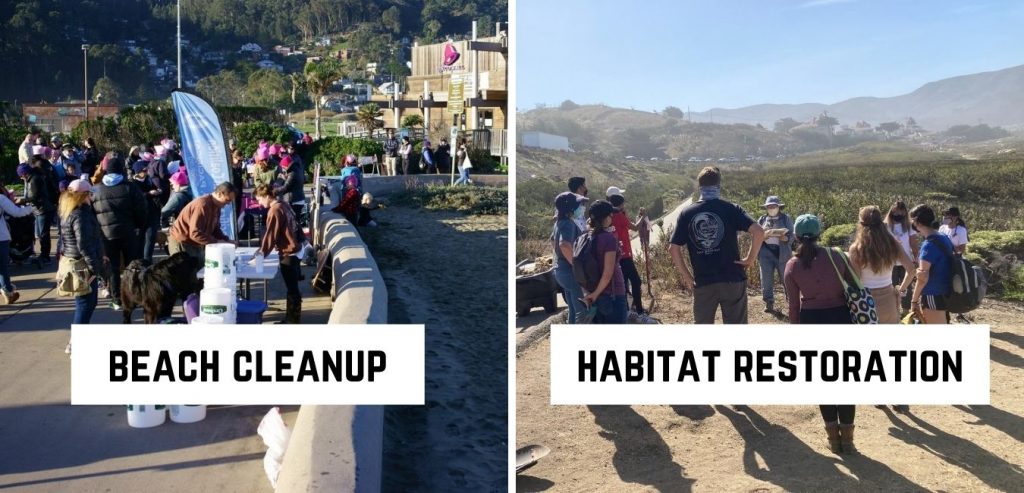 Let's play safe!
– Please wear your mask
– We will be outside with the ocean breeze
– We will be breaking into smaller group
---
Every year we organize a special beach cleanup and habitat restoration event for MLK Day of Service. It is fun and it produces amazing results (see what we did in 2019). And this year we are super excited to bring this event back!!
Beach Cleanup with PBC – Starts at 9AM:
Join our site captains to cleanup Linda Mar State Beach in Pacifica and the coastal trail
Supplies and directions will be provided but we encourage everyone to bring their own gloves and bucket
Meet us at 9 am in the Linda Mar parking lot near the Taco Bell. Parking passes will be given when you check in.
Please sign up to volunteer and as this is also our online waiver, make sure that everyone in your party signs it.
Habitat Restoration with PBC – Starts at 10AM:
Join the group to plant native plants on the Beach or along the Coastal Trail, Pacifica
Tools and directives will be provided
Meet at 10 am on the Linda Mar Beach Coastal Trail (north of the Crespi at Hwy 1 intersection) Parking at the Pacifica Community center – 540 Crespi Drive, Pacifica is closer to the meeting spot for the beach planting than the main Linda Mar beach parking lots.
Please sign up to volunteer and as this is also our online waiver, make sure that everyone in your party signs it.

Litter Pickup on Your Own:
This is part of our Street to Beach Cleanups program, sign up to sign the waiver to participate!
Pick up litter near your home or on your walk – see below and log your work.
Do a beach cleanup on your local beach or shoreline – please also log your work.
Explore and clean new parks, trails or locations that you have never been before.
Picking up trash is almost like hunting for beach glass.
Volunteer by joining to Street to Beach Cleanup team, learn more and sign up.
Habitat Restoration on Your Own:
Plant some native plants in your garden
Weed a public location (if you know weeds vs native plants)
If walking the Linda Mar to Rockaway coastal trail, take time to pull Oxalis from a spot safely spaced away from everyone
Other Things You Can Do To Help:
Say no to plastic for a day
Install a water barrel to catch some of the rain
Go single-use-plastic free for the day or weekend
Do a plastic audit of your trash bin
Make a donation to Pacific Beach Coalition or other ocean related non profit
Let Us Know How You Did
Email us a photo of your little plastic pieces and interesting finds so we can show others what we've been finding for years.
And make sure to track the trash that you collect with the Clean Swell app with PBC or Pacific Beach Coalition as you group!