Smoke-free Beaches & Pier

Keeping Butts Off Our Beaches – Northern California's First Smoke-Free Beaches & Pier
[City of Pacifica Ordinance Effective Oct 2006]
Why It Matters: In 2005-2006, building on the momentum from the huge wave of Southern California coastal cities restricting smoking on beaches, Pacific Beach Coalition member Susan Danielson-Senning led a successful smoke-free beaches campaign, making Pacifica the first community in Northern California to set this precedent. Unfortunately today, cigarette litter continues to be the #1 item polluting our coastal environment, and collected during our monthly cleanups.  It is estimated that several trillion cigarette butts are littered on our sidewalks, beaches, nature trails, gardens, and other public places worldwide every single day.
Cigarette filters are made of cellulose acetate tow (plastic), NOT COTTON, and they can take decades to degrade. Not only is cigarette litter unsightly, its toxic residue is damaging to the wildlife and our environment. Littered butts cause numerous fires every year, some of them fatal.  Wildlife mistakes them for food, and they are hazardous to youngsters playing on the beach. Others have followed our lead. After Pacifica's ordinance passed in June 2006, the County of San Mateo as well as the City of Santa Cruz followed by banning smoking in parks and beaches under county jurisdiction (2007), and banning smoking on Santa Cruz's world-famous pier and beaches (2009).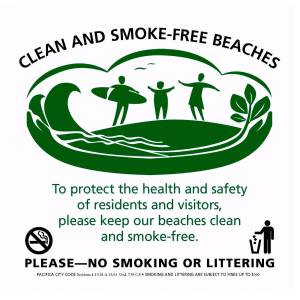 What You Can Do:
Join and get involved in our current campaign, the Tobacco Litter Reduction Education Initiative.
Support our Earth Heroes leading the effort by contributing to the Tobacco Litter Education Fund – 100% supports the purchase and installation of 10 receptacles in areas with the greatest need, volunteer recruitment and coordination for beach, creek and neighborhood clean ups, supplies, public education materials, and data collection to increase awareness and build partnerships.
Join anyone of our monthly Adopt-A-Beach cleanups to help monitor and collect butt litter.
When you're out on our beaches, anyone can educate visitors by referring to the signage installed along Pacifica's coastline.
Read the Tobacco's Impact Fact Sheet and education card.
View Pacifica's ordinance.
Learn More About Pacifica's Smoke-Free Beaches & Pier: