Thornton Vista, Daly City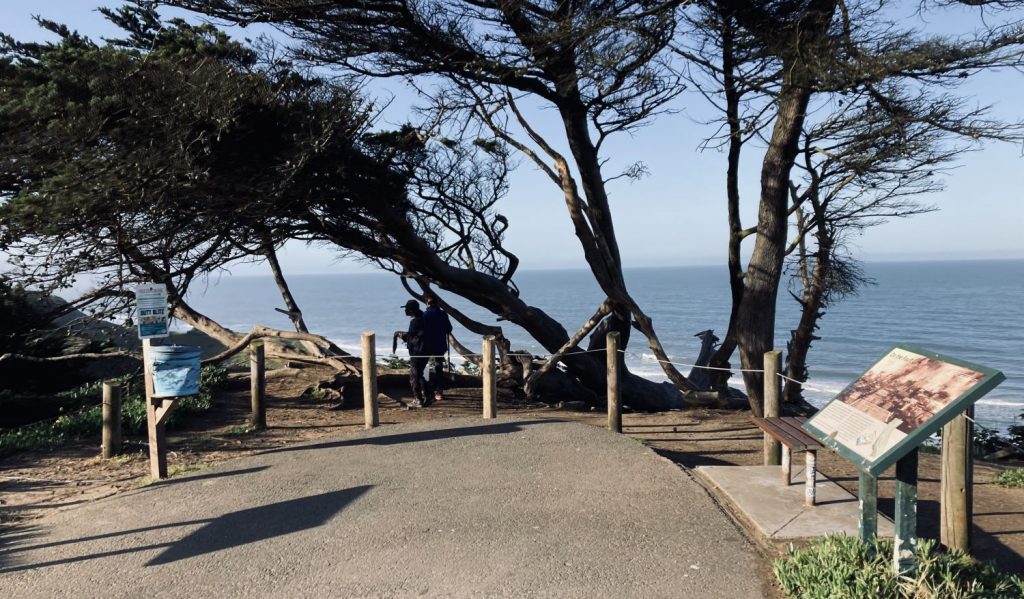 Volunteer and join our Thornton Vista cleanups in Daly City!
About Thornton Vista:
Thornton Beach Vista is an overlook offering sweeping views of the ocean and bluffs below.
Become a volunteer Site Captain Assistant at Thornton Vista.

Contact us to learn more!
Site Captains: Isabella, Cynthia and Sierra.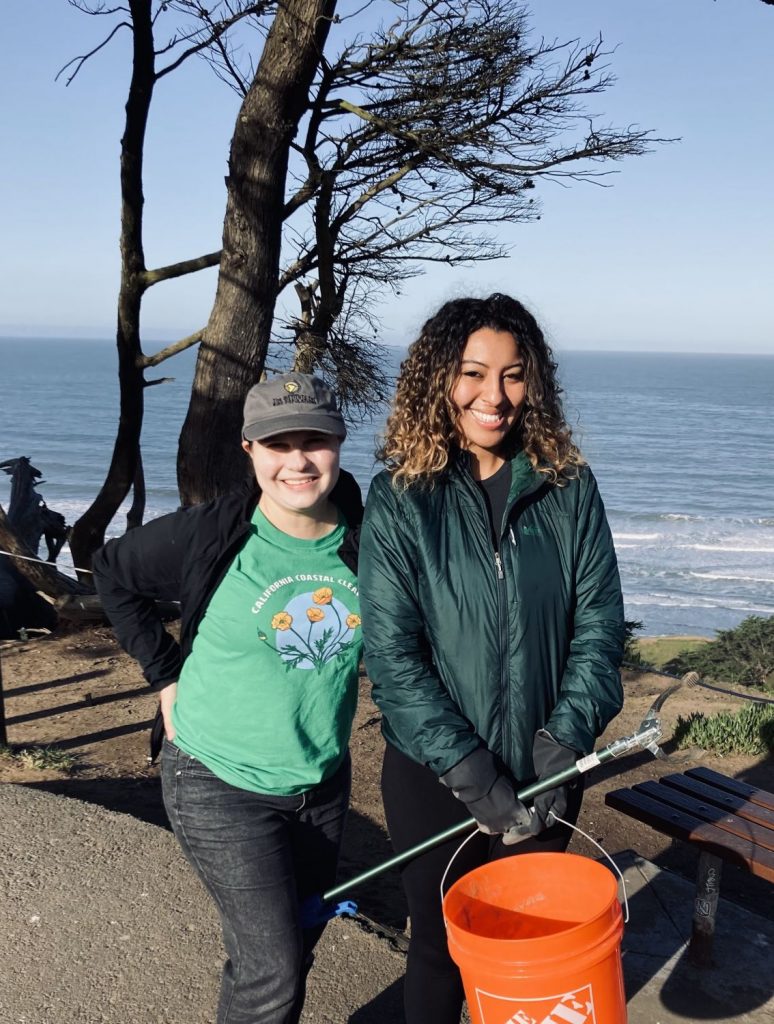 Cynthia Bringas has participated in local beach clean-ups since 2017 and has been an active member of the Pacific Beach Coalition (PBC) since 2020. Her interest in Thornton Vista was the result of having collecting several hundred cigarette butts while volunteering at this location. In a joint effort with the City of Daly City and the PBC, cigarette butt receptacle and signage was installed at this site in the fall of 2020. Cynthia also encourages coastal habitat and wildlife awareness by giving lessons on the PBC's Earth Honorees in local schools. This year's Earth Honoree is the Mission Blue butterfly and its host plant, lupine, can be found near Thornton Vista.
Sierra Cook began cleaning up her community during the pandemic in 2020. Wanting to do more for the planet as a whole, as well as wanting to be part of a growing organization that could actually push change, she found and joined the Pacific Beach Coalition (PBC) in 2022. Thornton Vista was in need of a couple of site captains to help lead monthly beach cleanups, which Sierra was more than willing to take on. Sierra has seen the effects that trash has had on the environment, and wants to make a difference as well as spread the word. She is a graphic designer and is putting her skill set to use by helping with designs for lesson plans, as well as with PBC's social media content in an attempt to get people interested and excited about cleaning our planet's beaches.
About the Cleanup:
Time: 2nd Sunday of the month from 9am to 11am.
Where to Meet: Look for our site captains' table after the roundabout on Thornton Beach Rd where the walkway starts.
Directions: Turn west at John Daly Blvd to the overlook.
Parking: Parking can be found on the turning circle or more likely at the South end of Olympic Way off of Skyline Drive. Additional street parking is available on Olympic Way located just south of the Thornton Vista entrance.
Cleanup Areas: The vista does not offer direct access to the beach below and so the clean up at this location will include the walkway and vicinity to the lookout point, the parking lot, and Olympic Way.
Supplies: Volunteers are encouraged to bring their own buckets and reusable gloves. Extra gloves and buckets for this site cleanup will be provided while supplies last. Because we are never sure of the weather, make sure to bring extra layers, a hat, sunblock, water and snacks.
Litter: Cigarette filters, masks, food wrappers, plastic bottles and more.
Restrooms: There are no restrooms at this location.
Special Regulations & Precautions:
Wildlife: The Thornton State Beach cliffs are home to the Red Tailed Hawk, Great Horned Owl and so many other birds. Fox, coyote, skunk, raccoon, squirrel, and rabbit can be found foraging in the area. From the cliffs whale including the humpback, grey and even orca have been spotted. Dolphin, seals and sea lion play in the waves. Local fishermen have pulled in a variety of fish including, striped bass, salmon, perch, leopard shark and more.

Geology: On the edge of the San Andreas fault, Sandy cliffs sides covered in Ice plant and home to the California cypress tree border the Pacific Ocean. Lupine, the host plant for the Mission Blue butterfly, can also be found around the look out area. From the beach looking back up at the lower cliff one can see a white stripe in the cliff which is a layer of volcanic ash dropped many years ago. The ocean tides can be as high as to shut off all beach access as it hits the lower cliffs to magnificent low tides that can extend out over 100 meters. The Farallon Islands can be seen from the cliffs due west and approximately 30 miles away.
Be sure to read through the Cleanup Guidelines before heading out.
More questions? Read our Beach Cleanup FAQs.
Would You Like to Join Us? To make sure we bring the right amount of supplies, to be more efficient and conserve paper, please complete our online form. It will only take you a few seconds. Make sure to check our calendar to find out when is the next cleanup before signing up. If you checked our calendar, sign up here!