Surfers Beach and Bluff, HMB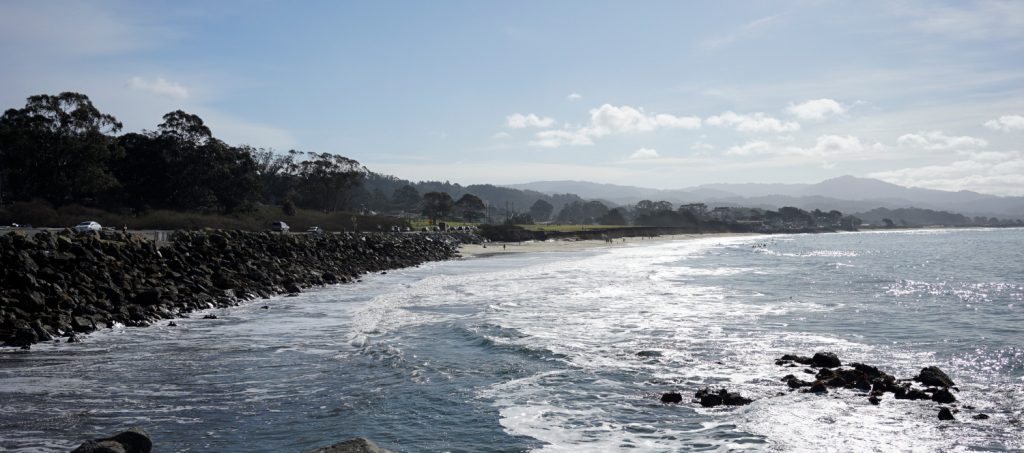 Volunteer and join our Surfers Beach cleanups in Half Moon Bay!
About Surfers Beach:
Surfers Beach starts at the South Jetty of Pillar Point Harbor across from Highway 1 in Half Moon Bay near El Granada. This beach under the right conditions creates a nice surf break as it rolls in along the jetty which is becoming a very popular surfing location. At high tide, the water level is high enough that the waves crash right on the rocks that protect the highway from erosion. At low tide, there is enough sand exposed to call this a beach. The multi-use California Coastal Trail is right next to the beach for walkers, joggers, bikers, and others to enjoy.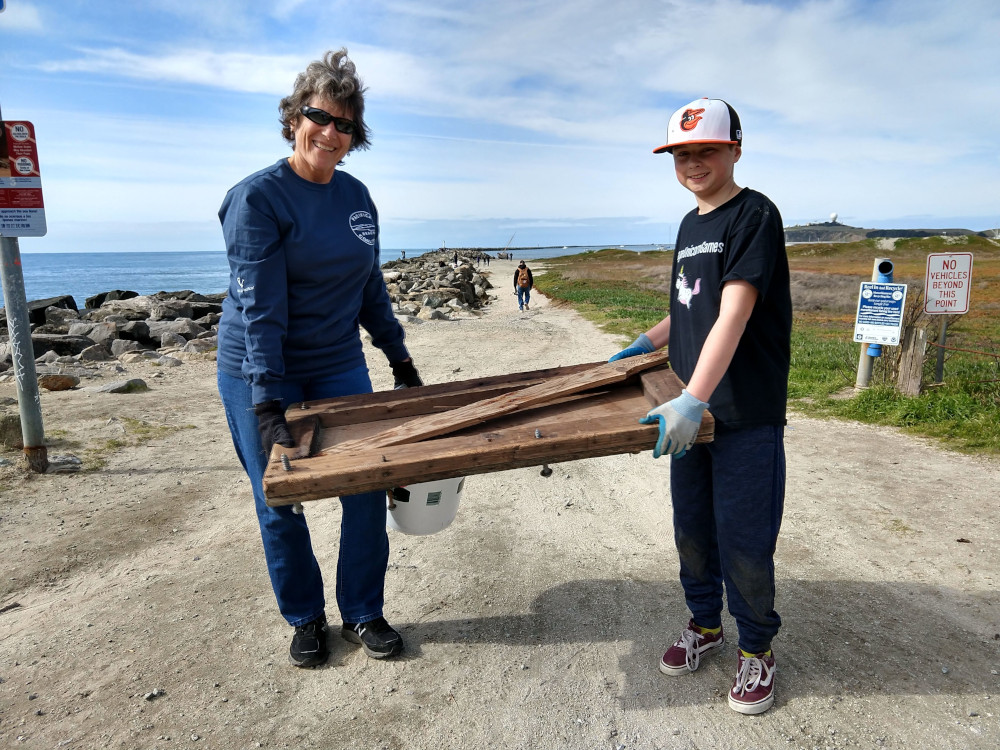 Site Captains:
Meet Laurel Frishman who was born in So Cal, raised in the Arizona desert and moved back to Nor Cal 40 years ago and now lives in El Granada. While the desert was beautiful, she missed the ocean. Laurel has a degree in Zoology with a special interest in ocean life, conservation and good environmental solutions. The ocean has always had a heartful pull on her with it's immense beauty, power and complexity. And maybe it is because she is made up of mostly salt water and, well, like produces like.
About the Cleanup:
Time: Last Saturday of the month from 9am-11am, except for April and September. Check our online monthly calendar for exact dates. Rain may cancel cleanup. If you've registered in advance, you'll receive a cancellation notice. If you have not registered, check our calendar for the latest information.
Where to Meet:  On the coastal trail, in front of the Pillar Point RV park (4000 Cabrillo Hwy, Half Moon Bay, CA 94019) near the South Jetty and on the north side of Surfers Beach.
Cleanup Areas: Volunteers usually cleanup the beach and rocks at low tide and the bluff during high tide, the coastal trail all the way to Miramar.
Supplies: Volunteers are encouraged to bring their own buckets and reusable gloves. Extra gloves, buckets, pickup sticks and specific tools for this site cleanup will be provided while supplies last. Because we are never sure of the weather, make sure to bring extra layers, a hat, sunblock, water and snacks.
Litter: Expect picking small and large pieces of trash related to commercial and recreational fishing activities.
Parking: Free parking on the side of Highway 1 near the RV Park, and at the harbor.
Restrooms: Public restrooms are located at the boat launch ramp (a 3-minute walk from the meetup location).
Dogs: Allowed but on leash. Please be responsible and pick up your dog waste.
Be sure to read through the Cleanup Guidelines before attending the cleanup.
More questions? Read our Beach Cleanup FAQs.
Read About the Team in Action: Surfer's Beach Blog
Would You Like to Join Us?  To make sure we bring the right amount of supplies, to be more efficient and conserve paper, please fill out our online form. It will only take you a few seconds. Make sure to check our calendar to find out when is the next cleanup before signing up. If you checked our calendar sign up here!