Sharp Park Beach, Pacifica

Volunteer and join our Sharp Park Beach cleanups in Pacifica!

About Sharp Park Beach:
Sharp Park Beach extends along the waterfront on either side of Pacifica's 1,140-foot long municipal pier, one of the most popular fishing sites along the coast. Little sand is exposed to north of the pier. On the south end, a long strand of black sandy beach lies adjacent to Sharp Park Golf Course, and extends to the Golden Gate National Recreation Area's Mori Point. Teeming with wildlife, seabirds and spring wildflowers, the area features the Coastal Trail along the berm between the beach, Laguna Salada wetlands (critical habitat for the endangered San Francisco garter snake and California red-legged frog), and the golf course. Visitors should use caution as the surf and rip currents have a reputation to be powerful and dangerous.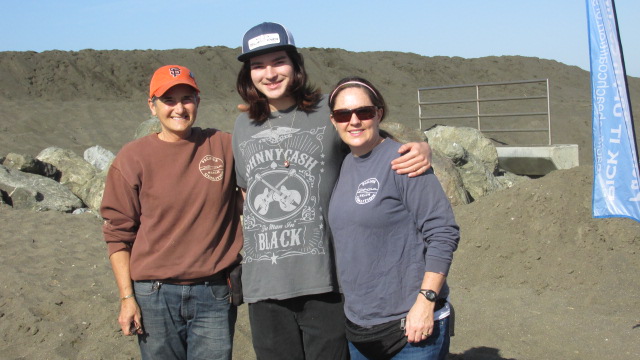 Site Captains: Meet Deirdre Finnegan-Martin, Reed Blount and Pauline Taini. This dynamic Earth Hero duo bring a notable amount of moxie not only to our Sharp Park cleanups, but also to our mission! In 2008, Deirdre began leading volunteers as Sharp Park Beach's site captain, then was joined by Pauline. In 2014, Deirdre was recognized by the California State Assembly for her immeasurable contributions in other key roles as the coalition's former vice president, as Earth Day of Action's debris collection site manager, and for her inspiring creativity and enthusiasm engaging volunteers in our annual "Build" events that produce environmentally-themed props carried down Pacifica's Palmetto Avenue by our Earth Heroes during the annual Fog Fest parade. In 2013, the coalition received the Fog Fest's Best Walking Group Award for our "March of the Sharks."
About the Cleanup:
Time: Second Saturday of the month from 9am-11am. Check our online monthly calendar for exact dates. Rain may cancel cleanup. If you've registered in advance, you'll receive a cancellation notice. If you have not registered, check our calendar for the latest information.
Where to Meet: At the corner of Beach Blvd and Clarendon at the start of the Levee.
Parking: Street parking is free.
Cleanup Areas: Volunteers clean the beach, streets, parking lots, the pier and the promenade.
Supplies: Volunteers are encouraged to bring their own buckets and reusable gloves. Extra gloves, buckets, pickup sticks and specific tools for this site cleanup will be provided while supplies last. Because we are never sure of the weather, make sure to bring extra layers, a hat, sunblock, water and snacks.
Litter: Expect picking up small pieces of styrofoam, cigarette butts, bottles, cans and plastic trash from this popular beach site.
Restrooms: Yes. Located at the pier down the street from the meetup spot at Beach Boulevard and Clarendon.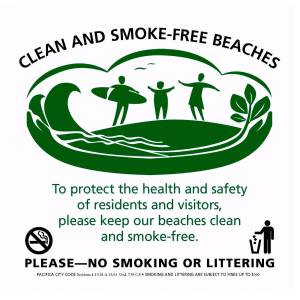 Special Regulations:
Dogs: Permitted on leash on beach; prohibited on pier. Please be responsible and pick up your dog waste.
Fireworks: Read the City of Pacifica's Restrictions on the use of fireworks on our beaches.
Fires or BBQ grills and glass containers: Prohibited on beach.
Smoking: Prohibited on beach. Sharp Park Beach and the Pacifica Pier are smoke-free zones under City of Pacifica ordinance subject to fines for violation since 2006.
Be sure to read through the Cleanup Guidelines before attending the cleanup.
More questions? Read our Beach Cleanup FAQs.
Would You Like to Join Us? To make sure we bring the right amount of supplies, to be more efficient and conserve paper, please complete our online form. It will only take you a few seconds. Make sure to check our calendar to find out when is the next cleanup before signing up. If you checked our calendar sign up here!
Make a Contribution to the Cleanup here:


Read About the Team in Action: Check out the Sharp Park Beach Blog.
Sharp Park Beach Cleanup Location Map:

View Sharp Park in a larger map