Rockaway Beach, Pacifica

Volunteer and join our Rockaway Beach Cleanups!
About Rockaway Beach:
Rockaway Beach is a narrow gently curving stretch of strand anchored by high coastal bluffs at either end with rock embankments along the shoreline to prevent further erosion. Its crashing surf, trail amenities, sunsets and dramatic headlands make it a beloved destination for locals and visitors alike. There are hiking trails to explore the rocky point south of the beach and a paved bike path that runs north and south from the beach. The Coastal Trail connects Rockaway Beach with Linda Mar Beach a mile to the south. The switchbacks south lead to a bluff with great views of the area. The trail north extends to Sharp Park. The adjacent Calera Creek riparian corridor and quarry is the most important habitat of the Rockaway Beach area – home to amphibians, reptiles, small mammals, a variety of birds, and three endangered species: the San Francisco garter snake, San Bruno elfin butterfly, and the California red-legged frog.
Site Captains: Llana, Nicole, Sara and Vilka
About the Cleanup:
Time: First Saturday of the month from 9am-11am. Check our online monthly calendar for exact dates. Rain may cancel cleanup. If you've registered in advance, you'll receive a cancellation notice. If you have not registered, check our calendar for the latest information.
Where to Meet: At the corner of the North Beach parking lot, near the Best Western.
Parking: Free parking lots are located at either end of the beach.
Cleanup Areas: Beach, trail and parking lots.
Supplies: Volunteers are encouraged to bring their own buckets and reusable gloves. Extra gloves, buckets, pickup sticks and specific tools for this site cleanup will be provided while supplies last. Because we are never sure of the weather, make sure to bring extra layers, a hat, sunblock, water and snacks.
Litter: Expect picking up cigarette butts, food wrappers, cans and bottles between the rocks, clothing and shoes if you cleanup the trail- Do not pickup the mouse and rat traps.
Restrooms: Yes (with showers located at the southern parking lot).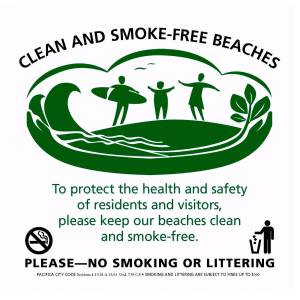 Special Regulations:
Dogs: Permitted on leash on beach.  Please be responsible and pick up your dog waste.
Fireworks: Read the City of Pacifica's Restrictions on the use of fireworks on our beaches.
Fires or BBQ grills and glass containers: Prohibited on beach.
Smoking: Prohibited on beach. Rockaway is a smoke-free beach under City of Pacifica ordinance subject to fines for violation since 2006.

Be sure to read through the Cleanup Guidelines before heading out.
More questions? Read our Beach Cleanup FAQs.
Would You Like to Join Us? To make sure we bring the right amount of supplies, to be more efficient and conserve paper, please complete our online form. It will only take you a few seconds. Make sure to check our calendar to find out when is the next cleanup before signing up. If you checked our calendar sign up here!
Make a Contribution to the Cleanup here:

Read About the Team In Action: Check out the Rockaway Beach blog.

Rockaway Beach Cleanup Location Map:

View Rockaway Beach in a larger map
Directions: Take Highway 1 south and drive 6.1 miles to Rockaway Beach Avenue on right (Fassler on left). Turn right on Rockaway Beach Avenue and drive to the end of the road (just past Nick's). Drive the closest to the beach near the Best Western hotel.